Some things are definitely best left in the past, like shoulder pads. Well, this is my opinion, at least. But there are others we still think of fondly: mixed tapes, rotary phones, buying a CD in a store, or the thrill of picking up movies at Blockbusters for a night in with pizza and friends. Don't get me wrong, today's alternatives are just as good but, perhaps, it's the sweet taste of youth we miss from those days, more than anything else.
But I don't want to get all soppy, rather, I'd like to take a walk down Italy's memory lane and reminisce with you about a bunch of things Italy had and no longer has, stuff we all loved and knew, at some stage of our lives, but now only survives in our sepia-toned (or should I say 80s neon?) memory snaps. Let's begin with…
Cabine telefoniche
The old, trusty phone booth was a staple across the country. I am old enough to remember the yellow ones, when our national telephone company was still called SIP. Later, sometimes in the late 80s, when SIP became Telecom, they turned red. If you wanted to use them, of course, you needed plenty of change or the trusted gettoni, thick copper coins with a telephone on them, that were worth 200 liras, that is, about 60 US cents. Or, in alternative, you had to have a …
Phone cards, of course, were a better option, especially if you used phone booths a lot, or if you planned to make a pretty long phone call. We all had one in our wallet: they were, just like everywhere else, the size of a regular bank card, with a magnetic band, but much thinner. That was sometimes a problem, because they stopped working if you accidentally bent them (and honestly, it didn't take long for that to happen). You could buy them at the newsagent's or the drugstore's, and they most commonly came in 5.000 and 10.000 lire value, which would be around 3 and 6 USD of today. They had a corner you needed to snap off to use them: I mention this because it is important, and you'll soon understand why. Originally, they were blue, white, and gray, but soon SIP/Telecom began making different ones, often dedicated to special events, festivities, artists, a bit like it happens still today with stamps: it was the beginning of a collecting craze that some carry on still today, looking for them at yard sales. Of course, not all phone cards were born equal, but you could rest assured that those whose corner hadn't been snapped were worth more than the others: just like with action figures, unused was best!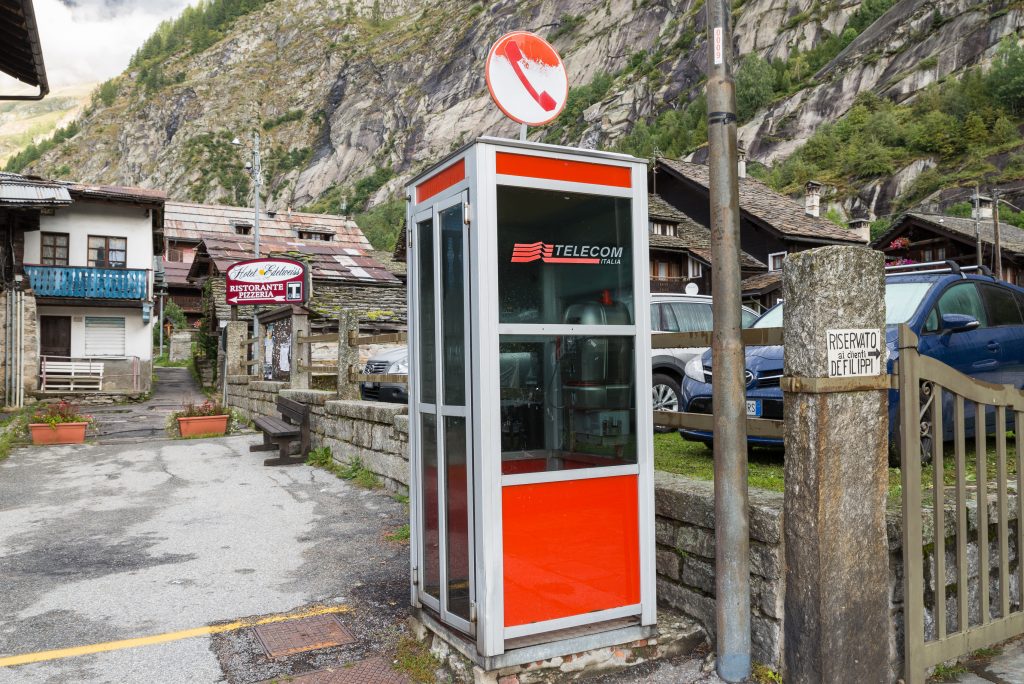 I mentioned stamps above and truth is, who still uses them? When I was a child and a teen, I would always have stamps in my room: we used to have pen pals back then, and letters were sent through the post,  rather than our email provider. And then, we had postcards.
Of course, postcards weren't an exclusively Italian thing, I know, and you can still find them around. It's the whole "sending postcards when you go on holiday" that is no longer there. Being Italy a touristic destination, we've always been big on postcards here. If you were on a school trip, you'd make your postcard list on the bus and it'd be always a competition to see who'd send the most: home, grandparents, friends… But the best came with the summer holidays, of course, when postcards would become letters to friends, travel logs, love diaries. Today, you may still find postcards here and there, of course, but no one sends them anymore. They are a sort of collector item, something you bring home to remind you of a trip, if you are that type of person, but the magic of sitting at the beach writing lines and lines of adventures and dreams to your friends back home is no longer there.
When you think of mopeds in Italy, Vespa immediately comes to mind, but teens from the 70s to the 90s also had Ciao and Fifty Top. Il Ciao was a sort of hybrid between a moped and a bike: you started it with its pedal, it was light and slender, just like bikes. It was launched in 1967 and 2006 was its last year of production: in between, decades of love. It was the moped of teenagers and today, it's collected and cared for just like Vespas and Cinquecentos, just perhaps, it's a bit more of a niche thing.
Same story for the Fifty Top, produced between 1974 and 1997, it was faster, more motorcycle-like than the Ciao. It was very popular, too, especially among kids in the South of Italy, who'd often ride it in twos (some things in Italy never change, eh!).
Our last entry is not an object, it's a show. Il Festivalbar was a synonym for summer from 1964 to 2007.  It was an itinerant music competition where fans would vote the summer's most popular song, crowning the tormentone dell'estate, or the tune radios played the most, and you were more likely to hear on the beach. Festivalbar would start sometimes between the end of May and the beginning of June, each week showcasing a new Italian city or town: on stage, Italy and the world's most famous singers. If you liked pop music, a ticket to the Festivalbar was a cool thing to get, but you could enjoy it also from home, as it was televised, too. In the 1980s and 1990s, it was on Tuesday nights. The final show on each edition would always take place in the Arena di Verona.