Whenever disaster strikes at home or abroad, the Red Cross springs into action. It's a story many of us learn as school children: Clara Barton, nicknamed the Angel of the Battlefield because of her selfless medical service to Civil War soldiers, established the American Red Cross in 1881 after learning about a similar European movement. What began as neutral care and aid to those injured in combat is today a vast organization that brings hope and help to those suffering loss. It's a wonderful legacy of American history…with no hint of Italian roots.
What many of us might not know, however, is that the idea of organized caring for the wounded, sick and dying is a concept much older than Clara's imaginings, and even those of the European Red Cross founder who inspired her vision, Swiss humanitarian Henry Dunant.
A bit of sleuthing is required to discover the rest of the story, and it begins with Henry Dunant. What we might consider Exhibit One leads to the endeavors of Mr. Dunant and the first discoveries of an Italian connection to the Red Cross movement. Henry, on a mission to obtain an audience with Emperor Napoleon, found himself a first-hand witness to the horrors of battle while in Solferino, Italy. This northern Italian town played host to a formidable struggle (The Battle of Solferino, June 24, 1859) between French, Piedmontese-Sardinian, and Austrian troops which resulted in massive casualties and injuries. As Dunant surveyed the post-combat battlefield and carnage, he was horrified by the suffering of the wounded and dying. His feelings of desperation led to a self-guided mission that resulted in the formation of the International Red Cross. The small role Italy played in this juncture is more coincidental than causal, but the Italian connection goes much deeper than Dunant's humanitarian conceptualizations that arose in Solferino.
It was a little over 300 years before Henry Dunant acting on his benevolent inspiration that a baby boy entered the world in Bucchianico, Italy – a village located about 20 miles inland from Pescara. The infant was christened Camillus de Lellis. In his early teens, de Lellis launched into a tumultuous life of rebellion, soldiering, and incessant gambling. While fighting as a mercenary, Camillus suffered a leg wound in battle that would come to define his life. Chronically infected and debilitating, his injury eventually made soldiering impossible. Camillus first tried his hand working at a hospital in Rome where he'd received treatment, but his violent temper and reckless nature resulted in a rather short-lived tenure before he was shown the door. Savvy and convincing, gambling became a means of making a living, but his luck, along with any worldly goods to bet with, ran out.
Like many a great plot twist, it was Camillus' woes that paved the path to his ultimate destiny. Reduced to a homeless, crippled wanderer, Camillus sought work at a Capuchin friary in the Puglian town of Manfredonia. A friar within took pity on the young man. Somehow, he was able to see through the hardened exterior of the wounded and defensive ex-soldier; he sensed an empathetic spirit beneath Camillus' difficult nature. True to script, redemption unfolded: Camillus softened to the friar's kindness and experienced a life-changing religious conversion. His desire was to join the Capuchins and serve with the friars, but the young man's lingering leg wound resulted in the ultimate rejection of his application.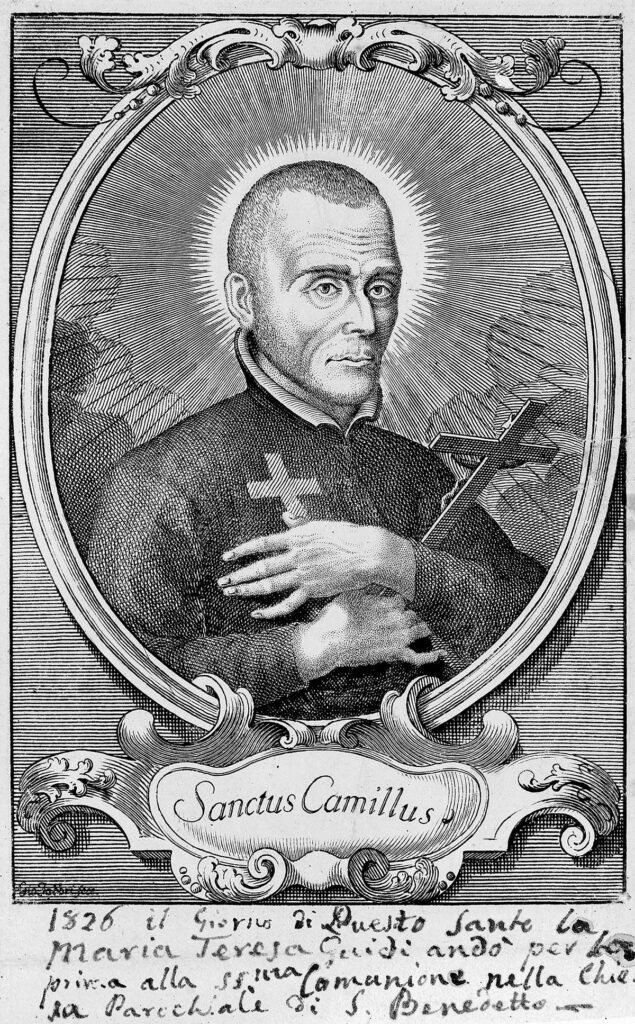 Ever resilient, the 25-year-old Camillus made his way back to Rome and sought work once again in the hospital where he'd first found employment…and had also burned a few bridges. Gracefully offered a second chance, it was soon apparent this was a new and improved version of the once-cantankerous youth.
The rocky years of Camillus's life had finally given way to his calling of serving the infirmed. Compassionate and energized by his desire to help others, Camillus began a quest to reform hospital care from merely tending to the dying in often less-than humane ways to holistic treatment towards recovery offered with dignity. Revolutionary ideas such as improved nutrition, cleanliness, isolating contagion, and spiritual counseling were put into place. The results were remarkable, and Camillus was soon promoted to superintendent of the facility.
Camillus' greater calling took shape in 1584 with his founding of an order known as Ministers of the Infirm, more readily known as the Camillians. Now a priest, Father Camillus organized men trained to give medical care, including to soldiers on the battlefield. To flag his men as neutral care providers – please don't harm them! – he ordered red crosses to be stitched to the front of the men's vestments.
The Ministers of the Infirm were soon serving as outreach to those suffering in the streets, in asylums, onboard galleys, at home, and in hospitals. The emblem of the red cross, still worn by the order and its branches today, was on its way to becoming the established symbol of charity now recognized around the world.
An online search will reveal the newer version of the origin of the red cross (with no mention of its Italian roots), with credit going to Mr. Dunant. The story goes that he chose the red-on-white insignia as a color reversal of the Swiss flag's white-on-red cross to represent his newly formed charitable organization. While not wanting to take away from Dunant's altruistic legacy, what's lost in translation is that this emblem of hope predates Dunant's by over 400 years with its humble and humanitarian Italian origin.
St. Camillus' feast day is celebrated by Catholics each year on the anniversary of his death, July 14th (July 18th in the USA), and in an especially big way in Bucchianico, the Abruzzian hilltop town of Camillus' birth. As soon as July appears on the calendar, banners featuring the Camillian red cross begin appearing on walls, flying from windows, and adorning the small town in honor and remembrance of their hometown hero.
Despite the overlooked beginnings of this renowned insignia, Camillus de Lellis would be deeply gratified to know the philosophy of his mission continues today through Red Cross organizations across the globe. For those who love Italy, knowing the rest of the story is gratifying, as well.