Undoubtedly, this isn't the best moment to use public transports in Italy, but that doesn't mean we can't talk about it. When it comes to romantic transport, fit for literature and movies, trains are king, but we Italians are attached to something else too, to our old street cars.
Street cars were once common a bit everywhere in the country, but today are active only in a handful of cities, including Turin, Milan, Trieste, Rome, Florence, Naples, Palermo, Padova, Venezia, Bergamo and Messina. Many may wonder what's the big deal with trams, because "aren't they just a mix between a bus and a train, in the end?" Well, somehow that's true, they are: they travel on tracks just like trains and are moved by electricity, but they do look like buses and operate in towns and cities just like them.
But the tram is so much more than a bus, you know. In that, it's just like its bigger, more popular cousin, the train: it's more than a way to go from A to B, it's part of the soul of a city, because its clinging and puffing gives a different note to her voice; and it's also a precious accessory, and a pretty unique one at that, with its narrow, art-deco silhouette — still present, although not as elegant, even in very recent vehicles —- and orange color.
In Turin, you couldn't even think of Via Po, Via Maria Vittoria or Piazza Vittorio without street cars and their cheerful singing: they are like the river and the Mole, like the Gran Madre and those beautiful hills and mountains that are, still today, the most royal of crowns for what has been the first capital of unified Italy.
The first tram traveled the streets of Turin on the 2nd of December 1883, but the first fully electric tramway line was inaugurated on the 1st of May 1898: it was called linea dei viali, and it still exists today, even if we know it with a different name, linea 16. Indeed, the linea 16 is one of the most used and perhaps iconic in the city, because it runs through its center, in Piazza Vittorio and all the way down to the Valentino, along some of the most beautiful streets in town.
Tramways in Turin have also been a symbol of emancipation: in 1915, when Italy entered the First World War, the ATM, the company in charge of part of the city's tramways system, found itself with a shortage of staff, as most men had to join the army. And so, in order to guarantee regular transports to the Turinese, ATM began hiring women, too, for positions that were, up to then, only available to men. During the war, trams were also used to transport injured soldiers to the city's hospitals, joining into the war-effort of the country.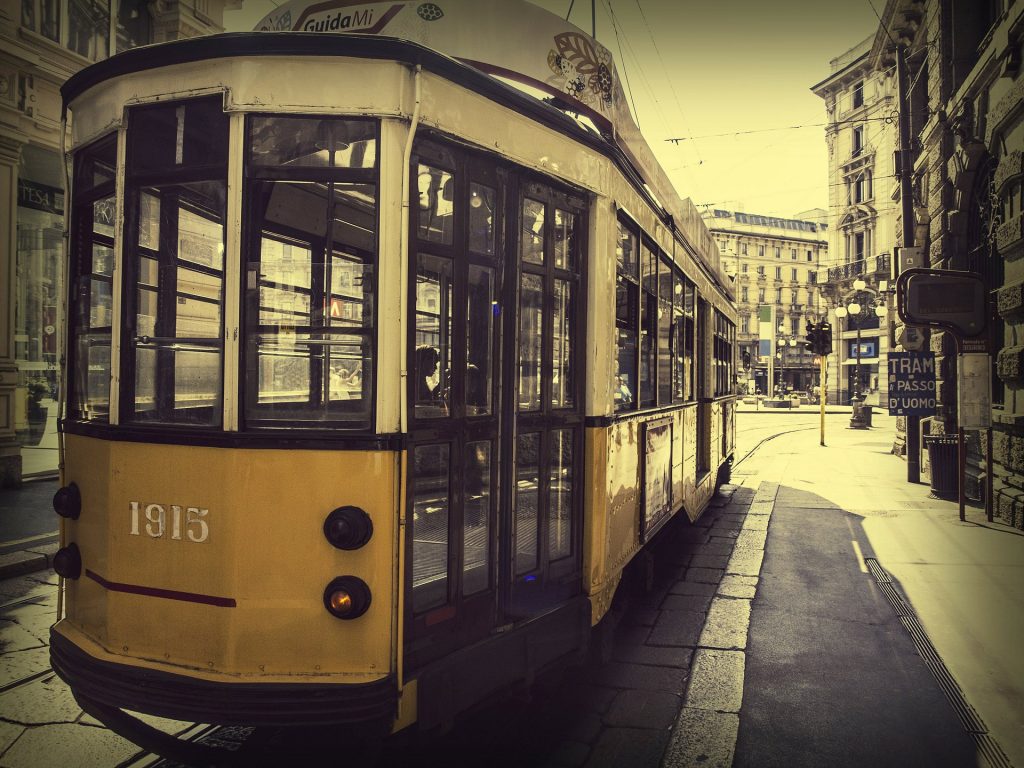 Milan, today, is the city with most trams, with over 400. I am not familiar with the trams of Milan, but if they are as charming and beautiful as those of Turin, then I'll like them, too. Just like Turin, Milan considers streetcars part of its DNA. Milanese are attached to their trams and tourists love them, as well. If you are lucky, you may even travel on one of the many original, 100 year old cars, which ATM restored, and that are still perfectly functioning. Not many know that the original street cars in Milan were horse-drawn and appeared two years earlier than in Turin, in 1881.
And what about our capital? Well, today Rome has only 6 lines left, not much compared to the 17 of Milan and 10 of Turin. Tramways only run for 31 km (again, not much when compared with the 170 km of Milan and the 220 of Turin), but they were the first to be used, in 1845: here, just like in Milan, cars were drawn by horses.
Perhaps, one of the most curious tramways still active in Italy is the one joining Trieste's city centre to Villa Opicina, a small village of the Karst plateau, some 330 meters above sea level. The little train climbs up a 26% incline slope to reach its destination, almost a km from departure. A similar, and just as picturesque, line is in Turin and joins the borgata Sassi to the famous Basilica of Superga, at 662 meters above sea level, on top of a hill overlooking the city, with a magnificent view on the Alps. The line was inaugurated in 1884, runs for 3.1 km (almost 2 miles) and, within 20 minutes, it will bring you all the way up to one of the most peaceful corners of the city.
Street cars are timeless, perhaps a bit démodé to the eyes of some. They are not fast, but they are historic, precious, beautiful. They do get crammed though, so you often end up having to abandon all dreams of a perfectly relaxing trip and just accept someone's elbow in the guts and the fear of not reaching the doors to get off because of the crowd. But just one trip on an almost empty tram through the street of a sleepy Turin or Milan is worth all the noise you may experience on them for the rest of the week.