Every city has its square, but there isn't quite a country where squares are as socially important as they are here in Italy. Our piazze are truly special: to begin with, even the smallest of hamlets has one, something you don't necessarily see in other parts of the world, where squares are common in larger cities and towns, but are often missing from the urban plan of villages.
Wherever you are in the country, you can bet you'll find either a church or the town hall in the main square. The village where I used to live on the Italian Riviera had three large squares, separated by two narrow alleys: social, commercial, political, and spiritual life all revolved around them.
Indeed, squares always had one or more of these roles, since the beginning of civilization: they were created to be a commercial hub and to facilitate socialization, to bring attention to a religious building, or to ensure citizens could gather and make their voices heard. An interesting article published by Urbanfile on their blog – Urbanfile is an Italian architecture and urbanistic think tank that focuses on elaborating and analyzing contemporary architectural projects – says that squares, in many ways, are a synonym of democracy itself. And they certainly were conceived as democratic spaces by those who, if not first certainly most notably, inserted them into their urban planning: the Greeks. The agora was just that, a place large enough for all citizens to participate in public and political meetings and partake in the running of their own town. Many of us may be even more familiar with the ancient Roman version of the agora, the forum: different name, but the idea was the same, that of a place created to exercise the democratic concept of power-sharing between people and their ruling élites.
Both the agora and the forum, of course, also fulfilled other roles: market stalls and shops often lined their perimeter and so, almost without residents taking notice, they also became a place of commerce and, very importantly, of socialization, turning into a multi-tasking urban space, very similar to what we know today.
In many of our towns and cities, Roman fora continued to fulfill the same role in the Middle Ages, just we no longer used a Latin word for them and, more often than not, churches entered the picture, too, becoming key architectural landmarks. These are the times when the spiritual role – if you pass me the expression – of squares began: often Christian celebrations would spill from churches onto their churchyard, with blessings, processions, and acts of worship taking place indoors and outdoors. A symbol of Faith, for sure, but also the beginning of local traditions we still celebrate across the country today. In fact, we noticed the immense power of squares in a spiritual and emotional sense during the pandemic, when many Italians witnessed their local priests walking out of churches' main doors and blessing people in the square. And who hasn't seen on the news the touching images of Pope Francis alone under the rain on Saint Peter's Square, praying for the world and for Humanity, in those very same tragic weeks? The stillness and majesty of the space around him made those moments all the more powerful and meaningful.
At the same time, we shouldn't forget that some of our most beautiful and famous squares were initially created as something entirely different. Want an example? Piazza Navona, in Rome, used to be a stadium in Roman times: wanted by Emperor Domitian, it was known as circus agonalis, it had been conceived for athletic competitions and games and could seat more than 3,000 people. With time passing, the circus agonalis lost its original function but kept its importance and, some of you may know, its elliptical perimeter, which is still clearly visible today. By the way, in case you are around Rome and interested in checking it out, the archaeological site of Domitian's circus agonalis is open and easy to find: it's just under Piazza Navona itself!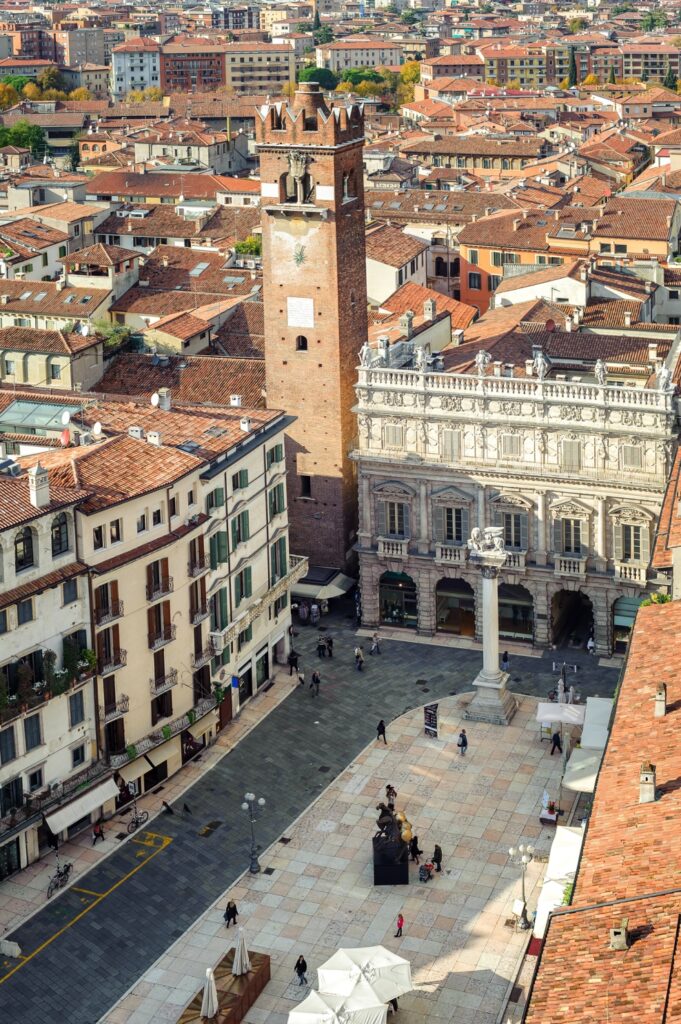 Democracy, commerce, spirituality and, we said, socialization. Today, this is perhaps the most recognizable and ubiquitously appreciated among the square's functions, a function that started truly developing in the 17th and 18th centuries, with the birth of Baroque. Because if it's true that fora and Medieval squares were a place where you could meet friends and acquaintances and interact with others, it was Baroque times that transformed our squares into the town's own living rooms: the square is where the town's most impressive and important buildings are but also where people like to seat and watch the world go by while sipping their afternoon coffee. It is where teenagers often meet before fare le vasche in centro, stroll around the town center, for some window shopping and chatting. Squares are the first place we bring visitors from out of town to introduce them to the place we live and they are definitely where we go for aperitivo with them on the first evening of their stay.
Piazze are more than urbanistic and architectural feats in our cities, they are local history in a nutshell, they are the place where we get our news or have our morning coffee before rushing to work, they are where many of our social memories are made: the heart and soul of every corner of the country, and a very special place for each and every Italian.