Dear Readers,
Opera Season, after a long shutdown, opened recently in San Francisco with Puccini's Tosca, to a fully vaccinated and masked audience of two thousand.
This was the S.F. Opera's 99th season, but without my friend Joe Brucia's father and his friends, back in 1922, the S.F. Opera seasons may have been slow getting started. San Francisco's Operatic "Storia Segreta" reached a belated but beautiful finale in 2003 when at a spectacular civic ceremony and luncheon in the majestic S.F. War Memorial Opera and Lobby, a beautifully sculpted, three-foot-tall bronze plaque was installed and unveiled for all to see.
The plaque honors the memory and vision of twelve original Italian-American Founders of San Francisco Opera. Few realize it is Italian American Opera lovers, mostly crab-fishermen living in early San Francisco, they owe a debt of gratitude, for the first financing of a Grand Opera House in San Francisco, as per dreams spun by Gaetano Merola.
Official, rewritten San Francisco Grand Opera "First Season" history, begins September 26th, 1923 but the late Louise Dana (1904-2000), who served as unpaid secretary to the San Francisco Opera Company during the early years, had other recollections.
Louise (Stradi) Dana, was born in Pontasserchio, (a little town near Pisa) the first child of Giulio and Mariettta Stradi. Hearing that the Great Earthquake and Fire of 1906 created many work opportunities, her father, a musician, sailed from Genoa, Italy, and arrived in New York in 1907. Unable to speak English, his first job upon arrival in San Francisco was washing dishes for the lumber camps at Fort Bragg, which supplied wood to rebuild homes and businesses in San Francisco. In a few years, her father saved enough money to buy passage for Louise and her mother to America, where the family worked in the produce market.
The produce business agreed with Giulio Stradi and by 1920 he had become financially successful. He had many friends, among them Gaetano and Rosa Merola from Napoli, who were frequent guests at the Stradi home. Mr. Merola often played the piano,  and after dinner everyone would discuss opera and music. A regular topic of conversation was the idea of "bringing opera to San Francisco."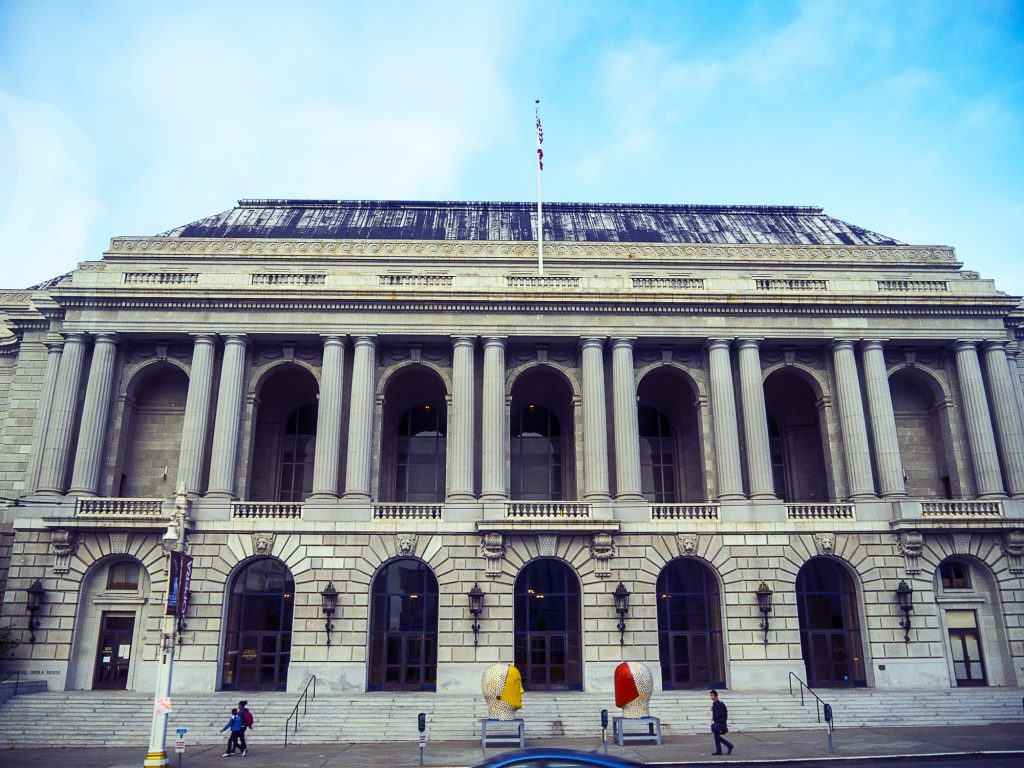 Establishing a new opera company was a huge undertaking. At 16 Louise, at Mr. Merola's request, became his secretary, and as the only employee of the San Francisco Opera Company.
The support of the founders enabled Merola to stage performances of Pagliacci, Carmen, and Faust on June 3, 7, and 10, 1922, at Stanford. These were an artistic success, but a financial disaster. Mr. Merola had to ask Mr. Stradi and his friends for additional money to cover the losses.
By 1923, thanks to the artistic success showcased at the Stanford Stadium in 1922, Gaetano Merola met the Bay Area's monied folks, from the Alexanders to the Zellerbacks, with the Fleishhakers and Goldsteins in between. In fact, except A.P. Giannini, there was not one Italian surname listed among the 45 sponsors of the San Francisco Grand Opera "First Season" at the San Francisco Exposition Auditorium, September 26, 1923 program.
After the "First Season" opened with Puccini's La Bohème, Gaetano Merola never looked back, and the sacrifices of "pescatori" and produce people were forgotten until 1932.
Thanks to meetings with Mayor Rossi and efforts by Ettore Patrizi, who remembered the efforts and sacrifices of the founders that Merola quickly forgot, on the afternoon of October 14, 1932, the day before the official opening of the Opera House, there was a special reception for the unveiling of a commemorative plaque to honor those Italians who aided Merola in starting the San Francisco Opera Company.
In January 1996, the plaque was removed during the renovation of the Opera House. When the Opera House reopened on September 5, 1997, for a gala concert, it was missing and for five years all inquiries as to the plaque whereabouts were met with a run-around by Opera House officials.
In 2003, thanks to the persistence of Joe Brucia, son and nephew of two of the original San Francisco Opera Company founders, Alessandro Baccari, a historian working on a documentary about the contributions of Italian Americans to opera in San Francisco, and (N.S.A.F.) National Sicilian American Foundation president Frank Bonfiglio, a large, bronze replacement plaque was designed and affixed in a place of honor, on the walls of the San Francisco War Memorial Opera House at 601 Van Ness Ave. to honor the founders of the San Francisco Opera Company:
To commemorate the founders of the San Francisco Opera, who believed in Gaetano Merola's dream of establishing a permanent opera company in San Francisco. Their enterprise, faith, and generosity made possible the first three operas, I Pagliacci, Carmen and Faust performed at Stanford University Stadium in June 1922.
Giuseppe Brucia, Louise Dana, Antonio Farina, James V. Frevola, Milano Milani, Alfonso Napolitano, Amedeo Napolitano, Amalio Paoni, Amedeo Paoni, Giulio Stradi and Guglielmo Torchia.