Dear Readers,
An April assortment of Italian Connections for you:
A Chance at Life, formerly known as Boys Town of Italy has been providing education and supportive services to children around the world since founder, Monsignor John Patrick Carroll Abbing, established his first Boys' Town of Italy in the aftermath of World War II, in 1945. Since then, they have responded to public health and humanitarian crises of every size, including the 1966 flood in Florence, the 1981 earthquake in Naples, and the 2020 Covid pandemic worldwide.
The barrage of images coming from Ukraine is horrifying. Families have been displaced from their homes with nothing but the clothes on their backs as their country is torn apart by war.
More than 900,000 of these Ukrainian refugees – the vast majority of whom are women and children – are expected to flee to Italy, which is home to the largest Ukrainian population in Europe.
***
Paul Revere's "Midnight Ride from Charleston to Lexington," April 18, 1775. This son of liberty, his "cry of alarm" and the hurrying hoofbeats of his horse were immortalized in a poem by Henry Wadsworth Longfellow. Andrew M. Canepa, editor of the Piemontesi nel Mondo Bulletin, said his research indicates that Paul Revere was an Italian descendant from the Piemonte region of Italy.
Revere was born in 1735. He was one of the world's great metal craftsmen and artisans, a pioneer manufacturer and industrialist. In 1801 he founded a major American company that is still alive and thriving today. The company is Revere Copper and Brass, Inc., and the founder was, of course, Paul Revere. Paul Revere's house still stands in Boston's North End.
***
Easter is a "movable feast" (April 17th) this year.
Easter changes from year to year. From the earliest times, the date of Easter has been determined as the first Sunday after the first full moon following the Vernal Equinox (first day of Spring). The earliest it could ever be is March 22 (March 20 or 21 being the Vernal Equinox).
***
Rita Levi-Montalcini was born in Torino on April 22, 1909, and died at age 103 at her home in Rome in 2012. At the time of her death, Levi-Montalcini was the oldest living Nobel laureate.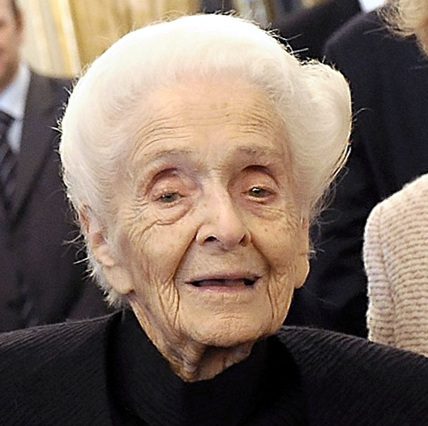 The entire country as well as the international academic community paid their last respects to the Italian scientist who was buried in Turin. Italy's so-called "Lady of the Cells," a Jew who lived through anti-Semitic discrimination and the Nazi invasion, became one of the world's leading scientists and shared the Nobel medicine prize in 1986 with American biochemist Stanley Cohen for their discovery of the Nerve Growth Factor (NGF) in the peripheral nervous system.
She obtained a summa cum laude degree in medicine and surgery from the city university in 1936, despite her father's objection to women studying.
***
Angelo Joseph Rossi, former Mayor and pride of San Francisco's Italian community in the years before WWII, died in San Francisco in April 1948.
He was born on January 22, 1878, in Volcano, Amador County, California.
***
Arbor Day celebrations are marked by tree planting to foster general interest in reforestation. Many states set Arbor Day dates according to their climate, but many states with mild climates celebrate Arbor Day today. Arbor is the botanical name for "tree." When I was a child, if you saw a fig tree growing in a yard, it was a tip-off that the property owner was probably Italian.
***
Topo Gigio made his debut in America on the Ed Sullivan Show in April 1963 and literally lit up the switchboards. Topo Gigio made 17 appearances in only 12 months. He never appeared anywhere else in this country except on the Sullivan program which signed him to an exclusive contract.
Topo Gigio the Italian mouse was Ed Sullivan's discovery. he had blond hair, blue eyes high pitched voice with a heavy Italian accent; he was 10 inches tall and was made of foam rubber.
***
Alessandro Malaspina, who led the expedition of scientific exploration and geographic drawings of Southern California, Vancouver Island, and Alaska, died April 9, 1810, at age fifty-six.
***
St. John Baptist de la Salle (1651 – 1719) founder of the Christian Brothers. Over three hundred years ago, this priest had a lot of "new ideas" about teaching children. Instead of teaching one child at a time, he thought it would be a good idea to put several students together in a classroom and his methods of education revolutionized the education system of the time. He gave all his wealth to the poor and spent much of his effort training teachers. The Christian Brothers have become one of the largest teaching orders in the Church, based on his methods, which first became popular in France and Italy.
***
Here are some lessons for living you can learn from the Easter Bunny.
Don't put all your eggs in one basket.
Everyone needs a friend who is all ears.
Keep your paws off other people's jelly beans.
All work and no play can make you a basket case.
Let happy thoughts multiply like rabbits.
***