Dear Readers,
Grazie to those of you who responded to my "support your L'Italo-Americano press now!" message by putting pen to check-pad and ordering a new subscription for yourself, friends, or relatives. Thanks for understanding the importance of supporting our Italian American press, especially these days when our heritage is being threatened by those who seek to rewrite history. And, this time around having great success, defacing and tearing down statues not only of Columbus but of George Washington, Abraham Lincoln and General Grant.
Remember, L'Italo-Americano is the only bi-weekly west of the Mississippi. Support your Italian American press now while there is still time. List the name and address of friends and relatives, write a check or money order, $59 for one year (26 issues) – ($100 for two years).
Mail check or Money Order to: "L'italo-Americano P.O. Box 6528, Altadena, CA 91003
With all the current social distancing, receiving a copy of L'Italo-Americano in the mail will be for you or your friends like finding a welcome friend at your door 26 times a year…
***
August is a good month to remind you that St. Rocco, always pictured together with his dog on religious picture cards, often distributed on his feast day August 16, was Heaven's first animal rights activist, if the stories we believe in a leap of faith, are true.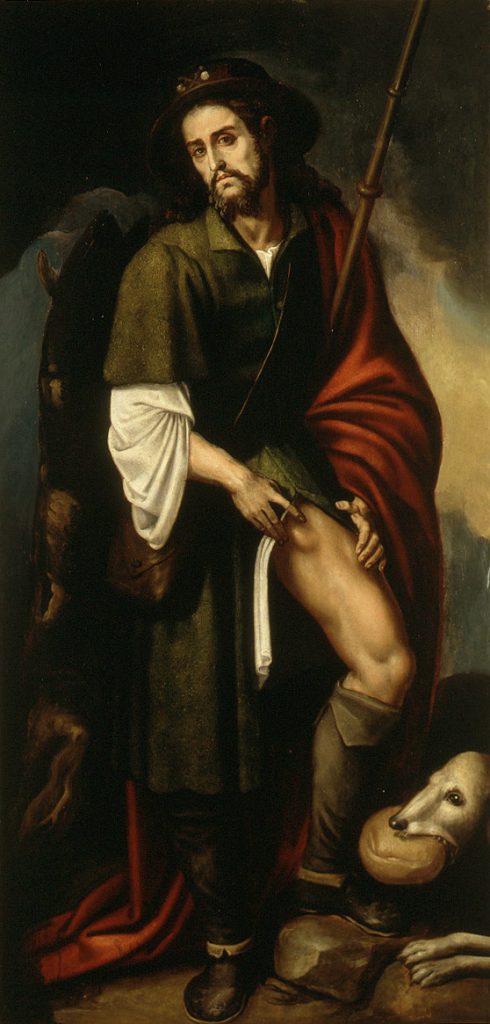 St. Rocco, with his faithful canine companion Roquet by his side is venerated throughout Italy for his intercession and service to the plague-stricken in the early 1320s, and celebrated in Calabria with Italian gingerbread figures called Panpepati. These represent various parts of the body, and are ex-voto for the people whose arms, legs or various organs are protected by the saint.
He is often considered the patron saint of wool carders and cooks. However, after reading this story, I am sure you'll agree that San Rocco deserves to be known as the original equal rights animal activist.
St. Rocco (Roch) was born with a birthmark shaped like a cross imprinted on his breast in Montpellier, France. As soon as he was of age, he gave his earthly possessions to the poor, took up the life of a monk, and began to wander, accompanied by a little dog named Roquet. He served the plague stricken in Italy while on a pilgrimage of devotion to Rome.
This was the time of the Black Death (bubonic plague) and when Rocco discovered that he could heal the stricken with his touch, he devoted himself to their cure.
Finally infected with the disease himself, he withdrew, dragging himself to an isolated cave in the woods. While he lay there exhausted, his dog Roquet found his way to the castle of a nearby nobleman where he managed to snatch a loaf of bread from the table. Returning day after day to find food for his master, the dog aroused the interest of the nobleman, who followed him to the cave. The sight of Rocco, now dying, moved the nobleman to abandon his wealth and follow the path of the dying saint, who died circa 1327.
St. Rocco ascended to Heaven, where he was welcomed by St. Peter, the Celestial Gatekeeper. When St. Peter refused to admit Roquet, as they had a no pet policy, St. Rocco said the dog had saved his life. St. Peter replied that a rooster had saved his soul, but that he had never even imagined taking him along to Heaven. Refusing to abandon his faithful companion, St. Rocco sent news of this conflict and reached the ears of God the Father, who commanded that St. Rocco and Roquet be admitted to heaven together. When St. Peter complained about the neglect of his rooster and threatened to resign his post, the Heavenly Father agreed that the bird should also enter.
Then the other saints all made a claim for the animals that had served them – St. Jerome for his lion, St. Calm for his cat, St. Agnes for her lamb, and St. Francis for all the other birds and beasts. And the Heavenly Father saw that he had no choice. He ordered St. Peter to throw open the gates of Heaven to every creature who had served His will.
And it was the doing of St. Rocco and his little dog…
***
Here is another Italian Canine connected story…
When Roman police inspector Brigadier Giovanni Maimone retired from the police department, he received a pension immediately. However, when his partner Dox Von Coburger Land retired from the Rome police force at the age of 15, the authorities decided that he was not entitled to a pension. Why? Because he was a dog, and not a person. 
They ignored the fact that Dox had solved more cases than any other detective. Since he held the rank of corporal, lower-ranking human policemen even had to salute him when he approached. When Dox retired, Maimone did the same and opened a dog-training center called "Casa Dox" when the 19 year-old dog died in 1965.
Feeling that Dox had never received his proper recognition as a civil servant, Maimone continued to sue for a pension. In 1974, thirteen years too late, the courts agreed and gave Dox a posthumous award.