Art serves as a catalyst for human expression: it sparks emotions, instigates conversations, and challenges societal norms. Sometimes, however, art surpasses mere provocation and creates scandal. A number of Italian masterpieces throughout history have ignited controversy and scandalized the public, pushing the envelope of artistic freedom. From Caravaggio to modern-day photographer Oliviero Toscani, here are some of the most controversial works of art Italy produced.
Caravaggio and his Madonna dei Palafrenieri
Let's begin with Caravaggio, an artist known for his dramatically realistic and emotive style. One of his most infamous pieces is the Madonna dei Palafrenieri, a painting that caused quite a stir when it was revealed in 1606. Caravaggio's Madonna was seen as a pretty unorthodox representation of the Virgin Mary, who is portrayed as an ordinary woman, a commoner Dressed in a daring red dress showing her generous cleavage, she looked more like a girl you could meet at the local market than a holy figure, which was rather scandalous considering the reverence associated with her figure. Further controversy was added by the fact that the model Caravaggio used was rumored to be Maddalena Antonietti, a Roman prostitute known as "Michelangelo's girl," where Michelangelo was Caravaggio himself (his full name was Michelangelo Merisi da Caravaggio). As if that wasn't scandalous enough, the depiction of Jesus added further fuel to the fire. He was in the nude, which wouldn't have caused much of a problem if the painted child weren't considered too old to be shown naked. The fact he, Jesus as a child, was crushing a serpent underfoot caused even more heat, because the act was seen as blasphemous by the Catholic Church, which viewed it as suggesting direct salvation from God without the need for the Church's intervention.
Commissioned by the confraternity of the Palafrenieri, and meant for the high altars of St. Peter's, the painting was too scandalous to stay: after a mere few days on display, it was taken down and put up for sale – an ignominious end to a work that today is hailed as a masterpiece of European art.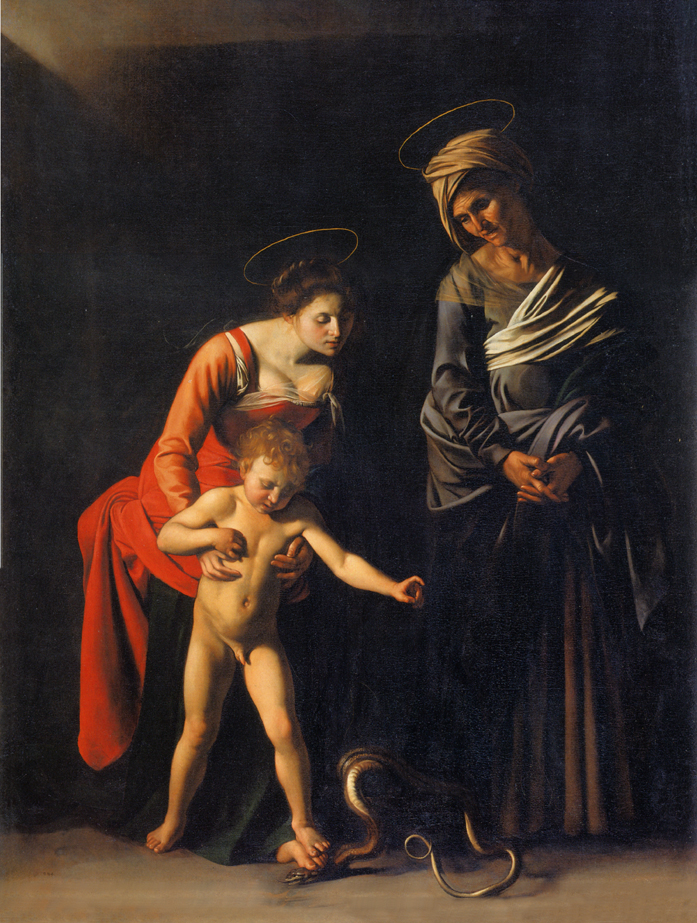 Artemisia Gentileschi's vivid take on Judith slaying Holofernes
Artemisia Gentileschi, one of the most accomplished painters of her generation, was not a stranger to controversy, and she definitely stirred the pot with her interpretation of Judith Slaying Holofernes. The painting showcases the biblical story of Judith, a brave Hebrew woman, beheading the Assyrian general Holofernes with the assistance of her maid, Abra. The work, filled with violent and bloody imagery, caused an uproar, but Gentileschi's personal history of sexual assault at the hands of Agostino Tassi, a fellow artist, made the artwork even more scandalous because people speculated about the link between her experience and the brutality shown in the painting.
The centrality of Judith herself was problematic: the force she exerted, her royal attire, and the golden ornaments she wears make her, a murderer, the visual catalyst of the work. Plus, the splashes of blood bring a sense of realism, emphasizing the gruesome act she undertakes.
The artwork, intended for grand duke Cosimo de' Medici, was cast aside due to its violent nature and ended up spending years in a dim room of Palazzo Pitti before receiving the appreciation it deserved.
Michelangelo's Last Judgment and Braghettone's intervention
Michelangelo, a giant in the world of art, also faced his fair share of controversy. His epic Last Judgment in the Sistine Chapel, filled with nude figures, was seen as inappropriate and obscene. The Council of Trento, in 1564, ordered the coverage of nudity in the painting, and the ominous task fell to Daniele da Volterra, nicknamed thereafter Braghettone, or "The Trouser Maker." He discreetly added flowing drapery to cover the naked figures, showing respect for Michelangelo's artistry. However, two figures, Saint Blaise and Saint Catherine of Alexandria, were seen as scandalously erotic, and Volterra had to extensively rework them.
Oliviero Toscani's provocative vision
Fast forward to the modern era, and we encounter another Italian who mastered the art of scandal – Oliviero Toscani. Known for his provocative, socially and politically aware photography, Toscani made a name for himself with his idea of "shockvertising," advertising aimed at shocking the viewer. One of his most controversial campaigns was for Italian fashion house Nolita and featured Isabelle Caro, an anorexic model, fully naked looking painfully into the camera: the aim was to raise awareness about the disorder, but many couldn't look past Caro's emaciated features. It is his work for Benetton, however, to be perhaps most notorious: with it, Toscani truly pushed boundaries, sparking conversations on racism, discrimination, and societal issues.
In the 1980s and 1990s, Toscani's campaigns for Benetton were as beautiful as they were scandalous: a young nun and priest kissing; three real human hearts with "white, black, yellow" printed underneath to symbolize the equal essence of all races; the miracle of new life portrayed in a two-level photo showing colorful condoms above and a newborn, covered in blood and with its umbilical cord in full view below.
Whether it's the Madonna dei Palafrenieri, Judith Slaying Holofernes, The Last Judgment, or Toscani's photography, Italian artists have a history of creating art that scandalizes, challenges, and ultimately changes the way we perceive the world. From Caravaggio to Toscani, their audacious creativity continues to prove the enduring power of art.