This October, two site-specific installations by Italian artists were unveiled in some of Seattle's most highly trafficked areas.
In the new Roosevelt Station, which opened to riders October 1 as part of the expanded Sound Transit system, New York-based artist Luca Buvoli has created an energetic and colorful depiction of abstract bicycle and running images. Across town, in the new sports arena at Seattle Center, Seattle artist Iole Alessandrini has designed a playful interactive light installation based on the mythology of the Raven. The long-awaited Climate Pledge Arena opens in late October, postponed from last December because of the pandemic.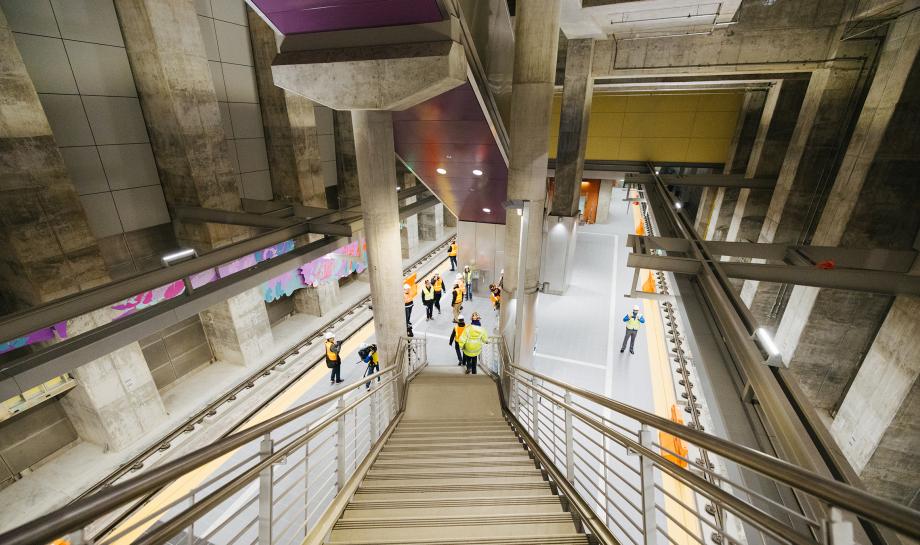 Seattle has long been known for its commitment to public art and to art in public spaces. Nearly 50 years ago, it was one of the first cities in the country to adopt a one-percent-for-art ordinance. This means that 1% of eligible capital-improvement project funds are set aside to commission, buy and install art in a variety of settings – from parks and libraries to roads and bridges. Other art around town is privately commissioned and installed in a high-visibility location, made available for all to enjoy.
Iole Alessandrini: interplay of light and space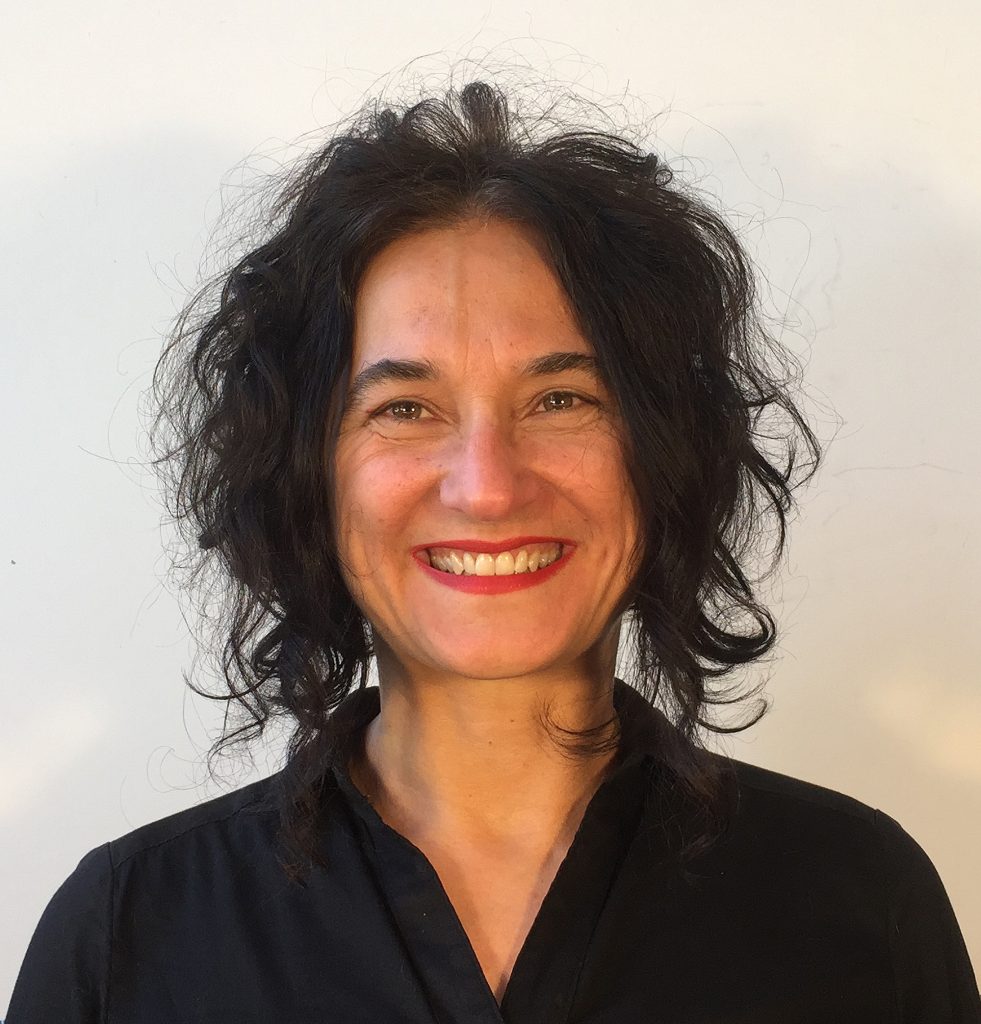 Iole Alessandrini was born in Abruzzo and moved to Rome when she was two. She relocated to Seattle in 1994 to attend the University of Washington, where she earned her second master's degree in architecture (the first from Sapienza University of Rome), and has remained there ever since.
Creatively, she is fascinated by the interplay between light and space, and her complex site-specific installations often use controlled environments to explore these two elements. She sometimes adds video, music or computerized sound to create an intense personal experience that is unique yet fleeting.
Her latest commission at Climate Pledge Arena, which opens in late October, provides a meditative gathering space. Called The Raven and the Light, this interactive display was inspired by the Raven, a mystical creature of great significance. In the Bible, Noah released a Raven to find a landing site after the great flood but the bird never returned. A constellation called corvus or "The Raven" goes back to ancient Greek and Roman times.
To some, the Raven is a trickster and a shape-shifter, the quintessential actor, so the location of Alessandrini's art in the green room in the arena's southeast plaza – traditionally a lounge area for performers – is the perfect spot. The installation incorporates a 14-foot dark-gray stone that sits flush with the floor, acting as a stage. Its angled lines of color-changing light punctuate the stone base like streetlights. Illuminated benches invite visitors to sit and enjoy the interplay between the Raven and the Light, using an app available on their phones to map the trajectory of the Raven constellation.
"I hope the Raven and the Light will enchant arena visitors with a simple display of light and abstract shapes as they wait for a game or a concert," said Alessandrini, "but it also promises a deeper reward for those who follow the path of lights and look up at the sky, using the phone app. I wanted people to be moved physically and emotionally with this work."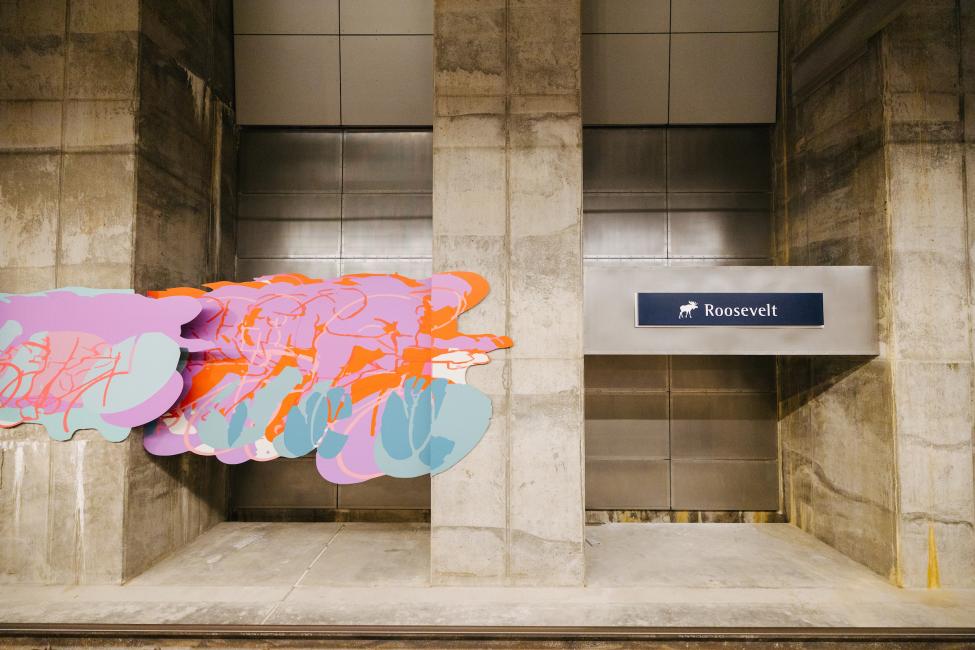 Alessandrini has been creating art in the Pacific Northwest for several decades. In 2015, she received a commission from the city of Edmonds, Wash., to create a work along the 4th Avenue "cultural corridor." The resulting work, Luminous Forest, consisted of solar LED lights embedded in the roadway, visually connecting the corridor at night and evoking the large trees that once lined the city streets – a nod to the region's forests and logging history.
At a cost exceeding $1 billion, the Climate Pledge Arena is home to the Seattle Kraken, the city's new professional hockey team, and the WNBA's Seattle Storm, as well as the site of concerts and other major events. Built as part of a partnership between Oak View Group and the City of Seattle, developers were charged with reimagining and redeveloping the historic arena built for the 1962 Seattle World's Fair while paying respect to the indigenous lands of the Coast Salish people upon which it sits.
Luca Buvoli: inspired by Italian Futurism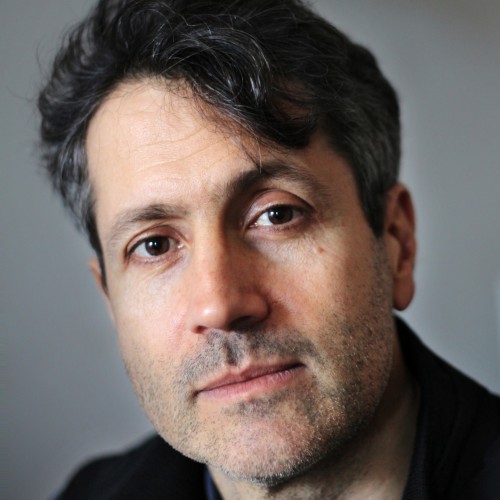 Luca Buvoli, born in Brescia in 1963, works in animated film and video, sculpture, painting, and drawing. He intertwines mythology, science, and ideology with his down-to-earth perspective and a dash of humor. His energetic installation at Sound Transit's new Roosevelt Station, entitled Mo-Mo-Motion, uses bold, graphic artwork that suggests runners and cyclists in motion. The pathway of Buvoli's bike and runner images is strategically positioned to guide passengers from the station's exterior to the underground platform.
Buvoli's art is inspired in large part by film and the Italian Futurism movement. Mo-Mo-Motion is a continuation of his larger body of work that centers on people and objects in motion. He has exhibited internationally for more than 30 years, with solo shows at the Phillips Collection in Washington, D.C. (2020), Philadelphia Museum of Art (2001), and the M.I.T. List Center in Cambridge, Mass. (2000). He has also contributed to group shows in Berlin, Venice, and South Africa, among other locations.
A Fulbright Fellow who lives in New York, Buvoli has received many grants and awards. His work is in the collections of the Museum of Modern Art and Guggenheim Museum, to name a few. Currently, he is the director of the Mount Royal School of Art, a multi-disciplinary graduate program at the Maryland Institute College of Art (MICA) in Baltimore.