Many passionate love stories start out nice enough, but somewhere along the way jealousy, cultural clashes, or rejection enter the stage…and romance turns to tragedy. Romeo and Juliet, Samson and Delilah, Tony and (I just met a girl named) Maria, and so many more illustrate this never-ending fascination with love gone bad.
Sicily embraces her own tragic love tale, one that is artistically preserved and remembered within homes, across souvenir store shelves, upon balcony walls, and in every ceramic vendor's shop throughout the island. Moorish head planters – alluring, colorful, and a bit mysterious – are almost always presented in pairs: a strikingly handsome dark-skinned man and a captivating fair-complected woman, both equally embellished with vividly hued and ornate decor, clothing, and headwear. They also represent one of Sicily's most iconic and sought-after types of artisanal art. So, just who are these two intriguing yet bodyless guests found throughout the island? That's where the impassioned story begins!
For every good legend, there are at least a couple of additional legends to explain the same cause and effect, and thus it goes for the story of our two lovers. We'll stick with the most popular one as "truth" but share a little print real estate with the others, as well.
It's a compelling mixture of Sicilian history and urban myth. The opening scene takes us back in time to the 1100s, an era when Sicily was under Moorish rule. It was in Palermo's Arab quarters, the Al-Halisah (now known as the Kalsa), whereupon a balcony stood a beautiful young woman innocently tending her small garden of potted plants. Her radiant appearance caught the eye of a handsome Saracen robed in fine attire. Although she was shy and hesitant, the man's charms swiftly overpowered any uncertainty. A fiery affair commenced, sealing her irrefutable love.
The naive maiden assumed their devotion was fully reciprocal, but soon discovered a devastating plot twist. Her lover was leaving…to return to his wife and family in the Orient. Enraged and reeling with pain, her plan for revenge took shape. Waiting for the cover of night, the forsaken young woman slipped into the chamber where her sleeping betrayer lay. Powered by her indignation and rage, she hoisted a sword over his bed. The falling blade flashed under the moonlight as it swiftly met the doomed Moor's neck.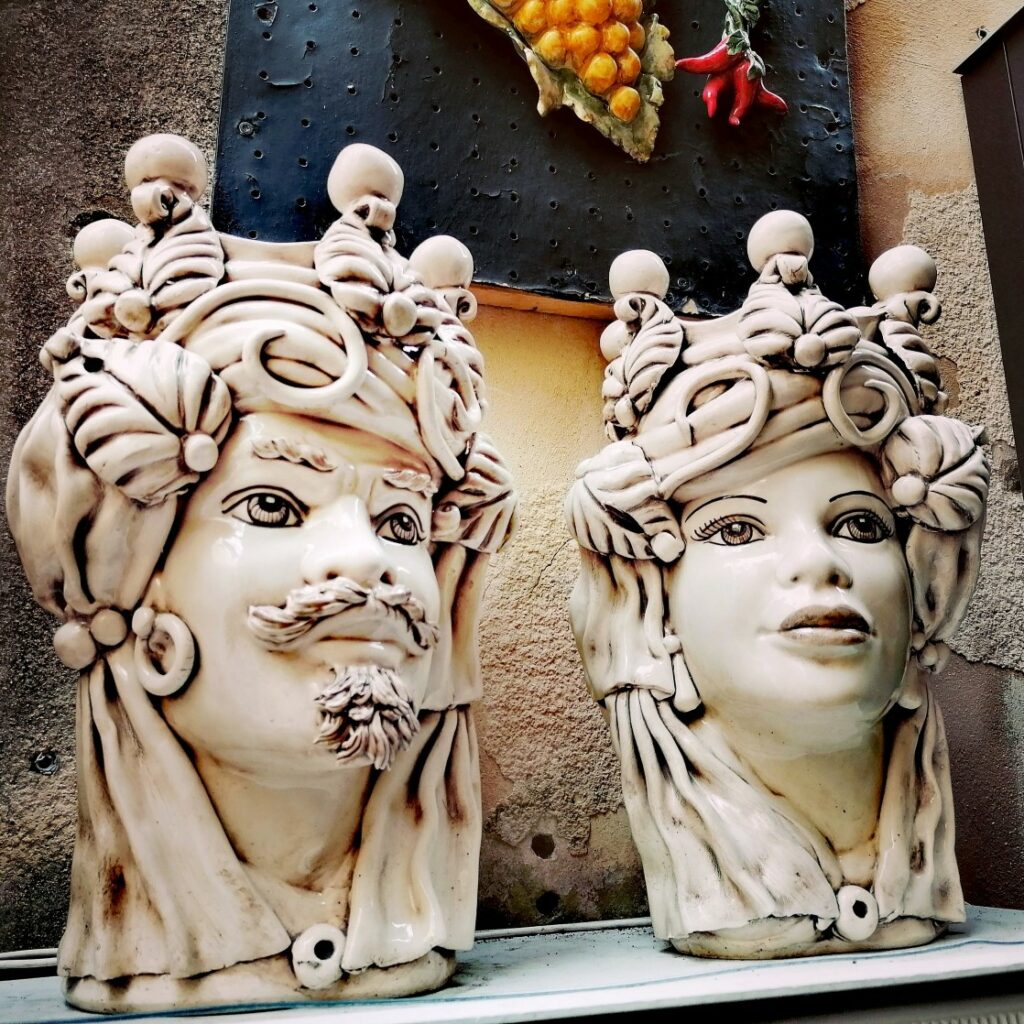 Vindicated, the forlorn mistress took her lover's head, placing it on the balcony and she planted her basil seeds to grow within. He would now be with her forever, never to return to his distant home. Her tears watered the seeds causing them to thrive, their beauty and scent catching the attention of passersby. Jealous of her success and blissfully unaware of the origin of the maiden's planter, others soon created their own terracotta planters in the form of an elegant Moorish man's head.
A bit gruesome, yes, but a legend is a legend! But what about the maiden, our opposing main character and the other half of the planter pair? Another version provides an explanation for this remaining mystery by way of a slight plot variation. As it goes, the woman was of nobility. When her family discovered the clandestine affair and realized their honor was at stake, they beheaded both her and her lover. Their heads were placed on a balcony and turned into vases, a reminder for all to see.
These rather dark explanations remain a rich part of Sicily's mythology, but another version took greater hold of European minds during the Renaissance through a tale written by Giovanni Boccaccio, one of Italy's premier humanist thinkers and writers. Included in his famous collection of short stories called The Decameron (1353) was the tale of the beautiful young Lisabetta, an orphan of noble heritage living in Messina under the supervision of her three strict older brothers. She began a torrid love affair with a commoner, Lorenzo, which was soon discovered; the enraged brothers put an end to the romance by killing Lorenzo. Of course, Lisabetta became sick with worry over his unexplained absence. One night, Lorenzo appeared to her in a dream, revealing his fate and the location of his body. Desperate to find the truth, Lisabetta followed Lorenzo's guidance and made the ghastly discovery. Overwhelmed with grief, she was despondent at not being able to honor Lorenzo's death with a fitting burial; thus, she severed his head, hiding it within a vase. The sorrow-filled girl lovingly covered the remains with a basil plant, Lorenzo now forever by her side. But wait…it's not over yet!
Lisabetta's never-ending tears shed over the thriving plant soon caused alarm amongst her brothers; they discovered the evidence of their crime within the planter and panic ensued. A plan was made to flee to Naples with no concern for their inconsolable sister. Poor Lisabetta was left behind to die of a broken heart. And thus, we have the two lovers forever immortalized by head-shaped planters.
Even if you didn't know the sordid love story behind these "teste di moro" planters (and maybe now you'd prefer not to), the beauty of these pottery pieces is spectacular, as well as iconic to the colorful, appealing flair of Sicilian ceramic art. The bright colors and glossy glazed surface are fundamental to Majolica pottery, a style often associated with southern Italy, but not indigenous to the region. In fact, the stylization was brought from Spain in the 1400s, and found its fame in Italy due to master craftsmanship. Trademark signature colors such as cobalt blue, vibrant yellows, deep emerald greens, and iron red bring out the best in the whimsical and elaborate creations of Moorish Head ware, making it hard to resist packing up at least one pair to call your own – despite the scandalous back story that goes with them.