La Costiera Amalfitana. To borrow a few lines from a wonderful old song – "Say it loud and there's music playing; say it soft and it's almost like praying" – is befitting. Just the sound of the words hints at the magic and allure found along Italy's Amalfi Coastline. Encompassing 25 miles of magnificent coast stretching from Sorrento to Salerno, this famous slice offers breathtaking views almost too stunning to embrace as reality. Soft emerald mountainsides dramatically morph to sheer cliffsides that tumble into the Tyrrhenian sea. Precariously stacked jumbles of pastel buildings compose small seaside towns and cliff-hugging villages, each looking as if they might topple into the sea at any moment. The renowned (and extremely narrow) Amalfi coast roadway corkscrews round and through it all, itself an engineering feat of seemingly impossible means. Add a splendid array of beaches, lemon groves, vineyards, and orchards: the region's reputation for beauty and enchantment is sealed.
While many seek this area for lazy days by the ocean or perhaps a romantic get-away, the Costiera Amalfitana offers a spectacular selection of hikes for those seeking a bit of outdoor adventure. One hike in particular stands above them all for sheer beauty – the Sentiero degli Dei…or Path of the Gods. With a name like this, expectations run high; and fortunately, they are met! Slated as one of the top ten hikes in the world, the Path of the Gods has earned its title as a "must do" activity along the Amalfi Coast.
A recent visit to this area gave me the opportunity to experience the hike firsthand. It was a day I'll not soon forget. Being based in the town of Amalfi made for one less obstacle to reach the trailhead in a region that often requires multiple modes of transportation to get from Point A to Point B. A daring bus ride from the seawall up-up-up the mountain to Bormerano brings hikers to the tiny town's central piazza. A nearby bar serves as a beehive of activity as locals grab a morning espresso and hikers scurry for the restroom, water, and one of the enticing local pastries – certainly necessary for hiking energy!
Signs guide the way to the trailhead, a rather unassuming asphalt road that offers less than provocative views of wild grasses growing along a hillside and peeks of terraced olive groves. The mundane quickly gives way, however, when the actual trail begins. Glimpses of glistening water tease of what's to come as layers of mountainsides, limestone cliffs, and grottos join the collective scene. This area is lush; gentle breezes brought transient wafts of rosemary and other flora up the steep cliffsides to delight our senses even more.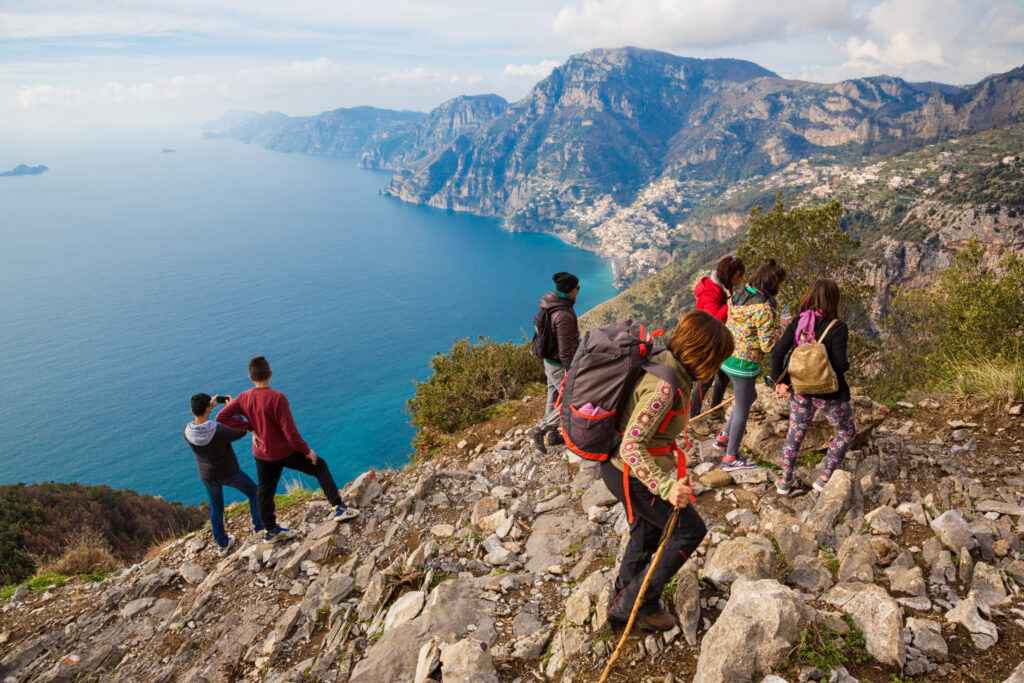 From Bomerano, the hike transverses about 5 miles before reaching the village of Nocelle, the official end of the path. While it's listed as a moderate hike, anyone with a reasonable level of endurance can easily manage. The path does become a bit challenging here and there, but it's not a race: take your time to scramble over occasional rocky terrain. Being mindful of drop-offs is a good idea, and particularly treacherous ones are guarded by sturdy railing. Common sense is the best thing to toss in your backpack, along with water and a sunhat!
It's suggested to allow 2 to 4 hours to complete the course to Nocelle. Factoring in time to stop and absorb the wonders definitely calls for the lengthier estimate. Views along this path are a never-ending wide-screen array of magnificence that constantly surprises. While dazzling views of the sea are endlessly breathtaking, portions wind through shaded forest before opening to coastal views. Occasional forays lead into cavernous, even canyon-like segments that kiss towering limestone cliffs and grottos. Sporadic ruins speak of those who dwelled here centuries ago as they carved out a living, while occasional livestock pens hosting pigs or a donkey seem to practically hover from stony walls or grassy patches perched over sheer drops.
The trail itself is ancient. It's said the Greeks were the first to carve its footprint, opening a means to get from one settlement to the next. Even today, the main portion is an active footpath used by farmers and villagers to transport goods from village to village, make way to their olive or lemon groves cultivated at heavenly heights, or move livestock to greener grazing. Don't be surprised if you meet up with a few goats or a loaded-up donkey along the way.
It's understandable that a pathway such as this would be suitable real estate for the gods, but other explanations exist as to the name of the trail. Perhaps the most entertaining is based on literature, Homer's Odyssey to be precise. It's said that the gods descended to save Ulysses from the allure of the Sirens' songs as he sailed past their home of Capri. The pathway was created as they trod from above down to the sea. Others say it derived its name from the small religious communities and hermits who would shelter here to pray, or perhaps was named by Grand Tour travelers in the 1800s for its sheer beauty. Take your pick: the name is definitely befitting no matter its origin!
The final third of the path is perhaps the most evocative, if that's possible to say. Expansive coastal views open up encompassing the Bay of Naples, Capri, and promenades of craggy coast that slide into the sea, all lined up in orderly chaos. Positano and her beguiling pastel profile reminds that you've come this far – the exhilaration is as good as the view. Perspective is a tricky thing here. The human eye is really not able to translate the grand immensity of the sea hugging the terrain, of the towering height of the mountainsides, of the tumbling landscape eased by stairstep terracing and small hamlets as it spills downward — how they marry into one majestic panorama. Try as you may, take as many photos as you please: completely absorbing the beauty as if trying to behold that of a mythical god…it's blindingly next to impossible.
A refresher of an icy granita or freshly squeezed juice in Nocelle is called for before descending down 1500 (some say 1700) steps through Montepertuso to Positano. Seaside views and cold gelato await your pleasure there before boarding the ferry back to Amalfi. What better way to wrap up this heavenly hike than viewing it from the sea where Ulysses heard the songs that created the path you can hardly believe you've walked.