More than two years in the making, the Migration Project, on display in Perugia, Italy, from Sept. 3- Oct. 9, 2022, welcomed 10 artists from two countries.
The show brought together a mix of exceptional talent and artistic vision and attracted visitors from Perugia and abroad. Five US artists participated — Humaira Abid, Iole Alessandrini, Mary Coss, Paul Goldstein and Malayka Gormally – along with five artists from Perugia: Paolo Lattaioli, Sandford & Gosti, Tonina Cecchetti, Vilma Lok and Kim Hee Jin.
As sister cities, Seattle and Perugia have coordinated many art and cultural displays over the years. Next year, they will recognize 30 years of sister-city friendship with celebrations on both sides of the Atlantic. In addition to the Seattle-Perugia Sister City Association and its Italian cohort, the Perugia Committee, other sponsoring organizations were the City of Perugia and the Palazzo della Penna Museum which hosted the exhibit.
Jury committee members were: Professor Jamie Walker, University of Washington; Emidio De Albentiis, director, Perugia's Academy of Fine Arts; Nadine Edelstein, Seattle-based ceramist and designer; Antonio Carlo Ponti, Perugia writer and art critic; and Davide Vaste, design professor, Academy of Fine Arts.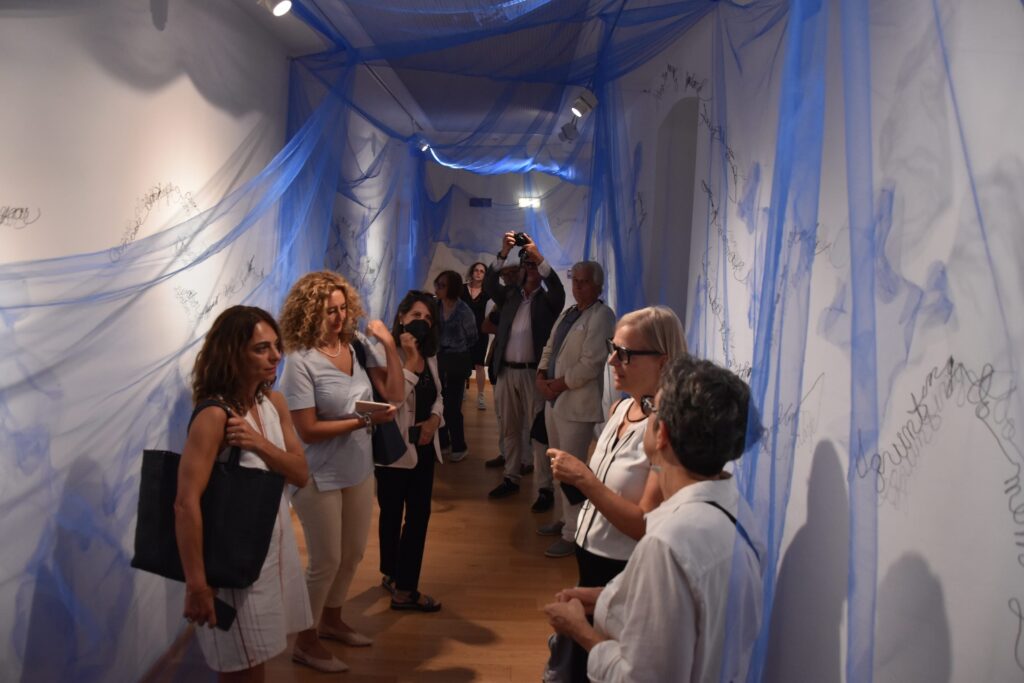 The selection of migration as the exhibit theme resonated with both visitors and the artists themselves. Several of the Seattle artists or their families were recent immigrants themselves. For visitors, the topic is familiar and one that is in the news nearly every day – whether it's immigrants from Central America fleeing across the US-Mexico border or families from Africa adrift in small boats, trying to find refuge in Italy or Greece.
"This is a hot topic," wrote exhibit curator Antonio Carlo Ponti in the catalog that accompanied the exhibit. "We know something about it in Italy with hundreds of immigrants disembarking every day, and the rest of Europe ignoring it. If art today has a meaning, a scope beyond just 'impressing the middle classes,' it has to be committed, not as propaganda, but in a spirit of awareness and service, a lay apostleship."
The exhibit was housed in nine galleries at the Palazzo della Penna, each room representing a concept that evoked the theme and captured a specific artist's vision. One room was called Viaggio/Journey; others were Mani/Hands, Guerre/Wars, or Barche/Boats, to name a few.
Seattle artist Mary Coss, a poet as well as visual artist, displayed her work in a space entitled Vele/Sails. She interpreted the theme through a poem she wrote called The Shape of Passage. Visitors could read the poem as part of the exhibit label or they could interact with it more physically by "reading" the walls where thread formed the individual lines. Transparent fabric and clothing covered the gallery, looking like "an emptied closet of memories floating in the air," said Coss.
The poem she wrote expressed the poignancy of leaving behind one's home. It read in part: "How to remember/homeland/Seize the scent/Aroma of warmth/Sunlight filtered through verdant stalks/Grasses weaving and waving goodbye."
The son of Russian immigrants, Brooklyn-born sculptor Paul Goldstein started his journey not as an artist but as a teacher for emotionally disturbed children. Seeking balance in his life, he got into photography and then moved on to sculpture. His work in Perugia was displayed in a room called Corpi/Bodies — appropriate since it included a figure of a man with a bowed head (Man is Born to Cry) along with several sculptures of Native American women.
Raised in Berkeley, Calif., Malayka Gormally interpreted migration through ink-and-watercolor portraits of immigrants from different times and places, both real and imagined. Some of her portraits showed women and children from Ethiopia or West Africa; others were her interpretation of immigrant families from a century ago, arriving at Ellis Island.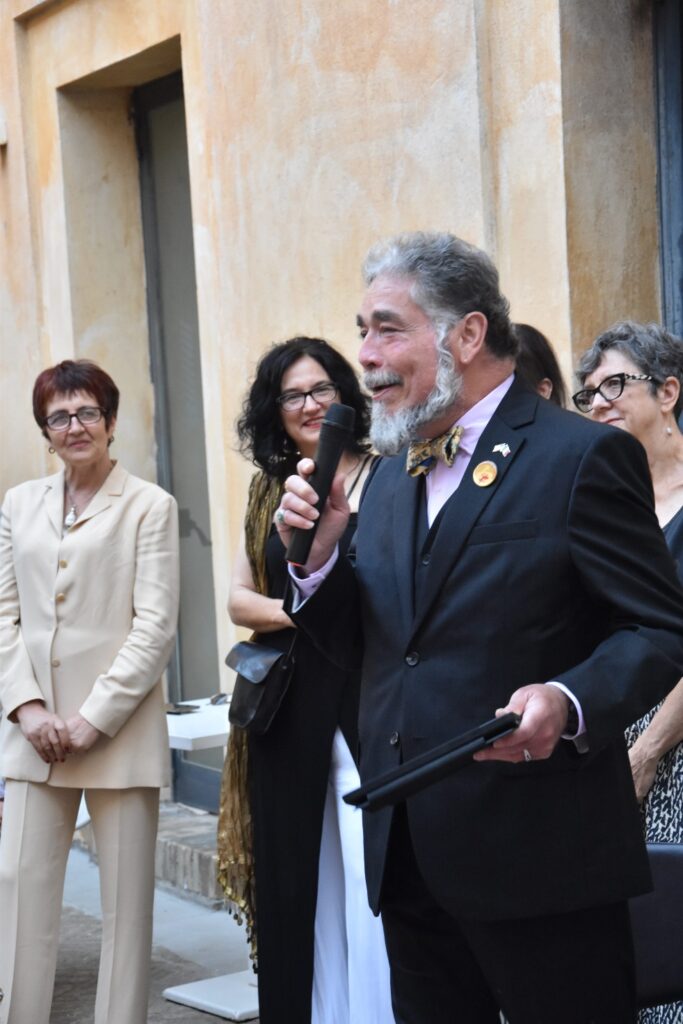 Similar to the others, Gormally also has a personal connection to the theme. Her father had emigrated to the US in the 1940s from Holland; her mother's parents came from Poland fleeing anti-Jewish pogroms. "I'm interested in exploring connection and conflict between people of disparate races, generations and political beliefs," said Gormally. "I'm also interested in the immigrant experience."
Through her work, Seattle artist Humaira Abid, born in Pakistan, explores relationships and their after-effects. One of the most evocative pieces in the Migration exhibit was her installation called The World is Beautiful, and Dangerous, Too. It consisted of a child's swing carved in wood, its seat decorated with a colorful pastoral theme. Nearby, empty red sandals were affixed to the ground as if the child who wore them was swooped up unexpectedly. The juxtaposition of play and danger, normalcy and mystery, is provocative.
Abid also carved five rear-view car mirrors from pinewood, called Fragments of Home Left Behind. Looking into each mirror's "reflection" viewers can see what was left behind or, in some cases, what the person was fleeing – fires, upheaval, war.
Artist Iole Alessandrini was born in Abruzzo, Italy, but has lived in Seattle for nearly 30 years. Known for capturing the interplay between light and space, her installation in Perugia took visitors into a new dimension – an entire room filled with laser art. Her work forced viewers to use all their senses, not just what is visible, and challenged them to go beyond borders and break down barriers.
The idea for the Migration exhibit first surfaced in 2019. Although the pandemic set back plans for more than a year, the project regained speed in late 2021. When finally staged this fall, the installation successfully realized its goal to open an international conversation focused on respect, tolerance and peaceful co-existence.