Back in the late '80s, when I was still in elementary school, we used to study every region of Italy. Each week, we'd prepare a ricerca, a two- or three-page essay with photos and drawings, about the region we focused on: I used to love ricerche, so much so I ended up working as a researcher for a great part of my adult life.
Anyway… I remember that, when we had to study Sardinia, our maestra – who loved traveling and had visited what I would consider, as an 8-year-old, very exotic places like Egypt and even the United States – brought to class pieces of sughero, cork. We were all gobsmacked: of course, we were familiar with it, but not in that shape and form! Cork was cylindrical and came on top of wine bottles, not in … sheets. What our beloved maestra Carla – shout out to her, she is still alive and in her 90s now – brought in was natural cork, in its ready-to-be-transformed form, something we kids had never seen.
Of course, we all know that cork is the material cork stoppers are made of, but how familiar are we with its origins and wider use?
Cork, known in Italian as sughero, is the bark of quercus suber, the cork oak, known for its porosity and elasticity. It is considered one of Sardinia's most important natural resources and it has been used by Man for millennia. Cork oaks are particularly common in the northeastern area of Gallura, where they grow naturally in large woods called sugherete. Cork oak is a typical tree of the Mediterranean shrub, very resilient and very strong, which means it doesn't suffer the bitter cold of Sardinian winters, nor the heat of Sardinian summers. These are beautifully majestic trees, that can easily live hundreds of years, as demonstrated by the impressive sughera monumentale di Crisciuleddu, a cork oak wood with many centuries-old trees.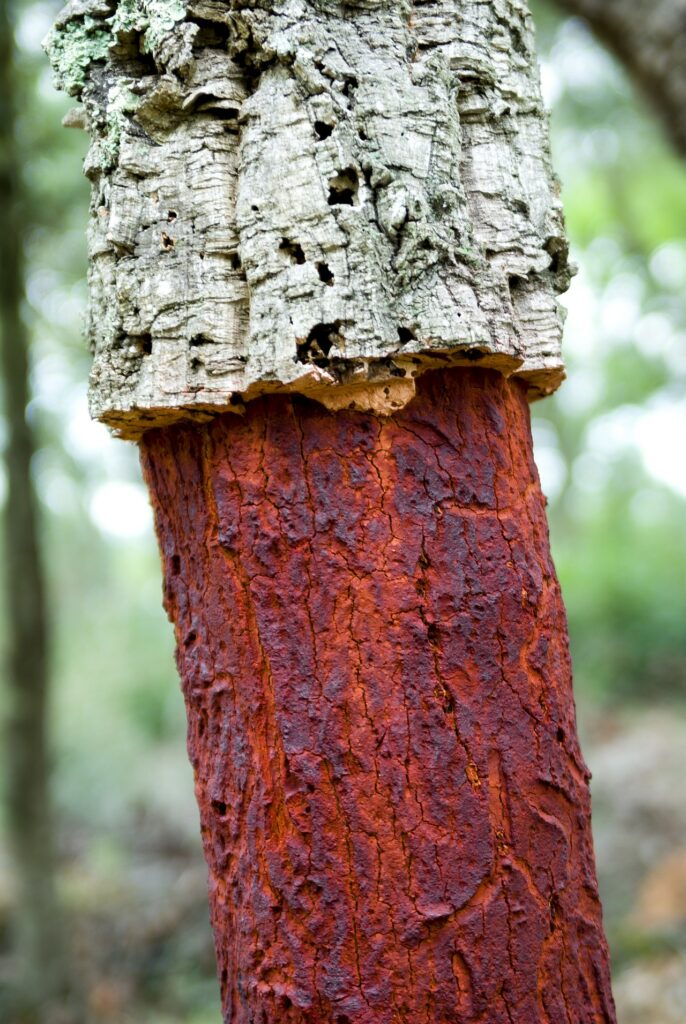 Thanks to the easiness of its extraction and to its malleability, cork has been considered a very practical and multi-tasking material since the inception of civilization and it has been used widely for the production of utensils, containers and, of course, wine stoppers. Today, it's curious to learn, cork is even used to make fabric then transformed into items of clothing or bags, and even used to upholster furniture. My childhood memories, the same that brought back the face and voice of maestra Carla, speak of postcard-like paintings made on thin sheets of cork, usually depicting traditional Sardinian costumes.
What strikes, perhaps, the most about cork is how incredibly environmentally friendly and sustainable it is: obtaining it doesn't require cutting the tree, but just shaving off its bark, a process that doesn't damage it. Moreover, the bark grows back, which means that, in time – it takes about ten years for it to grow back completely – the same tree will produce cork again. Considering the lengthy lifespan of cork oaks, and oaks in general for that matter, we can say sughero is very, very sustainable!
The extraction and manufacturing of cork are not complex but require some skills and experience. The first step is that of, as said, extracting the material from the tree: this happens usually during the summer, from May to August. Cork can be sourced from trees of at least 20 years of age, as younger trees are not considered mature enough. The first bark extraction is called demaschiatura, a word that comes from the Italian for "male," maschio, because the first bark is usually rougher and tougher, more "manly," if you wish. Successive bark layers are called sughero femmina, or female cork, because the bark is usually smoother and more supple.
Once the bark is shaved off trees, it is allowed to rest outdoors for a while, then it is boiled in water. This phase has a double goal: sterilizing the material and killing all potential germs, and making it flat and more similar to an actual pliable sheet. Natural cork is then let out to dry and… that's it. As you can see, it's a very straightforward procedure, which doesn't harm trees, doesn't waste energy, and doesn't pollute our environment in any way.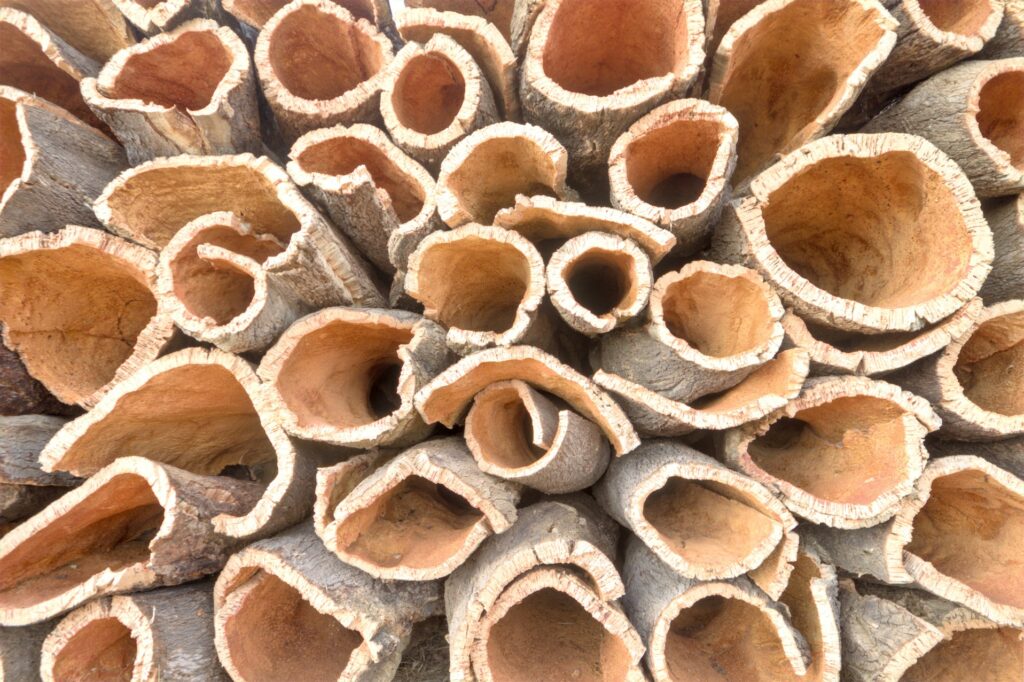 We have already mentioned some of the products most commonly made with cork, wine stoppers being the most ubiquitously known. Today, these familiar cylinders are produced industrially, but once upon a time, they were hand-cut in the shape of little rectangular blocks. We also said that cork can become an expensive fabric and that it may even be used to make interesting paintings and objects such as bowls, boxes, ladles, and trays often sold in gift shops around Sardinia. We shouldn't forget that cork is a common isolating material in construction and it is also used in arts and crafts, especially to create small objects for presepe. "Male" cork, for instance, is perfect to create mountains, while regular cork is mostly employed to create homes.