When you think of it, the small town of San Gimignano, in the Siena province of Tuscany, has all the characteristics of a dream: it isn't only beautiful, but it is also suspended in a sort of timeless atmosphere, one where you are sure it's all real, yet the surreal is just around the next corner. You may even start to doubt your senses, in San Gimignano.
With its 7, 500 citizens, it is far from being a large settlement, yet, San Gimignano holds, within its relatively small size, more history and art than many international metropolises, the reason for which its historic center is part of the UNESCO World Heritage.
What you see in San Gimignano today is very much what people in the 13th century would have seen. There are many beautiful things to enjoy in San Gimignano, but what we all remember it for are its towers: once upon a time, there were almost 100 of them in the whole town – 72 to be more precise – 14 of which are still standing, timeless and majestic, today. The ubiquitous presence of towers is linked to San Gimignano's history and the times of its splendor, the 13th century. Back then, San Gimignano was an important commercial hub thanks to the Via Francigena, which facilitated agricultural trade. Moreover, the hills and fields around town hosted – and still do today – large cultivations of saffron, a spice as precious in the Middle Ages as it is in 2022. Trade made the town wealthy and many families competed for the top spot: the quickest way to show how much money you had? Building the tallest tower. Of the 14 towers still extant today, the highest is the Torre Grossa, also known as the Torre del Podestà, or the Rognosa, which literally translates with "mangy" but in Italian is also used to indicate someone who is particularly difficult, or hard to handle. La Rognosa reaches a height of 52 meters and was built in 1311 next to the Palazzo Comunale, in Piazza Duomo. Back then, no other tower could be higher than her by law: in the end, it represented the greatest institution of San Gimignano, the comune.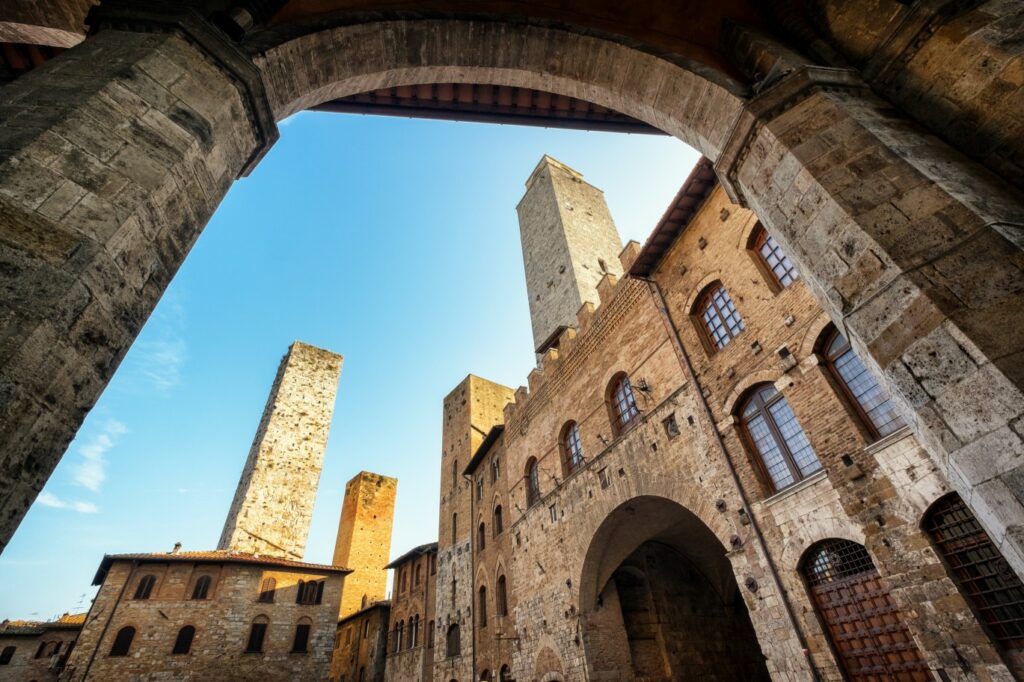 But drama was just around the corner because the Ardinghelli family had the cheek to build not one, but two towers larger than La Rognosa on the corner of Piazza della Cisterna with Piazza Duomo. However, the Ardinghellis were forced to reduce their height considerably, and that's how we still see them, shorter and humbled, today. Last but not certainly least, we should mention also the Campatelli tower, which is open to the public.
Towers, yes: to the point that Italian tourism's official portal, www.italia.it, dubbed San Gimignano "the Manhattan of the 13th century," thinking of the many skyscrapers in the most popular part of New York City. 
But not only towers. San Gimignano has more to offer to the art and architecture lover: for instance, its three-nave cathedral, the Collegiata di Santa Maria Assunta, also known as the San Gimignano Duomo, has beautiful blue cross-vaulted ceilings and frescoes by artists of the renowned 14th century Senese school. The already-mentioned Palazzo Comunale is not only home to the local Civic Museums, but also to San Gimignano's famous Pinacoteca, which hosts masterpieces of great artists from the Senese and Florentine schools, from the 13th to the 15th century, including works by Filippino Lippi, Pinturicchio, Benedetto da Maiano and Benozzo Gozzoli. Last, but not least, its Council Chamber is dedicated to Dante Alighieri, who visited the town in 1299.
Another interesting place in town is the Santa Chiara conservatory complex, where we can find the Speziera di Santa Fina, a museum dedicated San Gimignano's apothecary tradition with an extensive collection of apothecary vases from the medieval San Gimignano hospital, founded in 1253. Always in the conservatory, we find the Archaeological Museum, the perfect stop for those interested in ancient and classical archaeology, as well as the Raffaele de Grada Gallery of Modern and Contemporary Art.
Afterall this walking around and overwhelming beauty, it's time to sit down to eat! We are in Tuscany, so we can rest assured that good food and wine are available in San Gimignano, too. According to Sara Daniele of the Emotionally blog (www.emotionally.eu), the most important of all ingredients in San Gimignano is saffron: she mentions a delicious risotto with saffron, mascarpone and artichokes that I'd certainly love to try. Another important local production – and ingredient – is that of extra virgin olive oil.
If you love cold cuts, then you should try traditional Tuscan delicacies such as finocchiona salame, soppressata, and prosciutto crudo Toscano, all served on Tuscan salt-free bread, known as pane sciocco, or "silly bread." Just like in other parts of the Tuscan countryside, meat, and game in particular, plays a huge part in San Gimignano's cuisine, especially combined with saffron – think of pork with saffron or rabbit with saffron – or with local wines, like Vernaccia, a white also used to cook wild boar.