Nestled amidst the picturesque landscapes of the Lazio region lies a village that has recently been crowned the most beautiful in the country for 2023: Ronciglione. This accolade is no small feat if you think of the competition! But what makes Ronciglione stand out in a nation rife with scenic towns and historical marvels? Well, let's explore together this beautiful hamlet and find out, what do you think?
Toponomy and history are always a good place to start.
The origins of Ronciglione's name remain a subject of debate among historians: some believe it stems from the Etruscan root rum or rom, while others argue it might be derived from the words runcola or roncilio, referencing the village's ancient iron tools manufacturing. Yet, the most widely accepted theory suggests the name is inspired by the cliff's shape resembling a roncola, upon which the ancient settlement was built.
Historical records first mention Ronciglione in 1103, with its foundation believed to have taken place around 1045, under the Prefects of Vico's influence. The village flourished notably under the Farnese family's rule between 1526 and 1649, becoming an economically advanced center with a plethora of manufacturing units, including ironworks, paper mills, ceramics, armories, and printing presses. This era also witnessed a cultural renaissance, with various academies and printing houses producing notable works.
But, as you would expect from a charming village with an ancient history, there are also interesting tales surrounding Ronciglione, like the one about Hercules having visited it: legend has it that the Lake of Vico was formed when Hercules, in a display of his immense strength, pulled out a club he had previously thrust into the ground. This act caused water to gush out, forming the lake. It was on this occasion that the demigod visited Ronciglione, driven by his quest for the nymphs Melissa and Amaltea.
And while we may not meet Hercules around Ronciglione's streets, there are many many natural and architectural wonders to enjoy in town and in its surroundings. The medieval Rocca is certainly one of them: it was constructed by the Prefects of Vico and underwent significant modifications under Pope Sixtus IV when it became the iconic castle known today as I Torrioni. The Fontana Grande or degli Unicorni, crafted by architect Antonio Gentili da Faenza, is a marvel in sandstone, featuring three unicorns from whose mouths water flows into the basins below. The Porta Romana, built in 1618, demarcates the historical town center from the southern area of the commune.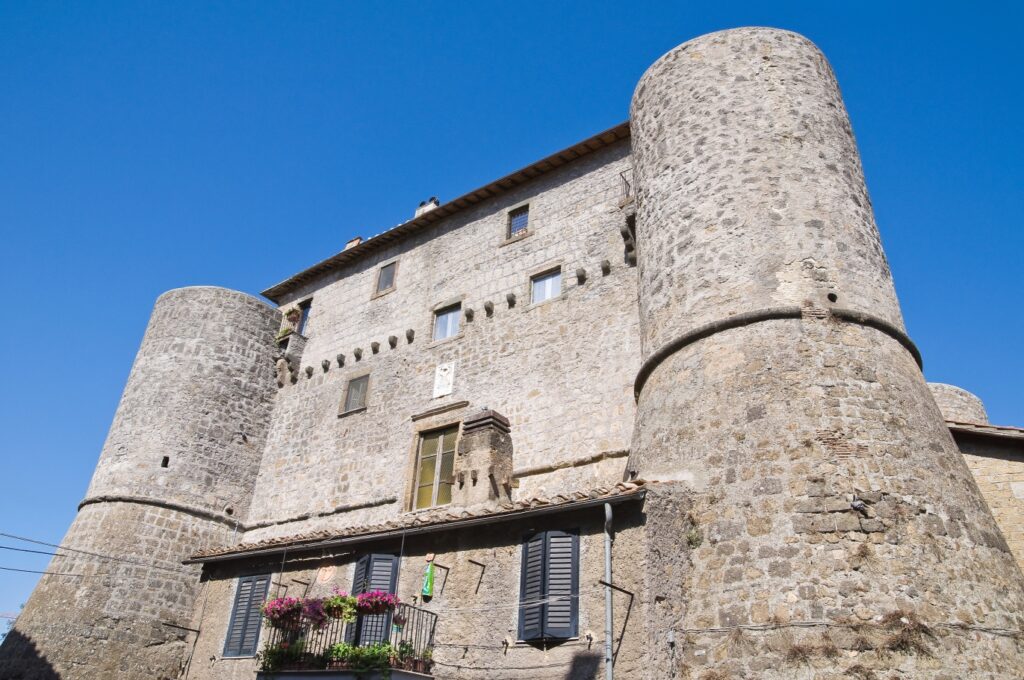 Not far from the village, nature lovers can enjoy the beauty of Lake of Vico, considered one of Italy's best-preserved volcanic lakes, and known for its particular flora and fauna.
Let's move back into town and take a look at the many events and traditions that put Ronciglione on the map. The first we should mention is the Carnevale di Ronciglione, an event that traces back over three centuries and is among Central Italy's oldest carnevali; then we have the Palio di San Bartolomeo, a unique horse race where horses run without jockeys, a tribute to this majestic and beautiful animal. Then, we have the Palio di Vico, a much-anticipated lake festival, culminating in a rowing regatta.
And if you decide to stay in town for a couple of days, you'll have the opportunity to enjoy Ronciglione's amazing cuisine: its tortorelli are a simple pasta made from water and flour, traditionally enjoyed during Sunday lunches, and if you end up there around Christmas, you can try pampapato,  a festive treat made primarily from local hazelnuts and chocolate.
All in all, I think that Ronciglione's recent recognition as the most beautiful village of 2023 is well-deserved: its rich history and culture, along with the stunning landscapes that surround it, make it a must-visit destination. And while we immerse ourselves in its tales and traditions, we can't help but wonder what other hidden gems Italy holds for us to discover.