Indeed, at the times of the Empire, all roads led to Rome, especially when you think the Romans are behind the creation of the first Italian and European communication arteries in history. Don't we all know about the Via Aurelia, the Via Salaria or the Via Appia? Aren't we all more or less familiar with  their names and the people they were christened after, consuls, politicians and generals? Yes, I can hear you say.
We may be however guilty of largely overlooking the interesting source of trivia and anecdotal knowledge the streets within the Eternal City hold for us. I, for one, never really stopped thinking about why they carry certain names, mostly taking for granted they, as the majority of streets and alleys in Italian cities, are memory of some famous family or historical figure.
But Rome, let's never forget it, is always full of surprises for its lovers and holds a million curious secrets behind its vie's doors and, indeed, names. Off it starts a little imaginary trip through its autumn-hued streets, in search of their true meaning.
Let's begin with something simple and for all – there may be some "adult only" tale to spin in few minutes, but worry not, I shall make it as lyrical and unoffensive as I can. Many alleys still bear the name of what they used to be known for: we have Vicolo delle Vacche, "the alley of cows," once upon a time home to many a stable, or Vicolo del Fico where a leafy fig tree stood. Then there is Vicolo della Vetrina, the "alley of the shop window," where the very first one was created by an inventive shopkeeper who understood the benefits of showing off his products to passers-by. Both Vicolo della Renella and Piazza Arenula, near the Tiber, own their name to the thin mud the river would leave behind after flooding. Funny the case of famous Piazza del Babbuino, literally, baboon square: Romans of the past found the faun statue there located so ugly they thought it was a monkey. Elegant and touristy Via Condotti is named after the piping system realized during the papacy of Gregory XIII and used to carry waters from the Pincio reservoir into the city.
Medieval Rome, as any other European city, was also the realm of craftsmen and of their ateliers and workshops. Depending of the craft and, consequently, of what was sold, they would be gathered all in one area of the city, often in a single street: that's why Rome has Via dei Cappellari, "hat makers," Via dei Baullari, "luggage makers," or via dei Librari, "book sellers," and Via dei Giubbonari, "corset makers."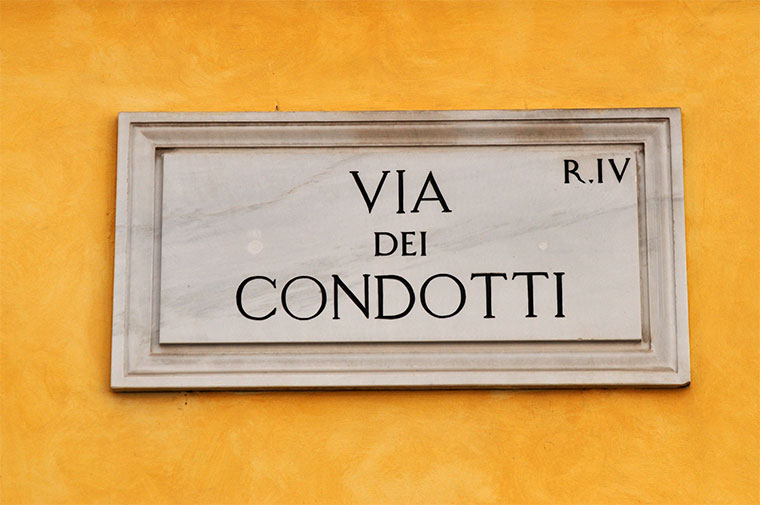 As you may expect, archaeology and history helped a great deal in creating Rome's peculiar toponymy: quite romantic and oh-so-Roman is the story behind Vicolo dell'Atleta, the alley where an ancient copy of the Greek Apoxyomenos, a statue representing an athlete, was found. Piazza dei Cinquecento, "the five hundred square," which opens right on front of the city's busiest train station, Termini, inherited its name from five hundred Italian soldiers who heroically perished in Ethiopia in 1887, during Italy's colonial wars. Interesting is also the case of Via delle Botteghe Oscure, "the street of dark shops:" in the Middle Ages, the many stores and workshops of the area had no windows, because built in and around ancient Roman ruins.
Even today streets, sometimes, have their name changed, but the case of Via di Santa Passera, "the street of the sparrow," is more interesting than others, as it was the result of language evolution, rather than people' s decision. Via di Santa Passera is home to Saint Cyrus Church, known as abba Cyri in Medieval Latin. As it often happens with languages, the way we speak brings more changes to them than grammar books, so in Medieval Roman vulgar abba Cyri became "abbacyro" and Cyrus turned into "Sant' Abbacyro" first, then "Sant' Appaciro," "Sant'Appacero" and, finally, "Santa Pacera," which originated today's Santa Passera.
Rome has another curious street name to mention, but I must give you a warning: things are getting linguistically indecent here. Don't say I hadn't warned you! Via della Marrana di Santa Fresca is a country road in the Castel di Leva area of the city, and its name is peculiar at its best, sacrilegious at its worst. "Marrana" is a dialectal term usually referring to small creeks and, as one runs in the area, it's not surprising to find it in this specific street name. Things get a tad saucier when it comes to the word "fresca," which is a common dialectal word in Lazio to refer to female genitals. It goes without saying a saint with "that" name never existed, if not in the lewd mind of a blasphemer or of a particularly desecrating jester. Fear not, though: our Via della Marrana di Santa Fresca probably gained its rather awkward name either from the contraction of "Santa Francesca" (Saint Frances), or because the term was used in times gone to indicate the nearby stream. No need to get offended on this one quite yet, it seems.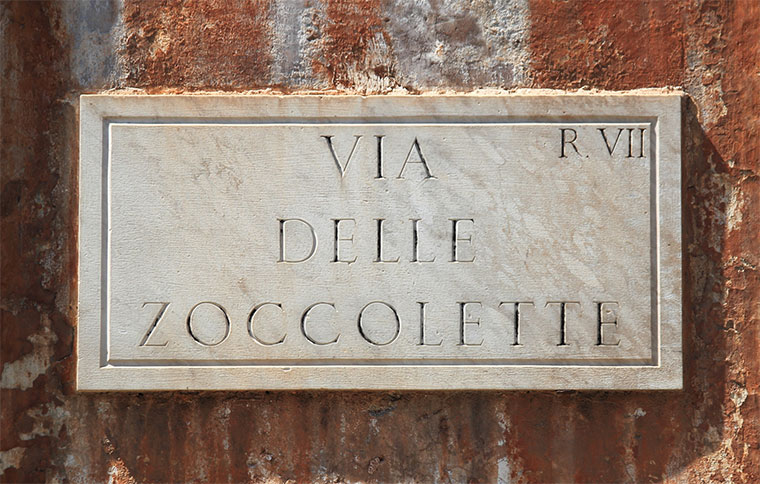 Cities like Rome really hold a secret behind every corner, behind every one of the elegant marble plates telling us where we walk: thinking of it, there is so much history to be discovered in such apparently insignificant details, in the curious, yet very mundane occurrences that brought people of centuries past to name their streets and alleys in a certain way. There's, indeed, a type creativity – a joyous, somehow innocent variety of it – that, I feel, has gone sadly lost in today's world.