If you've been to Rome, you know the Eternal City loves her cats. The cat colony at Torre Argentina is world-famous, and visitors to the Colosseum, or the Fori Imperiali can testify their presence is well-established in these two famous archaeological symbols of the city, too.
The love story between Rome and il gatto is well rooted in history. Famously worshipped as a divinity in Egypt, where they were often embalmed and mummified just like people, cats were also known by the Etruscans, as attested by small cat-like statuettes unearthed by archaeologists. The Romans met them for the first time during their many military campaigns: we can easily imagine soldiers befriending cats, letting them hunt mice in the camp, and sharing food and a bed with them. In fact, cats were so popular in the army that it wasn't unusual to see legions using the image of a cat as their symbol. 
Our Roman ancestors appreciated cats for their ability in catching mice, but it took them a little while: just like the Greeks, the Romans would use other mammals to keep their homes, streets, and barns vermin-free, weasels and martens being the most common. Soon, however, they realized cats were not only good hunters but also affectionate to their humans and that's why they quickly became house pets. Also Pliny the Elder was fascinated by them, so much so he mentioned them in his Naturalis Historia: "Cats too, with what silent stealthiness, with what light steps do they creep up to a bird!" (Book X, 94). 
Felines were also loved for their mysterious nature and for their curious and independent personality, so much so that the goddess Libertas, the embodiment of freedom, was often represented with a cat. However, our precious friends were consecrated to another goddess, Diana who, the Romans believed, bestowed upon them special magical powers. The connection with Diana ran very deep because cats' pupils were often compared to the Moon itself and the ways it changes during its phases, and Diana — some of you may remember — was also the Roman goddess of the Moon. She was also associated with nature and all animals, another reason for her to become the protector of all felines.
After the introduction of the Egyptian cult of the cat-goddess Bastet in the Empire, our furry friends became even more important. The divine figure of Bastet became one with that of Isis and the association strengthened the sacred nature of cats in Roman society. Every city in the Empire had a temple dedicated to her, known as Serapeum, where cats lived and roamed freely; visiting faithful would usually bring food for Isis' cats, an offering to them and to their divine mother. We know from ancient sources that cat statues often adorned the Serapeum, but most of them were destroyed by Christians in the Late Antique period. Rome's ancient Serapeum was located where, today, we find the Santo Stefano dl Cacco church, in the Pigna borough. A small cat statue we can still see today on a cornice of Palazzo Grazioli, on the corner with Via della Gatta, comes from this ancient temple.
Hunters, pets, and sacred animals: cats truly had a special place in the heart of the Romans, so much so that there were even cognomina, the third name of Roman, which originally was only a nickname but then became hereditary,inspired by the word "cat" in Latin (felix or cattus). We had, for instance, Felicula and Felicla (which we can translate as she-cat or female kitty), and Cattus or Cattulus (cat and kitten). The deep connection and respect the Romans felt for cats is also mirrored in special laws, introduced in the Empire in the 1st century AD, to protect cats and safeguard their well-being across the Empire.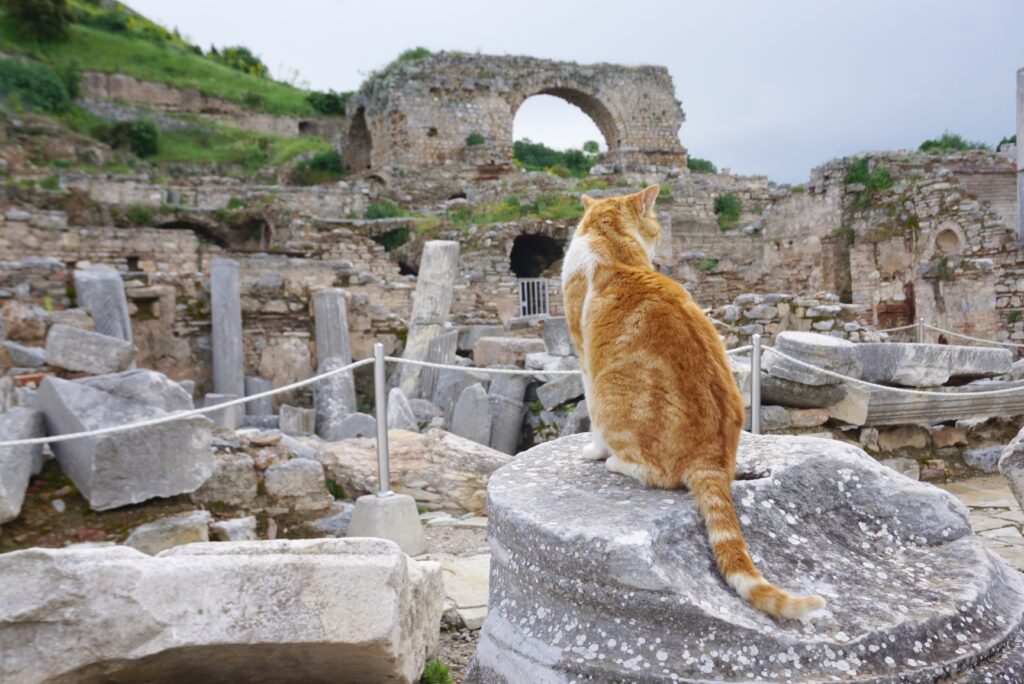 And while they weren't fully worshipped like a divinity as it happened in Egypt, cats remained a beloved and sacred presence in the life of the ancient Romans: matrons loved to keep cats around them in their villas, so it wasn't unusual for tradesmen and travelers to bring exotic cats back to Rome from their trips, to create new breeds. Just like today, house cats were cherished and pampered: for instance, it wasn't unusual to see them with silk collars around their necks, embellished with glass beads or even precious stones, or wearing embroidered harnesses. Usually, these accessories would match cats' fur color or, even more commonly, their eyes, which were considered the most beautiful of their features.
A little trivia to conclude, even though we don't know if it does correspond to reality or not. You may be familiar with the fact that many dogs perished with their people in Pompeii and Herculaneum, victims of the tragic eruption of Mount Vesuvius. Casts of their bodies were made, just like they were for humans, in later centuries, and we can still see them in Pompeii and in Naples's Archeological Museum. Curiously, no cats were found. Some have hypothesized that cats, known for their connection with the forces of nature, may have sensed the danger days in advance and fled the two cities, seeking refuge on higher grounds. I don't know if it's true, but I wouldn't expect anything less from such incredible, beautiful creatures.
If you want to practice your Italian and learn more about cats in Rome, visit www.romanoimpero.com, a website dedicated to ancient Rome, rich in historical information and curiosities, where I found inspiration for this article.