Radicofani's ancient fortress tower stands watch from the mountaintop like a medieval lighthouse over Tuscany's Val d'Orcia. For over a thousand years, this important landmark has remained visible across the swath of this uniquely picturesque valley. It warned, it beckoned…and today it greets and welcomes all within its sight to the enchanting village of Radicofani.
Tiny but mighty, the hamlet of Radicofani has been a destination of relevance since at least the 900s. Strategic placement on the all-important road to Rome — the Via Francigena — along with the expansive views from the fortress tower made Radicofani the epicenter of numerous battles for control. After all, he who controlled the village and fortress also controlled the important passage to and from Rome. Today Radicofani retains her significance as a waypoint for modern pilgrims traveling the Via Francigena but struggles for power have long since faded into legend — except for one that we'll visit further along.
It's an overused cliché, but as "off the beaten path" places go, Radicofani is one worthy of finding your way to. The grandeur of Florence and the allures of Siena earn their reputations, yet there is value in leaving the crowds behind for a day spent in this bite-sized Tuscan gem. With a population of a little over one thousand, the village's heartbeat is soft yet healthy and welcoming.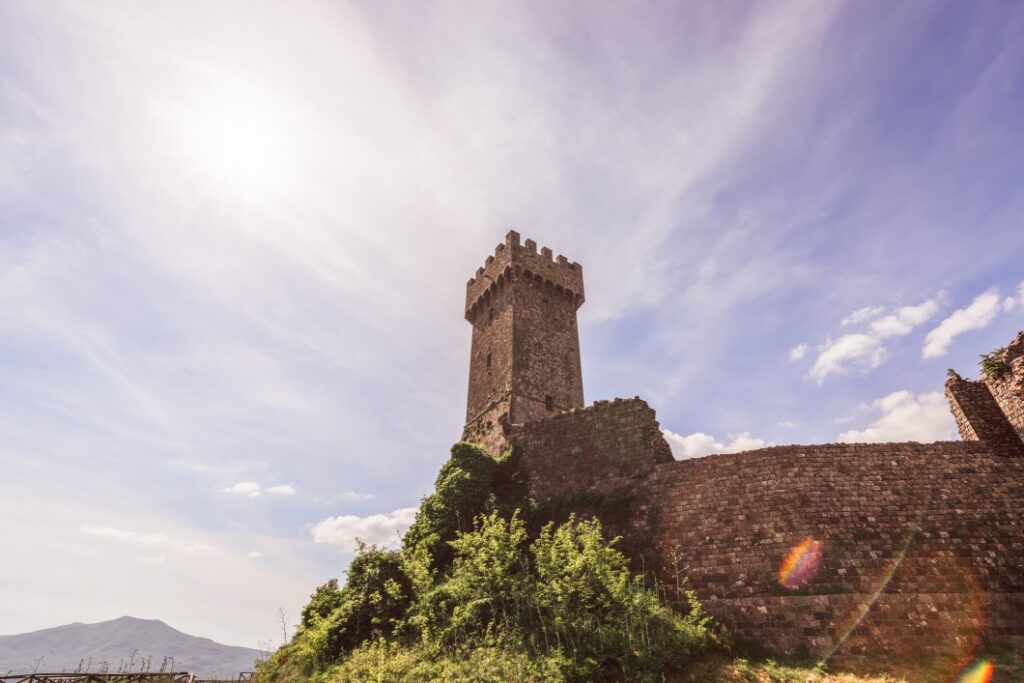 There's no tourist map directing the course but beginning your exploration from Piazza S. Pietro has a special feel. Dominating the tidy, small square is the unembellished Pieve di San Pietro, its origins dating to the 11th century. The humble façade, however, is deceiving. Just inside awaits a collection of breathtaking 16th-century masterpieces by Andrea Della Robbia, the maestro of those captivating blue and white glazed ceramics offset by borders of sage-colored laurel and plump lemons. If time is limited, the piazza itself is a delight. A congenial bar catty-corner from the church and adjacent to a tree-lined park is perfect for a pause, as well as another opportunity to marvel at panoramic views. It isn't long, though, until the church bells remind you it's time to move along and explore.
Radicofani's cobbled streets wind pleasantly as they narrow then widen, fulfilling their duty as perimeters to earthen-colored stone façade buildings. Small alleyways tempt you, many leading to another lookout over the valley or perhaps a delightful dead-end bordered in over-stuffed pots of crimson geraniums. The quiet and authentic charm of the village is enchanting: take the time to go slow.
It's not always so quiet, however. Tranquility turns to revelry when summer arrives bringing the Festa degli Antichi Mestieri or Festival of Antique Crafts. The two-day event each June draws crowds as it showcases traditional crafts and methods with parades, demonstrations, and re-enactments. Get ready to cheer on your favorite contrada during Radicofani's Palio del Bigonzo. Held each September, relay teams of two sturdy young men race through the village carrying a heavy wooden bigonzo, a traditional container for transporting grapes. Radicofani transforms into a medieval village leading up to the race: the streets fill with traditional food offerings, costumed processions, music, and neighborhood dinners.
Serene strolls, wistful views, and traditional festivals aren't the only memorable options Radicofani offers her guests. The Fortress of Radicofani is a must-see. Built on the pinnacle of the 3,000-foot mountain that the village calls home, getting there comes with options. Depending on your sense of adventure (and stamina), a steep path through the surrounding forest makes for a beautiful hike. The earthen walkways aren't always well-defined, but you'll eventually arrive at your destination. If a hike isn't on your agenda, a convenient roadway winds to the top of the mountain with easy parking at the base of the fortress's walls. A small fee of four euros per person, and you're in!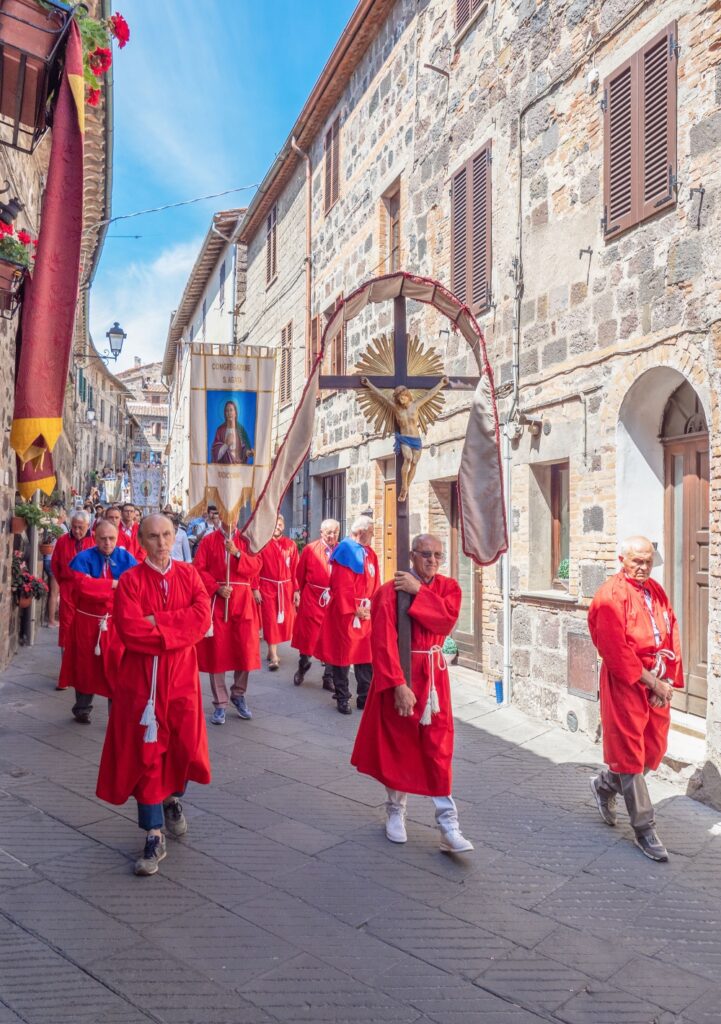 History is rich here, as well as the ease of imagining yourself in another time. Be sure to explore the tunnels and climb to the tower's top. Records date the original construction of the fort to the 9th century, and like any strategic location, it was ruled by many over the ages. Perhaps the most memorable of those reigns was that of Ghino di Tacco. Known as the "Gentleman Bandit," Ghino is often referred to as Tuscany's Robin Hood. The story goes that this "lawless nobleman of Siena" fled for political reasons (and maybe some other mischief) and took possession of the fortress in 1297. From his lofty hilltop, he decreed that anyone of wealth passing through on the Via Francigena be robbed yet given a meal and left with enough to continue their journey. A portion of his illegal gains was imparted to the community to maintain cordial relations. Even Dante gives Ghino mention in the Divine Comedy, along with Boccaccio's recounting of him as a "good brigand" in the Decameron. Look for the town's statue of Ghino near Piazza S. Pietro.
The Bosco Isabella, a conceptual garden, lies adjacent to the southernmost walls of Radicofani. Built in the late 1800s by Oduardo Luchini, the gardens were designed to blend and harmonize with the preexisting forest and include discreet placement of symbolic structures to honor Luchini's ties to the Free Masons. A contemplative walk through the grounds is good preparation for an upcoming hearty meal and robust glass of wine in town.
Radicofani's selection of notable eateries, while limited, is big in satisfaction and quality — and sometimes size. The largest serving of tasty pici with ragù di cinghiale ever put in front of me was almost finished at the bustling La Grotta, a cozy trattoria that serves a pleasing variety of Tuscan dishes. The Trattoria Le Ginestre da Mimmo is also quite popular, although hours can be unpredictable. If your timing is good, a lovely little café awaits in the shadow of the fortress. Views galore, great food — and maybe a ghostly visit from Ghino — are available when open during warmer months. Finding a memorable glass of wine is easy in Radicofani whether it's a Brunello di Montalcino, Nobile di Montepulciano, or one of many other excellent varietals produced in the Val d'Orcia region. Confused about which to choose? Let a friendly local waiter guide the way.
It's impossible in one lifetime to see every jewel of a Tuscan village, but some are noteworthy and not that far off your beaten path. Add Radicofani to the list – it'll steal your heart in fine Tuscan Robin Hood style.