Carnevale is here! It's a time of joy, feasting on delicious food and enjoying your friends' company, possibly dressed up in fun costumes. The Italian tradition of Carnevale is renowned around the world: who isn't familiar with the Carnevale di Venezia, that of Viareggio, or that of Putignano? There is so much creativity, tradition, and joy de vivre behind each Carnevale's characterization and performance, everywhere in the country. Because, yes! Each town and village celebrates its own way. There are some places, though, where Carnevale is even more creative and peculiar than everywhere else, sometimes because of people's ingenuity, sometimes because of local history and a desire to keep it alive.
This is the case, for instance of Madonna di Campiglio's Carnevale Asburgico, or Habsburg Carnival. Now, ski bunnies are definitely familiar with this quaint Alpine village of just above 800, beautifully located at 1,553 meters (just about 5,000 feet) on the Brenta Dolomites, in the province of Trento. Madonna di Campiglio is home to this special historical reenactment that takes place every year during the weeks of Carnevale. Inspired by the figure of famous Princess Sissi, who loved the mountains and Madonna di Campiglio in particular, the Carnevale Asburgico lasts for seven full days and includes parades in period costumes, the Emperor's Grand Ball – also in costume, of course – and the sciata imperiale, when skiers in full period gear ski down Madonna di Campiglio's white slopes. While you are here, you may enjoy some local grub, too: think of polenta, cheeses, and homemade sausages, as well as pumpkin soups and walnut and apple cakes.
Not too far from Trentino, in Friuli Venezia-Giulia, we find the Carnevale di Sauris. Sauris has recently become the recipient of the United Nations World Tourism Organization's Best Tourism Village award, which means the locale managed to bring together love for its traditions and heritage, with sustainability and technology. Sauris' Carnevale is all about folk dances, traditional characters, bonfires, and nighttime walks through the village under the warming light of old-fashioned lanterns. At the heart of all celebrations are the village's maschere, the Rolar, a soot-covered man, dressed in black and with a belt made of rattles, and the Kheirar, a rather grotesque character bearing a wooden mask and carrying a broom, with which he swipes away negativity. But the Carnevale di Sauris reaches its climax with the Notte delle Lanterne, the night of lanterns when the village is warmly lit by the traveling lanterns of locals walking its streets and alleys. The walk ends in the nearby woods where the community lights a propitiatory bonfire to bring warmth and positivity to the area. If you are a buona forchetta, and you have a penchant for good cheeses and smoked cold cuts, you'll find certainly something to enjoy at lunch in Sauris, which is known for both!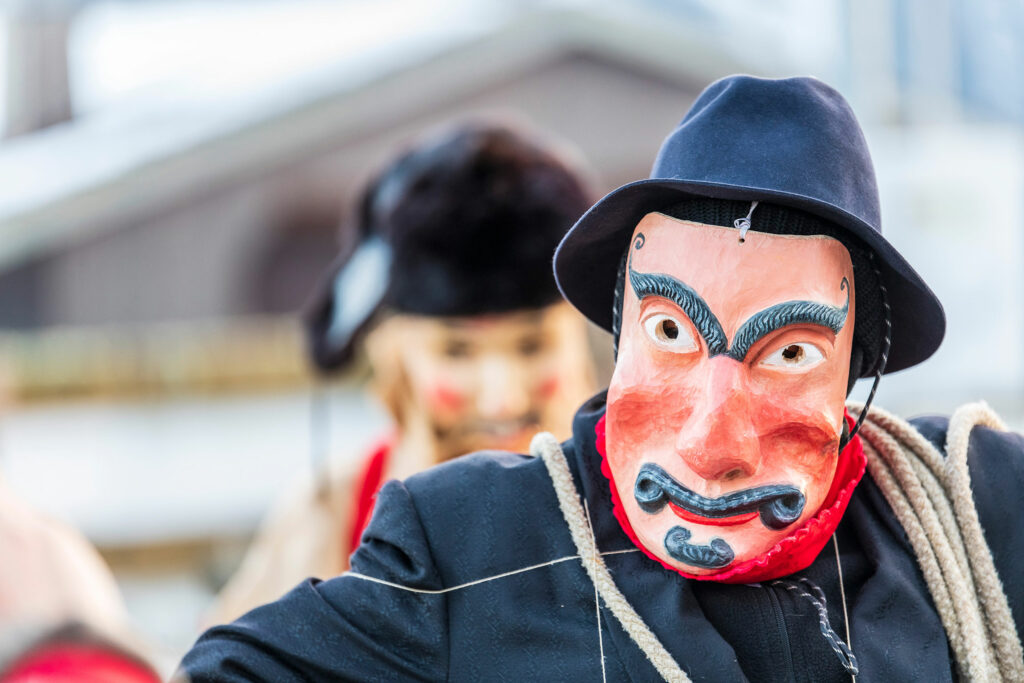 Let us move south, to the beautiful – and to many mysterious – region of Basilicata. Home to the mesmerizing and history-filled Matera, Basilicata also brings to life two quirky Carnevali: the one in Tricarico and the one in Aliano. Tricarico is a village of 5,000, with an Arabo-Norman heritage and one of the best-preserved Medieval town centers in the region. Perched on top of a hill, at 600 meters above sea level (2,000 ft), its Carnevale revolves entirely around the ancient tradition of seasonal transumanza, the customary migration of sheep and cows from the lowlands to the highlands and back, which takes place twice a year. During the Carnevale, participants mimic, with their costumes and movements, the process of transumanza itself, in a parade filled with joy, colors, and sounds. Here, the most important maschere are The Cow and The Bull: the Cow is dressed in white and adorned with plenty of colorful ribbons and cowbells. The second wears a black and red costume. The parade wants to symbolize and honor the power of nature and of the world of animals, revered as a source of livelihood, sustenance, and life.
Aliano is known in Italy for its connection with our literature because it was the backdrop of Cristo si è Fermato a Eboli, by Turinese writer Carlo Levi. In the book, Levi partly dramatizes the time he spent in Aliano during the years of his exile for having voiced his dislike for the Fascist party. Aliano is also known for its proximity to the breathtaking calanchi, a geomorphological phenomenon caused by the effects of water erosion on degraded sedimentary rocks, known in English as badlands. Aliano's Carnevale is all about traditional horned maschere made with papier maché, known as cupa cupa, that were believed, in the olden times, to keep the Devil and negativity at bay. Part of the parade are also the Pacchiane, women in local costumes. Food-wise, Aliano and Tricarico offer a wide array of traditional dishes, including baccalà with dried peppers in Tricarico, and frizzue, a homemade type of pasta served with pork ragù and rinds, in Aliano.