It is impossible to visit Naples and not see the thousands of ceramic and plastic images of Pulcinella in shop windows lining Via Spaccanapoli that cuts through Naples' historic center. A commedia dell'arte figure, dating back to the sixteenth century, Pulcinella served in his improvised roles as an everyman, assuming any role needed in the early Italian theater. In fact, some years ago, I reviewed in this column The Punchinello Drawings by Domenico Tiepolo. (Pulcinella is spelled variously). Tiepolo depicts Pulcinella in his multiplicity of identities, from tailor, criminal, and aristocrat to artist and polenta cooker.
But there is one Pulcinella identity that is rooted deeply in the history of Neapolitan culture: the lazzarone maccheroni eater.
After a hiatus of over a year, we returned to Italy in April. After we visited our cousin in the Monte Sacro quarter in Rome, we walked to the nearby Mercatino Conca D'Oro, the local flea market. (Take metro line B to the Conca D'Oro stop). We wandered through the broad lanes of the market while examining the proliferation of piles of "antique" objects. On the way out, I stepped into one last shop, and there, in a vintage corner cabinet, was a figurine of the renowned Pulcinella on one of the shelves.
I asked the proprietor if I could examine it. When he placed it in my hand and I felt its weight, I knew that it was a rare piece. It was not the usual porcelain or plastic image, it was made out of metal. When I examined his posture, I knew for sure that I had to have it, that it was indeed special. As Carole's photograph illustrates, his head is thrown back as he lowers a finger full of maccheroni into his open mouth. The remainder of his repast is in the plate in his left hand.
I tried not to betray my excitement. This was a moment for careful negotiations. After all, this was a flea market where fair market value does not exist. After a few moments, I indicated that I might be interested in purchasing it, of course, for the right price. He said a mere seven euros. Fast draw does not describe how quickly I placed my euro on the counter. After I paid, the kindly proprietor was curious about my identity. We had a pleasant conversation covering my Italian roots, including his as well. He was not originally a Romano.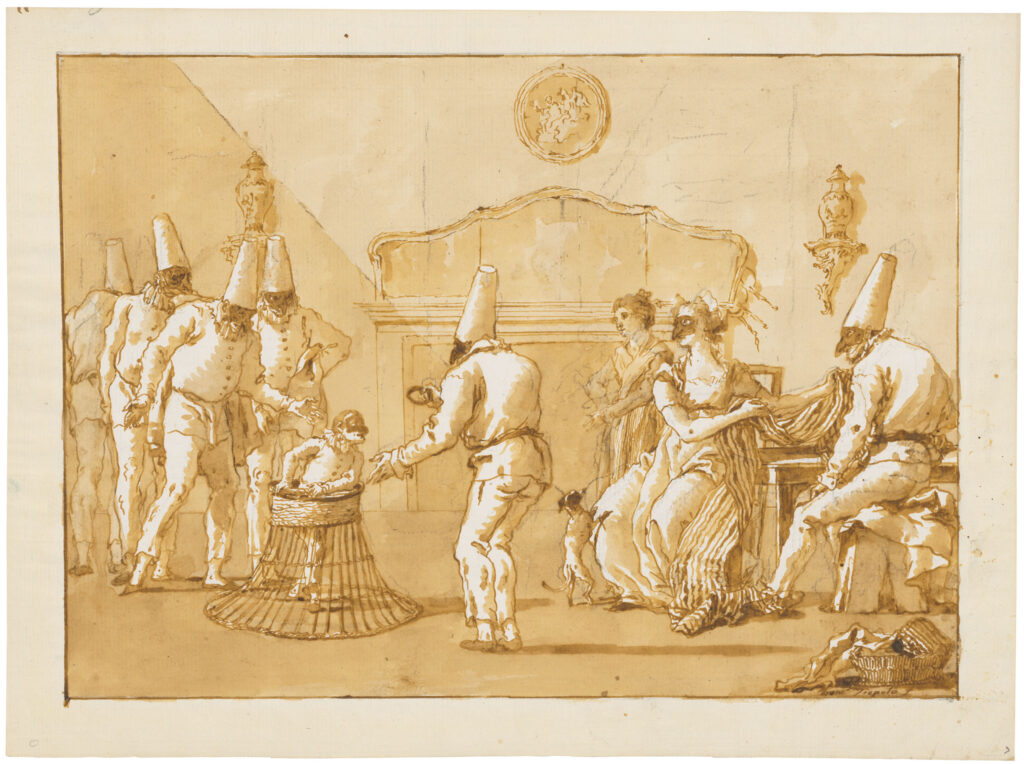 There are thousands of these figurines for sale in Naples and online. Although it is possible to find a maccheroni-eating print or figurine of Pulcinella, some even mimicking the posture of the one I purchased, none of them are made of metal. According to my research online, my metal figurine indicates that it was probably made either before WWII or after the war and before 1960. Mussolini needed metal for war materials. After the war, when metal toy manufacturing resumed, the use of metal was finally discontinued for health reasons.
But more important to me, what I recognized the moment I held the figurine in my hand is that it is a special, historical image of Pulcinella as a "lazzarone," Naples' 18th and 19th-century homeless poor who ate maccheroni with their hands in the streets. Maccheroni was the street food of choice for the poor.
There is even more to the story. Today, travelers seek out Italian street food. But historically, the Neapolitan maccheroni-eating lazzarone was considered a blight on Italian culture. Worse, his maccheroni was not considered a food fit for the upper-class but rather a lower-class street food sold by vendors who cooked it on their improvised stoves in the streets of Naples.
Beginning in the 18th century, in their many travel books, upper-class grand tour English travelers, men and women, expressed their revulsion at the sight of lazzaroni who, after having purchased a penny's worth of maccheroni, would fling their heads back – just like my figurine – and guzzled it down.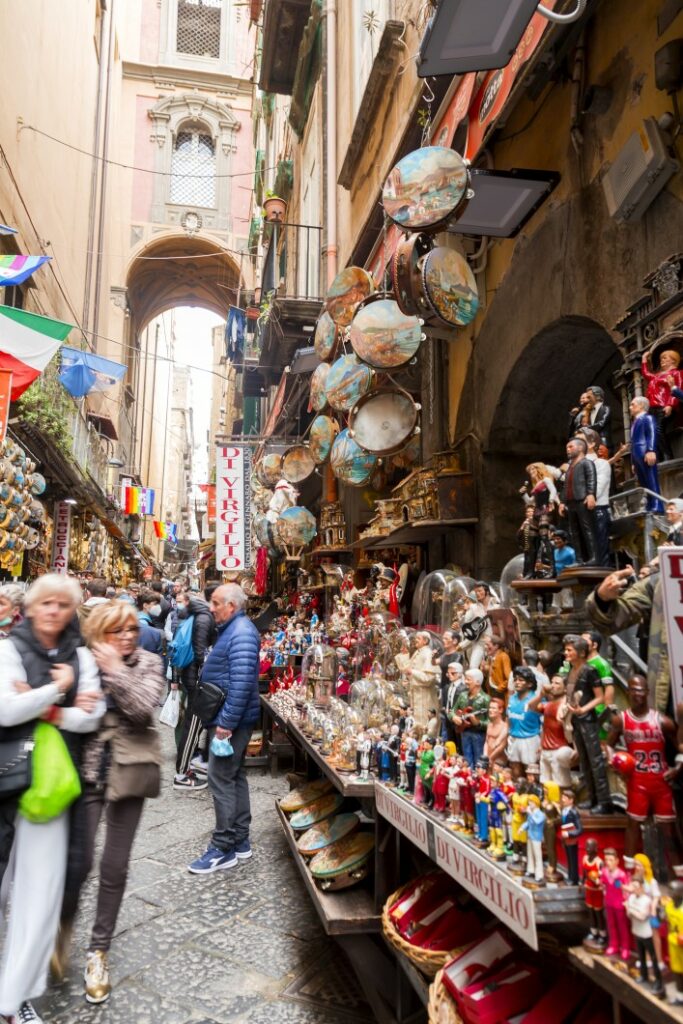 In his Pictures from Italy, even the champion of England's poor, Charles Dickens, described with disgust the hungry lazzaroni lining Naples' streets as they knocked their chins with their right hand, a sign for food, and begged for alms from the traveler.
Contrary to what might appear to be a quaint view of Pulcinella, my figurine evokes an unsavory image of Neapolitan culture. Far from Italy's idealized image found in the Romantic era's paintings of Italian country landscapes and idealized Roman ruins, widely read British travel books depicted this negative image of the Neapolitan lazzaroni for nearly two hundred years. Naples' lazzaroni were routinely described as blackguards, dirty swine, miserable wretches, and vermin-infested. Worse for the upper-class Protestant traveler, the lazzaroni were considered pagan-worshiping Papists. In the Protestant imagination of the era, Neapolitan lazzaroni were a gross discredit to that otherwise idealized image of Italy's noble Roman heritage.
What is more, maccheroni became stigmatized as a food fit only for the lower classes. No right-thinking upper-class gentleman or lady would consider having a plate of it. At about the same time, travelers also began noticing Neapolitan's love of a certain type of bread, known as pizza. It, too, became quickly associated only with the lower classes. In her work, A Taste of Naples: Neapolitan Culture, Cuisine, and Cooking, Marlena Spieler tells us that, like maccheroni, pizza was also a street food that the poor of Naples ate. Pulcinella is related to both. In one legend, Pulcinella says he never ate frittata di maccheroni (traditionally made with leftover maccheroni) because he always ate all his maccheroni. In another, Spieler tells us that one day Pulcinella unexpectedly becomes king. He revels in his new-found aristocratic status. However, when he is told that he can no longer eat maccheroni and pizza, because it would be "unkingly" of him to eat food of the lower classes, he denies the throne and returns to his lazzarone roots and favorite Neapolitan dishes.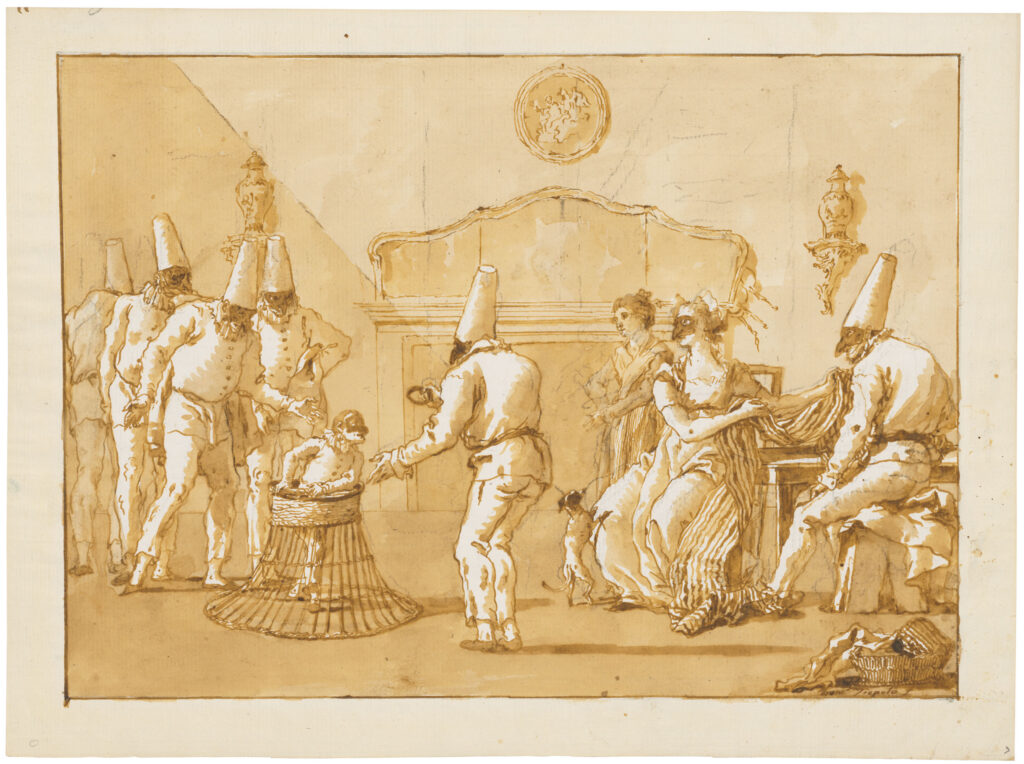 But history has a mind of its own, ultimately indifferent to class or cultural tastes. In time, as Spieler tells us, aristocrats became curious about the pizza and maccheroni lazzaroni ate with such enjoyment. They tried it and found it tasteful. Soon, pizza and maccheroni found their place on palace menus, displacing even some of the upper class' conventional French dishes. Indeed, everyone knows the legend of how pizza Margherita was born: named in honor of Queen Margherita, the royal apparently loved it.
What is more, maccheroni could even be said to have unified Italy. Il Fatto Quotidiano online tells us that when Naples finally became part of unified Italy, Cavour supposedly wrote, I maccheroni sono cotti e noi li mangeremo. Even Garibaldi purportedly said that spaghetti would eventually unify Italy. The famed chef Pellegrino Artusi might well have agreed.
So, when I look at my Pulcinella figurine, I see it as an icon of a very special representation of Italian culinary and social history. We can thank Pulcinella for his foresight, and for teaching us so much about the history of pizza and maccheroni – what we today call pasta. To add to Tiepolo's gallery of Pulcinella's many roles, it this old lazzarone was an oracle, as well.
Ken Scambray's latest book is Italian Immigration in the American West: 1870-1940 (Univ. of Nevada Press).