Approaching Volterra by car from the north, the countryside slowly takes on the sparse character of a lunar landscape. The panorama is at once strange and compellingly beautiful. Stepping out from the car into intense sunshine, I am surrounded by mad quiet, the kind of silence that makes you attentive to your surroundings. Solid earth slopes and crests as if trying to adjust itself for an audience with thirty centuries of noble history dating back to Volterra's Etruscan beginnings in the 8th century B.C.
A welcoming "Ciaoooo" fractures the noiselessness as Podere Marcampo export manager Claudia Del Duca walks over to greet us, joined in a moment by her father, proprietor Genuino Del Duca. She is buoyantly enthusiastic, counterbalanced by the more reserved Genuino, ex-policeman and builder turned restauranteur, who bought and renovated the Marcampo property during the early 2000's. Located in the heart of National Park of Balze and Calanchi, the property's original building dates back to the 18th century, abandoned to ruin around 1950. Today, the new country house at Marcampo accommodates the winery, family quarters, guest rooms and apartments.
Marcampo's vineyards sit on hard blue clay making it difficult for vines to establish deep root systems. Salt rich soil with high mineral content, testimony to the past presence of ancient seas, doesn't make things any easier. Marcampo's vineyards require irrigation with water Genuino must necessarily bring in via truck. All this, combined with solicited but discouraging professional opinions regarding the site's suitability for viticulture would be enough to dampen anyone's enthusiasm for the task at hand. However, at Marcampo, to meet the challenge of what nature has given is considered a privilege, approached with respect and the utmost care.
I reflect, for a private moment, on what could only be a difficult relationship here between soil and vine. Vines that struggle produce better wines. But, in vine terms, this is, well, no day at the beach.
I must tell you now that "passion" has become the most tired, overused, and perhaps over-relied upon word in wine world narrative, in most cases. But, that is not the case at Marcampo. To make world class wine in spite of such natural obstacles takes nothing short of passion. Podere Marcampo has earned the right to use that word.
Rather than disguise or change anything that nature has given them, Claudia and Genuino are committed to respecting the character of their wines and allowing them to be a perfect expression of the territory. "Why should one do things in the vineyard or cellar that standardize the wines? We must instead do things that reflect and preserve the territory," says Claudia. "We use the wood barrel as a tool to enrich but not to flavor the wine," she adds.
Podere Marcampo produces wines from selections of Merlot and Sangiovese grapes under the Toscana IGT denomination. Genuino and Claudia work the vineyards by hand, supplying most of the elbow grease themselves. The wines evoke a saline minerality, a theme that seems not atypical of many wines from the stretch of territory between Volterra and San Miniato.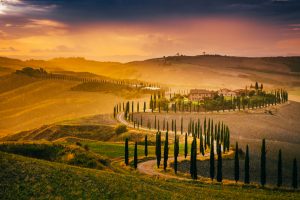 That Claudia, Genuino and mother Ivana also operate a fine dining restaurant in Volterra underscores the importance of their wines' drinkability with food. The Del Duca family provided an opportunity to taste the wines at their restaurant with food prepared by Ivana, who is the restaurant's chef. Marcampo's award winning wine Giusto Alle Balze, so named with a nod to le balze, the area's sandy cliffs, demonstrated its prowess at table when paired with foie gras. Convincing testimony was also given by the 2012 and 2013 vintages of the estate's wine Marcampo, a 50/50 blend of Merlot and Sangiovese, when tasted with wild boar pate. Severus, 100% Sangiovese aged in second passage French oak, served side by side with risotto, provided no less evidence that Marcampo's wines elevate the food experience.
Leaving Volterra and Podere Marcampo, I am briefly overtaken by a feeling of melancholy. Time begins to thin out somehow as the first signs of industry pass by the car window. A sense of the magical and mysterious begins to fade and Etruscans once again become something more of book pages than of life. But, it is for that tired, overused, over-relied upon word of wine, passion, having found it refreshed, energized and so alive at Marcampo, and now to leave it behind, that I am most wistful in driving away. Alas, it belongs there at Marcampo.
Tasting Note
Podere Marcampo Giusto Alle Balze 2013
Deeply hued, 100% Merlot sings with rich notes of cherry, plum and spice. Issues power and balance, is never aggressive. Fleshy and energetic in the mouth, the wine is uniquely expressive, saline, minerals, and pleasantly unexpectedly tannic grip.