At the heart of Italian cuisine lies an art form that stood the test of time: the art of preserving food. This tradition, deeply rooted in the past, is celebrated as a symbol of respect for nature, seasons, and even as a signifier of family bonding.
Renowned Italian gastronome Luigi Veronelli recognized the significance of food preservation and penned Il libro delle Conserve: Frutta, Verdura, Cacciagione, Pesce, Carni in 1973. His work, which remains one of the most iconic on the subject, serves as a tribute to a time when preserving food was not only an act of necessity but also a time of social bonding and communal celebration.
Because in Italy, preserving food has always been about more than preventing waste. It carries inherent wisdom, a way to savor a particular meal or ingredient, regardless of time and place. This historical practice, passed down through generations, is reflected in some of Italy's most famous delicacies, including the salted fish tradition of Cetara and Menaica, and the time-honored processes of smoking fish and meats, from North to South.
The Romans knew the natural protective qualities of honey, salt, and vinegar, as depicted in De Re Coquinaria by Apicius, which provides insights into the food preservation techniques used by our ancestors. However, it wasn't until the late 18th century that the art of canning was formally established: Nicolas Appert, a Parisian pastry chef, started preserving food in glass jars in 1796, setting a precedent that was later followed in Italy by Lazzaro Spallanzani, an Italian biologist and priest.
Undoubtedly, the habit of preserving food with oil, salt, or vinegar was originally a necessity that allowed families to enjoy certain foods throughout the year, also when out of season. Even more importantly, it reduced greatly the waste of produce by considerably lengthening its shelf life. But through time, as it often happens when it comes to Italian food, necessity was transformed into an art form. Pickled vegetables, preserved in brine or oil, were common preservation methods that ensured the organoleptic qualities of the vegetables were maintained over time. These age-old techniques, handed down from generations of homemakers, have since been embraced by the industrial world, and pickled or "sott'olio" products are a staple both in our supermarkets and pantries.
Among the methods of preservation, pickling is one of the most common. The process involves an anaerobic fermentation (in the absence of oxygen) caused by lactic acid bacteria, or marinating the food in an acidic solution such as vinegar. The resulting food, which retains its edibility for an extended period, acquires a characteristic salty and sour taste. The flavor profile depends on the type of bacteria that survives the fermentation process, greatly influenced by the absence of air and internal temperature. To further safeguard the food from bacteria, herbs and spices with antibacterial properties, such as mustard seeds, garlic, cinnamon, or cloves, are often added. This method is most effective when the food to be preserved is not too moist so, usually, excess water is removed by adding salt. From cucumbers to onions, capers, and bell peppers, a myriad of vegetables are pickled, both at home and in the industrial sector, maintaining the vibrancy and vitality of their flavors.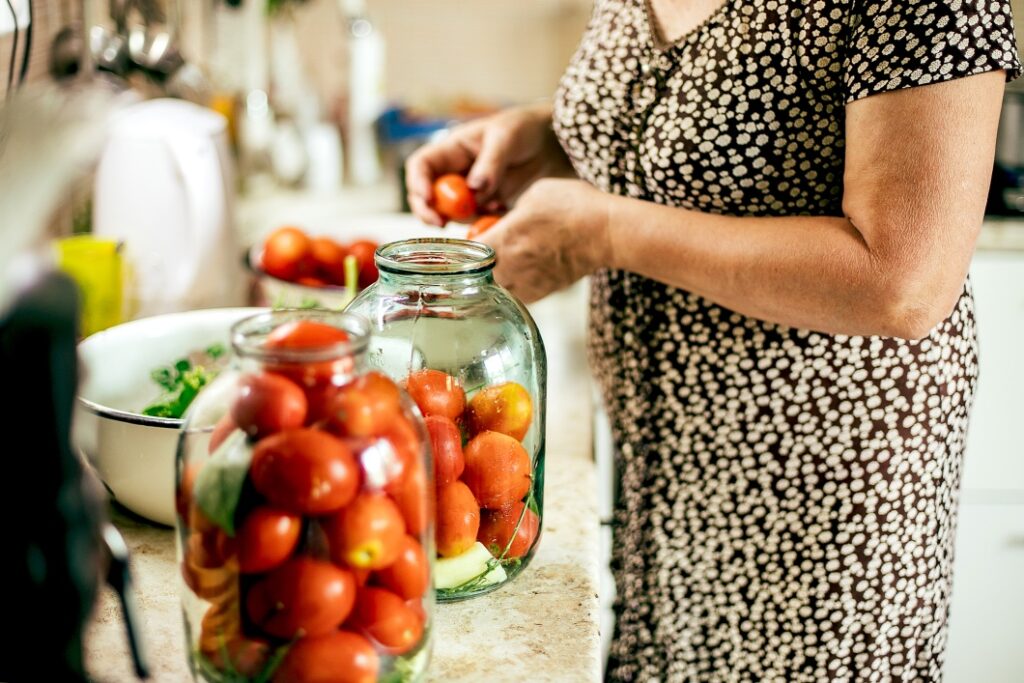 Another widespread technique in Italian food preservation is the use of oil, which serves to isolate food from air contact, thus inhibiting the growth of aerobic bacteria. However, oil lacks antibacterial properties and cannot inhibit anaerobic bacteria, such as the notorious botulism bacteria, and this is why oil-preserved foods are often salted, cooked, or even acidified with wine vinegar before being jarred or canned.
Arguably the most recognizable Italian delicacy preserved in oil is the humble yet delicious sundried tomato. Tomatoes are dehydrated under the sun and then submerged in oil, often with added herbs: as we all know, these little morsels of color and taste lend a potent, concentrated tomato flavor to pasta dishes, antipasti platters, and salads. Another popular preserved vegetable is eggplant. Indeed, melanzane sott'olio, slices of grilled or fried seasoned eggplant, then submerged in olive oil, are one of the most popular antipasti in our country and you can use them even in sandwiches and pasta!
Then, we have carciofi sott'olio, artichokes preserved under oil, a beloved staple in many Italian kitchens. The artichokes are usually parboiled, seasoned, and preserved in olive oil. Their delicate flavor and tender texture make them a delicious addition to pasta, salads, or as a topping for bruschetta. Moving onto preserves in vinegar, giardiniera certainly stands out: this vibrant mixed vegetable preserve comprises cauliflower, bell peppers, carrots, celery, and gherkins, which are pickled in vinegar and often served as an accompaniment to rich meat dishes due to its refreshing, tangy taste. Last but not least, another pickled delight to remember is cipolline borettane in agrodolce, small, flat Italian onions preserved in a sweet and sour sauce: they provide a delectable mix of flavors that pair wonderfully with cheeses and cold cuts.