Italy has given the world many delicious cheeses, and, without a doubt, Parmigiano Reggiano and Grana Padano are among the most notable and beloved. Ubiquitous in our kitchens, they are commonly used in pasta dishes, can be incorporated into fillings, and overall enhance our culinary experiences. But, while some people use them interchangeably—or even think they are the same!—their distinct histories, production methods, and regional connections actually reveal a different story. Time to find out more.
Grana Padano's adventure into Italy's culinary world began in 1135 when Benedictine monks at the Abbey of Chiaravalle developed a technique to preserve extra milk, and its method of production, even today, still bears witness to their ingenuity and clever planning. Made in some provinces of Piedmont, Lombardy, Veneto, Emilia Romagna, and Trentino Alto Adige, Grana Padano's production brings together traditional methods, modern precision, and strict protocols, the latter in place to maintain the distinctive texture and flavor that make this cheese so highly regarded. Nothing is left to chance when it comes to Grana Padano: even the diet of the dairy cows producing the milk used for it is closely monitored, and the maturation process involves a lot of manual labor. Every aspect of its production is carefully adjusted to achieve perfection.
Gourmet chefs and food enthusiasts adore Grana Padano for its exceptional qualities, which make it a staple in many kitchens. With its fine texture and delicate, yet flavorful taste, it is a versatile option for many different dishes, from risotto to ravioli, and it is also delicious as an aperitivo, perhaps enjoyed with a glass of robust red.
Parmigiano Reggiano originates from the rural areas around Parma, Reggio Emilia, Modena, and some areas in the provinces of Bologna and Mantova. The caseus parmensis cheese was created in the 13th century by Benedictine and Cistercian monks, who passed down their cheese-making tradition for centuries, gaining recognition and a growing reputation.
Parmigiano Reggiano is made using three key ingredients: raw milk, animal rennet, and salt. Each step of the process follows strict guidelines, showcasing the precision of Italian culinary techniques and traditional methods, which result in a cheese that is flavorful and full-bodied. It is rich and varied, and becomes richer and more complex over time, revealing a combination of robust, nutty, and pleasantly clear flavors. Thanks to its versatility, Parmigiano Reggiano can be enjoyed in various ways: it can be shaved or grated over dishes such as risotto or lasagna, but it can also be enjoyed on its own with a drizzle of balsamic reduction.
Grana and Parmigiano, as we've seen, share their ancient origins, their iconic role in Italian cuisine, and their attention to production methods, which earned both a DOP designation. But there are also differences. For instance, the cows' diet plays a big role in the making of both cheeses but some differences are present: cows producing milk to make Parmigiano Reggiano mainly eat forage and hay from nearby lands, while those "working for" Grana Padano also have silage in their diet for more variety.
Another huge difference is the presence of an extra ingredient in Grana Padano: to maintain its quality and ensure that the cheese matures well, lysozyme, a natural enzyme, is used. On the other hand, no additive is allowed in the production of Parmigiano Reggiano.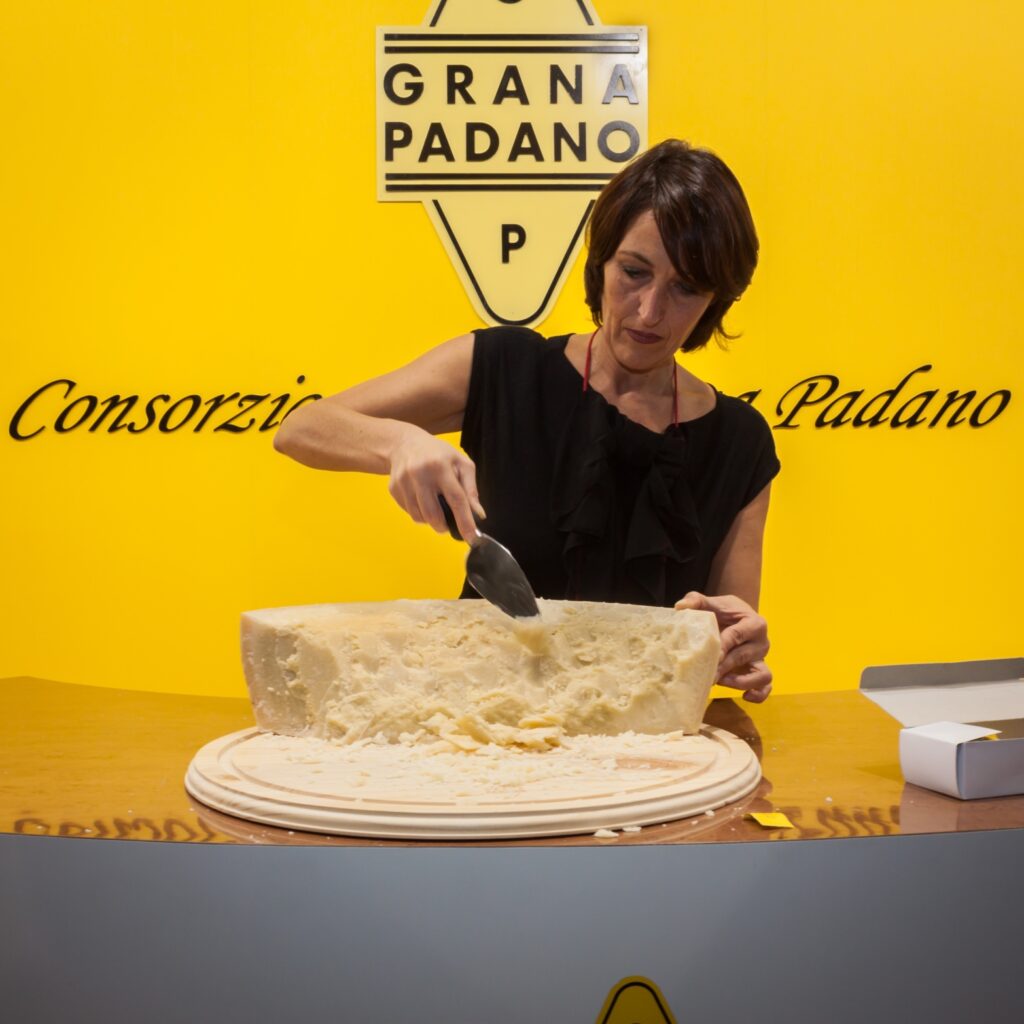 Lysozyme is naturally present in chicken egg whites, which contain a substantial amount of it. This unique protein plays a pivotal role in the production of Grana – and other mature cheeses – because it acts like a "fermentation process modulator" by inhibiting the growth of undesirable clostridia bacteria. The amount of lysozyme used in the making of Grana Padano is quite minimal, with a maximum of 25 grams per 1000 liters of milk, ensuring that the lysozyme intake through the cheese is significantly low, posing no risks to the consumer. Not many know that the use of lysozyme extends beyond cheesemaking, as it is also commonly utilized to produce certain types of wine and beer. This natural protein is extracted mechanically from egg whites without the use of chemicals, which makes it a safe and organic choice for managing fermentation.
Differences between Grana and Parmigiano are present also when it comes to aging. Of course we are talking, in both cases, about a process that requires patience and time but, again, with considerable differences between the two cheeses. Parmigiano Reggiano is aged at least 13 months but reaches its best when aged 24 months or more, reason for which its flavor is so nutty, robust, and complex. Grana Padano, on the other hand, is aged for 9 to 20 months, resulting in a softer and more delicate flavor. There are also differences when it comes to quantities being produced: in 2020, the Parmigiano Reggiano Consortium's 363 dairies produced 3.94 million wheels of cheese, while Grana Padano's 129 recognized dairies produced 5,25 million.
You may now wonder about their nutritional value: well, here, both Grana and Parmigiano perform fantastically, as they both are nutritional powerhouses. Parmigiano Reggiano is a nutrient-dense choice, rich in protein, calcium, and phosphorus, making it an excellent addition to a balanced diet. With its protein content and a range of essential minerals, it's not just a tasty but also a nourishing choice for any meal. Grana Padano shares a similar nutritional profile, being a great source of protein, calcium, and essential minerals. It's also low in lactose, catering to those with lactose intolerance. The slightly lower fat content in the milk used for Grana Padano, as compared to Parmigiano Reggiano, reflects a minor difference in their nutritional outline.
When it comes to cooking, deciding between Grana Padano and Parmigiano Reggiano usually depends on personal preferences or the requirements of a particular recipe. Grana Padano, with its mild and pleasant flavor, complements lighter dishes, adding a touch of richness. Parmigiano Reggiano is known for its strong and distinctive notes, which makes it a great choice for bolder, earthier recipes.