We are all familiar with the colors and flavors of Liguria, that glorious stripe of land between the blue of its homonymous sea and the white and green of the Alps. We know it because of the grandiose past of its capital, Genova la Superba, for its beaches and for the old-fashioned allure of some parts of its Riviera di Levante, a beloved destination for poets and artists of yore.
And we shouldn't forget its food, of course. Liguria's culinary tradition thrives in its history, simplicity, and the flavors of the land. One dish, in particular, embodies this tradition, and I am not talking about pesto. Mind, I love pesto, especially when it's freshly made – in fact, mark my words: you cannot say you know how pesto tastes like unless you've tried it fresh.
No, today, we are talking about pansoti. This stuffed pasta, served with a unique walnut sauce known as salsa di noci, is as typically Ligurian as pesto, but it perhaps doesn't enjoy the same popularity, neither in Italy nor abroad. What an enormous loss! Time to get to know this Ligurian delicacy better.
Let's start with their name. Pansoti is a term derived from the Ligurian word "pansa" meaning belly. They are a type of generously-filled pasta that resembles a plump belly and they can be told apart from their more famous cousins, ravioli, by shape and size: they look a tad like large tortellini, with a half-moon or triangular form, depending on which part of Liguria they come from. But what truly sets pansoti apart is their filling, a delightful blend of fresh herbs and cheese, a marker of the regional tradition of piatti di magro, or meat-free dishes.
The origins of pansoti, however, are not as ancient as we may think: apparently they are a 20th-century creation. Some culinary historians trace their official entry into Ligurian cuisine to their presentation at the gastronomic festival of Nervi in 1961. Yet, others argue that pansoti, served with their characteristic walnut sauce, were already a part of the culinary landscape in Rapallo as early as 1931.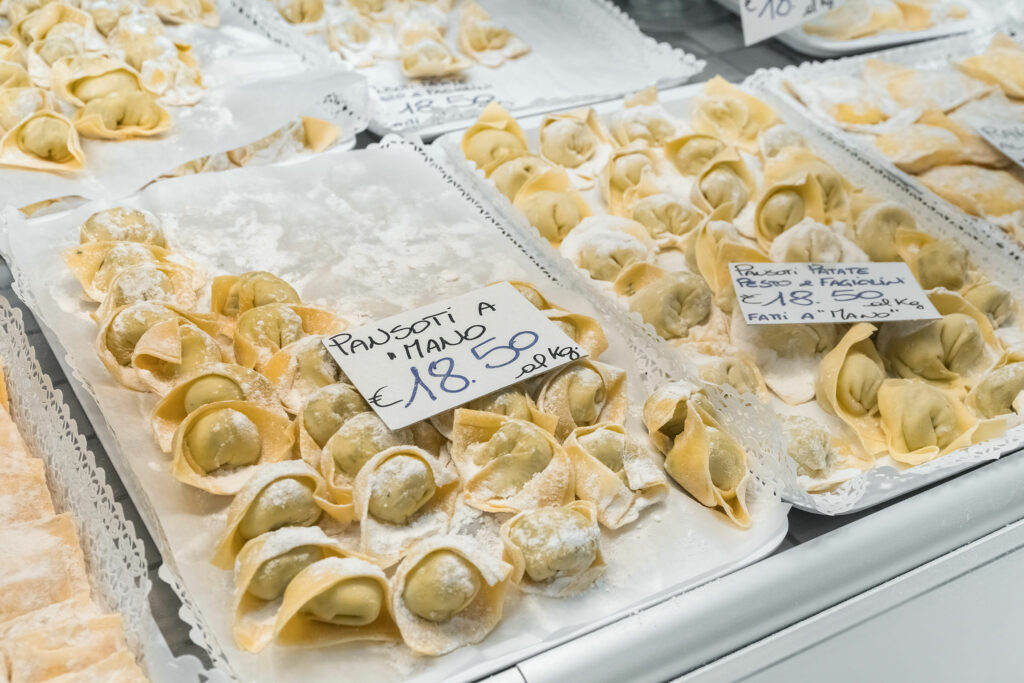 Traditionally, their filling was made with a mix of wild herbs (five, to be precise) that grew spontaneously along the Ligurian coast, known in dialect as preboggion, but today it can vary based on seasonality and availability, so don't be surprised to find chard, spinach, or borage inside of your pansoti depending on what's in season. The greens are bound together with prescinseua, a local fresh cheese with a slightly sour taste, or alternatively, ricotta, to create a harmonious blend of flavors that is both simple and deeply satisfying. Finally, everything is brought to a perfect balance by the addition of eggs and a handful of Pecorino or Parmigiano.
The pasta for our pansoti is made from fresh dough, sometimes lightened by replacing eggs with a glass of white wine, which adds a pleasant aroma to the finished product. Once the dough has rested and been rolled into a thin sheet, the fun begins: the filling is spooned onto the pasta, which is then folded and sealed, creating little parcels of flavor ready to be cooked.
But pansoti would not be complete without their traditional accompaniment: salsa di noci. This creamy walnut sauce, believed to have originated in the Middle Ages, is a perfect counterpoint to the herb-filled pansoti: made from a blend of walnuts, bread soaked in milk, garlic, and grated Parmigiano or Pecorino cheese, the sauce is a celebration of the region's high-quality walnuts. The ingredients are ground together and combined with olive oil to create a smooth, creamy sauce that enhances the light taste of pansoti's vegetable filling.
Over half a century passed since the pansoti's debut, and the recipe has seen a series of transformations. The once simple preboggion evolved into a complex medley of up to 13 different herbs. This is where the artistry of the Ligurian homemakers shines, as they masterfully balance the flavors of their chosen herbs to create a truly unique dish every time. For those who prefer convenience over foraging, chard, spinach, and borage, as we said, can be used. If you are in Genoa, you can find a pre-prepared preboggion mix in the bustling stalls of the Mercato Orientale, on Via XX Settembre, especially during the spring season.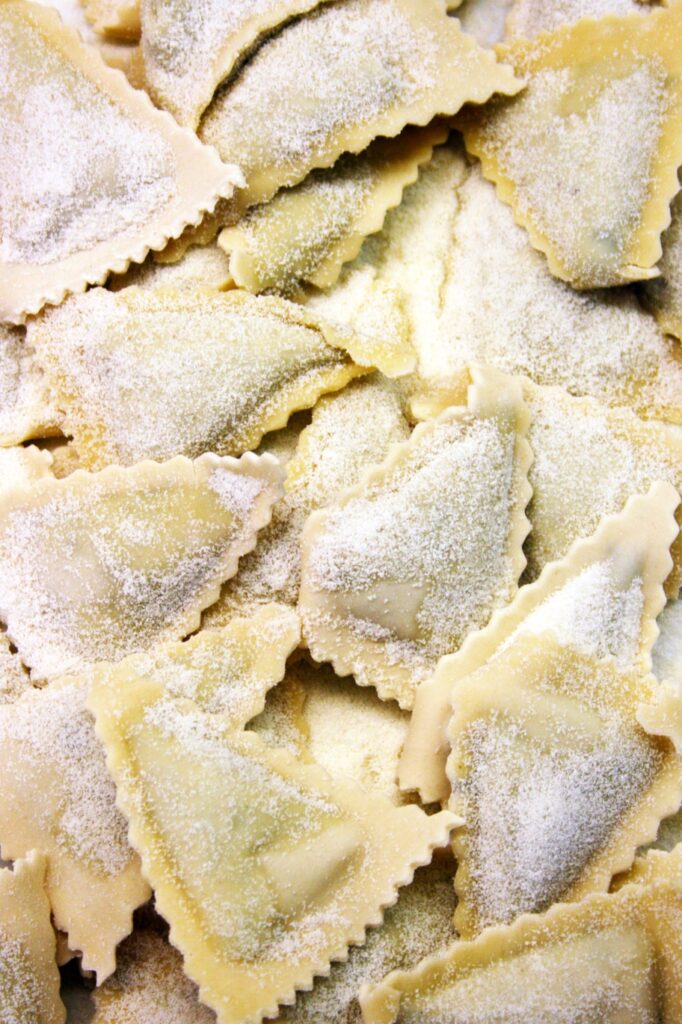 Summer is a perfect time to enjoy pansoti thanks to the many culinary festivals up and down Liguria where they are served: a perfect opportunity to savor this delightful dish – and many others! – in all its glory.
Pesto is pesto, pesto is king. But the Ligurian court of good food is rich and deserves to be discovered in all its glorious burst of flavors: with pansoti and salsa di noci, you can't fail. It's a heart-warming and comforting food, which also has something exotic, with its walnuts and wild herbs filling. Indeed, a dish to try and discover.