A few years ago, at a friend's housewarming party, a woman pulled me aside and quietly asked me if I would read her cards. The request took me by surprise. She and I had never met, and very few people other than the host knew that I always carried a deck of tarocchi, or tarot cards, with me. After all, the divination tool – believed to have been developed in northern Italy in the 15th century – was not a topic of conversation. But the woman told me she was trying to understand why so much bad luck had suddenly invaded her life. Financial hiccups, minor illnesses, petty arguments with her husband—the list was long. Only a couple of months ago, she explained, her corner of the world had been perfect. Now she felt pursued by misfortune. What was happening?
To some people, the occasional spate of bad luck is inevitable and incurable. When it strikes, you simply have to take a deep breath and soldier on. To those of us who are Italian and Italian-American, however, a sudden surge of negativity is anything but random. In fact, that bad thing – be it a persistent headache or a series of unfortunate events – has a very clear source: the evil eye, or il malocchio. A malefic energy cast via a glance, malocchio is rooted in the most devious of emotions: envy.
While anger, resentment, and greed can also disperse the curse, envy is what truly fuels malocchio. That's precisely why the evil eye is so ubiquitous. We have all experienced the fiery rush of jealousy when coveting another's success or happiness. Most of us have also felt the sting of a loved one's bitter stare. Envy – whether we want to admit it or not – is a facet of the human condition and an immensely powerful one at that.
As a belief, malocchio is pervasive because it can strike anyone at any time. Infants, children, and pregnant women are particularly susceptible to it. Personal achievements, milestones, and the objects that illustrate an individual's success are also fodder for envy.
If it sounds like mere superstition, consider the Evil Eye's history. While some scholars believe it has roots in Mesopotamia, most agree that it can be traced back at least 5,000 years BCE. The ancient Egyptians painted numerous symbols on coffins, tombs, boats, and structures to deflect danger and ill will. The Eye can also be found in the literature of the ancient Greeks and Romans, and archeological evidence is rich with eye symbolism.
I grew up in a home where the threat of malocchio was always present. My siblings and I learned early on to be mindful of what we shared with our friends, so expensive toys were unveiled slowly to other kids in the neighborhood, and news of academic achievements was kept to a whisper. We didn't celebrate an imminent birth; we celebrated after a baby was born. We didn't talk about a parent's new job until the first paycheck came through the door. Silence is a powerful weapon against malocchio.
What you keep to yourself can't be envied (and cursed), and staying quiet ensures that you aren't being boastful about the good things in your life. Flaunting your happiness is a surefire way to attract malocchio because it tempts fate to swoop in and smite what you hold dear. Here, the evil eye isn't intentional but ambiguous – an otherworldly force to be feared.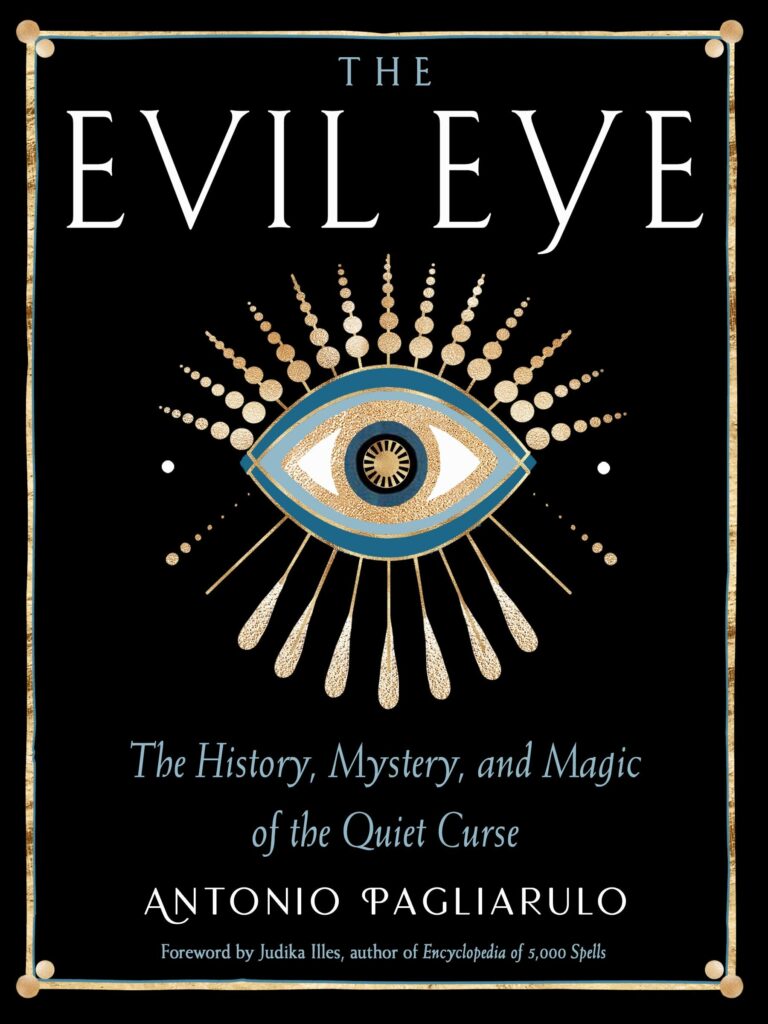 And fear it you should. Malocchio can cause nearly every manner of misfortune, from the corporeal to the spiritual. In addition to the aforementioned headache, symptoms can include excessive yawning or tearing, sudden stomach upset, tremors, a rash, dizziness, and unexplained bruising. If you've tripped or cut yourself more than once in the span of a few hours, consider yourself cursed. A baby who cries incessantly and is unable to be soothed by their mother's touch should raise suspicions. How many times have you misplaced your car keys this week? Have you ever watched a friend or loved one withdraw from the world in sadness or fear? Perhaps you've experienced a bout of fear yourself—vivid nightmares and inexplicable panic attacks are indications of malocchio. If your new car gets a flat tire, think back to the last person who complimented your ride; their seemingly innocent admiration might have been a sugar-coated case of coveting.
Yes, malocchio can manifest in countless ways, but that doesn't mean everyone is out to get you, nor does it suggest that you should live in a constant state of suspicion and anxiety. Every culture has its magic and, fortunately, we Italians are well-equipped when it comes to protecting ourselves and our families. My grandmother used oil, water, and a secret prayer to both detect and dispel malocchio. My grandfather knew the power of hand gestures and how intricate symbols can neutralize negative energy.
These methods are alive and well in my family today. In fact, handing down a prayer, incantation, or ritual to diagnose and cure malocchio is a tradition in many Italian families. A prayer may be passed from mother to daughter, aunt to niece, uncle to nephew, cousin to cousin, or any pairing that will ensure the efficacy of the rite. This is generally – though not always – done on Christmas Eve.
But that mysterious and elusive prayer isn't the only way to heal a bad case of malocchio. Sometimes statues of saints are placed on windowsills, a mixture of salt and herbs is sprinkled over doorsteps, and red ribbons are carefully knotted and hung out of sight. Amulets are also effective in combating malocchio. The mano cornuta is a hand in which the thumb encloses the middle and ring fingers while the index and little fingers are extended to form a pair of horns. The cornetto is a single small horn, usually made of red coral. Medals of saints are particularly powerful in repelling the Evil Eye; among the most popular are Saint Anthony of Padua, Saint Francis of Assisi, Saint Rosalia, Saint Rita, and Padre Pio. Don these amulets and you have a coat of armor against the malevolent forces that give malocchio its potency.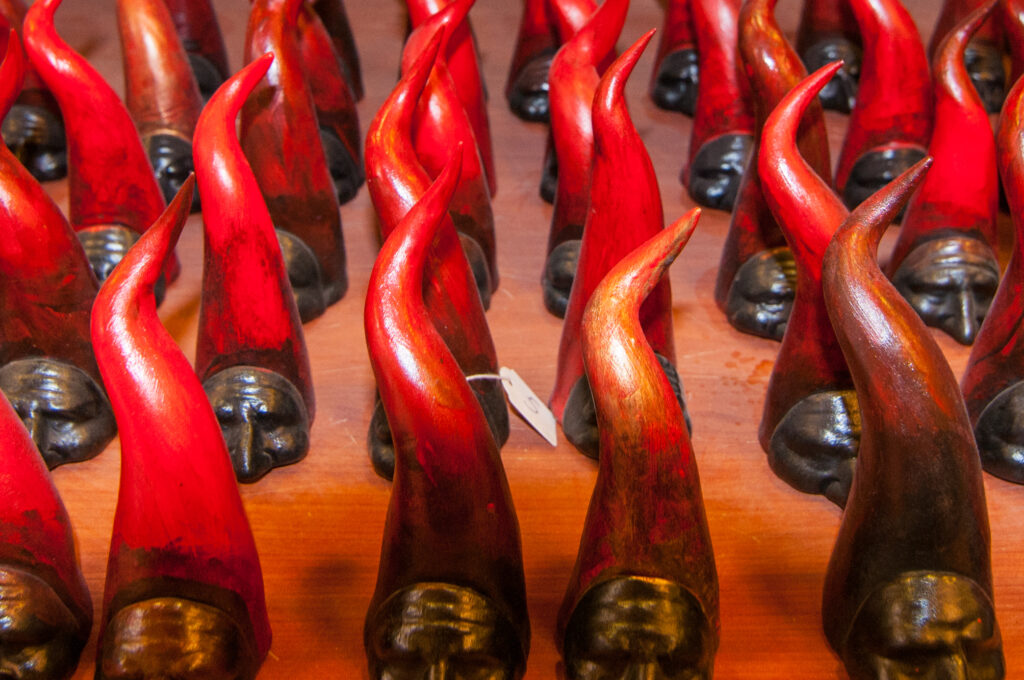 All of these tools to deflect the evil eye were generally thought of as "the things of the family." We kept it to ourselves and helped those who quietly asked for it, like the woman at my friend's housewarming party or the worried neighbor who made a late-night phone call to my grandmother. But something has shifted culturally, and now these family secrets are slowly slipping into the mainstream, especially in recent years. From a hysterical conversation Sebastian Maniscalco and Jimmy Kimmel shared about the evil eye on Jimmy Kimmel Live, to the ease with which Italian protection amulets can be purchased online, malocchio is no longer a whisper at the dinner table. In my forthcoming book, I explore the history and practices around the evil eye and how the worlds of fashion, retail, and celebrity have today embraced the belief, emblazoning t-shirts, high-end jewelry, and backsplash tiles with its symbols.
This trend captures the spirit of the moment, when it feels like the ills of the world are delivered to our doorsteps. In this time of disillusionment, as we desperately seek a "return to normal," more people are searching – not just for deeper meaning, but for a means to deflect the things that cannot be controlled by rational thinking or science. Luckily, we Italians have always been trendsetters. In this case, we are armed with a timeless recipe for protection, an understanding that the unseen can wreak havoc, and that we have the power to banish it. I am fond of saying that there was more than a pot of sugo simmering in my grandmother's kitchen. When she went to work against malocchio, she manifested hope, healing, and the enduring power of generations past.
Antonio Pagliarulo is the author of The Evil Eye: the History, Mystery and Magic of the Quiet Curse (Weiser Books, 2023).