With the season drawing to a close, the bounty of summer is starting to taper off. I still love the juicy goodness of my fresh tomatoes and the crunch of the last ears of summer corn but my palate starts to crave the comforting, earthier flavors that signal the transition to colder temperatures. Crisp apples, earthy mushrooms, colorful squashes.  As the evenings start to cool, the change in seasons is always a magical time. The earth bursts forward with new flavors as if it, too, craves a change.  Although the summer warmth is what I love there is something about those first few cooler fall days I find very welcoming.
Grapes come into season, and these tasty morsels are so much more than for snacking.  Forget that run-of-the-mill bunch of grapes sitting next to the cheese on your antipasto platter.  It is time to elevate your grapes!
Impress your guests with effortless ease at your next party by turning them into tasty morsels of sweetness that can enhance many of your routine dinner party recipes.  These stress-free, super easy ideas will help turn your party from simple to sublime with very little effort. Or better yet, don't wait for a party.  These recipes are so easy to throw in the oven you can prepare them on a weekday and impress your family too.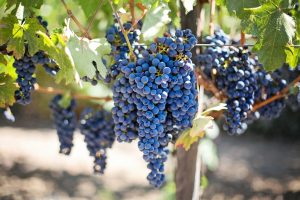 Toss your grapes in a saucepan with apple and walnuts. Add salt and a good, healthy dose of pepper. Simmer and you have yourself an elegant condimento. Allow the flavors to simmer until the fruit breaks down and the walnuts soften. The black pepper adds a nice savory bite to the flavor.  You can use in so many ways:
Slater atop a crunchy crostini.  (Perhaps on top of a smear of fresh ricotta).
Stir some into your freshly made ricotta for a streak of deliciousness.
Drizzle while warm on top of a fresh out of the oven sformato. (A savory Parmesan sformato would be an awesome contrast.)
Spoon on top of that creamy bowl of gelato.  Sprinkle with additional toasted walnuts.
Put a dollop in the middle of your favorite yogurt.
For an even easier treat – roast those grapes in the oven. The outside will blister and caramelize while the inside becomes a juicy, jammy delicious pile of goodness. There are so many ways to have them (if you can stop yourself from eating them all fresh from the oven.)
Try topping your ricotta-slathered crostini with a few fresh grapes and more thyme.
Serve them straight out of the oven, warm alongside that cheese on the antipasto platter.  Add a bowl of warmed toasted walnuts. (Don't forget a nice earthy bottle of red alongside!)
Toss them into your next grain dish. They would be excellent stirred into a farro and mushroom risotto or a sausage and pasta dish.
Toss them alongside your roasting meat in the oven. Add them in for the last ten minutes or so. Super easy!
Mix some ricotta with a bit of Parmesan or mascarpone, salt and pepper.  Bake in the oven alongside the grapes.  Serve with the warm roasted grapes, all sweet and juicy, atop the baked ricotta. Heavenly.
Super easy and stress free – yet super delicious. And then at your next party, simply sit back and allow the compliments to wash over you.
Buon appetito!
Michele
Roasted Grapes
Ingredients:
• 1 pound black grapes
• A few sprigs of fresh thyme
• Extra virgin olive oil
• Kosher salt
• Freshly ground black pepper
Directions:
1. Preheat the oven to 425 degrees Fahrenheit.
2. Place the grapes on a large baking sheet (you can cover the pan with parchment or Silpat to make the cleanup easier).
3. Add a few sprigs of fresh thyme to the pan.
4. Drizzle with olive oil.
5. Sprinkle with salt and pepper.
6. Toss in the oven.  Roast for about ten minutes.  Give them a flip.
7. Roast for another ten minutes or until the grapes caramelize and become juicy and jammy.
Red Grape Jam
Ingredients:
• 1 small apple
• Juice of 1 lemon, divided
• About 2 pounds red grapes
• ¼ cup walnuts, roughly chopped
• 1 cup dry red wine
• 1 tablespoon honey
• Salt
• Freshly ground black pepper
Directions:
1. Peel and core the apple. Cut in large chunks and sprinkle with the juice of ½ lemon. Place in a medium heavy stockpot along with the grapes, walnuts and wine.
2. Simmer over low heat for about an hour until the grapes start to break down and thicken.  Add honey and simmer until the sauce is thick and creamy, about 30 minutes.
3. Season with salt and a healthy dose of pepper. Ready to serve.
Joe and Michele Becci are a brother and sister team who love all things Italian. Together, from opposite coasts, they co-author the blog www.OurItalianTable.com.