2021 has been an important year for one of Italy's favorite candy makers, Sperlari: the company celebrated its 185th birthday and became officially one of the country's historical brands (marchi storici). The register includes only names of our Made in Italy with a proven historical heritage, that maintain still today a solid connection with their territory and the values of Italian-made production. Even two Sperlari products became part of the register: crunchy milk candies Galatine, produced since 1956, and Saila licorice products, Saila being the acronym – not many know – of the Società Anonima Industriale Liquirizia Abruzzese, founded in 1937.
Sperlari was founded in Cremona in 1836 by Enea Sperlari. Initially, it was a simple family-run store that specialized in the production of torrone and mostarda, a typical Italian side dish for meat made with fruits. Located in Via Solferino, the store – which is still open today and is protected in name of its historical significance – became very popular among locals and non-locals alike, if it's true that its delicious products reached, thanks to the growing Italian-American community, also the New World.
In 1935, Sperlari was well-established and known; it joined forces with another giant of Italian confectionary, Pernigotti, to expand its production from torrone and mostarda to candies, as well. And if it's true that now the company, as is the case for many other Italian-born industrial realities – belongs to a multi-national, its central values of "Italianness" and connection to the territory are alive and well. Still today, Sperlari's core products are those on which Enea had bet 185 years ago, torrone and mostarda, which are quintessentially tied to the Cremona area: and the role of Sperlari in popularizing them across the country and the world remains unmatched.
New ventures and culinary explorations took place throughout the 20th century: we mentioned two in particular, Saila, whose first headquarters were in an abandoned theatre along the Silvi Marina promenade, and Galatine. Both of them are, in Italy, iconic brands and names. Galatine were among the first candies to be sold even in pharmacies, in the 1970s, and they underwent a significant brand expansion in the 1990s, when their shape went from square to round and, even more importantly, new flavors like chocolate, chocolate chip, and strawberry were added to the classic milk flavor. Galatine, by the way, are still made with 100% Italian milk.
Sperlari has also been a pioneer when it comes to packaging: in the 1970s, the company began a long series of key collaborations with great names of Italian fashion and design – think Missoni and Fiorucci, for instance – to give their products a trendy overhaul and transform their tins into collectible items.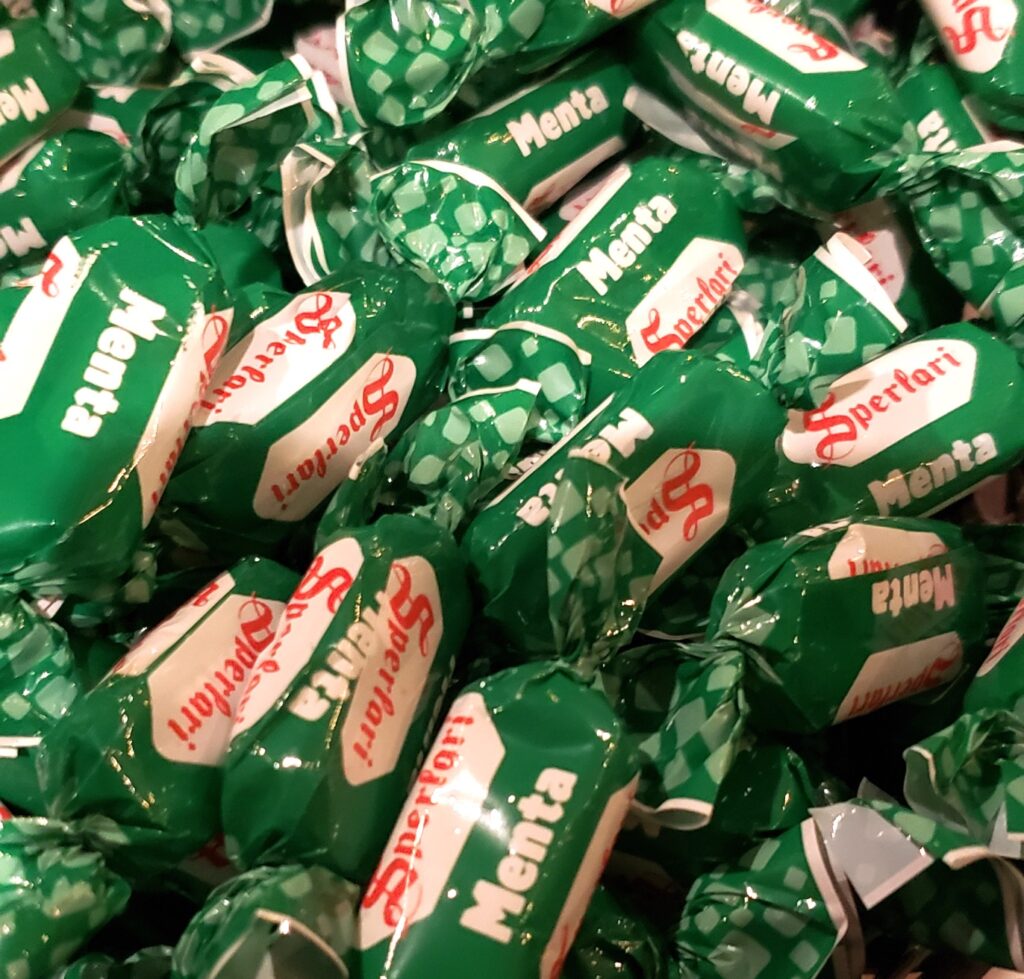 In 2021, when Sperlari entered the Italian historical brands' register, the then-CEO Piergiorgio Burei declared to Il Sole 24 Ore that: "All Sperlari brands are part of this country's history, they have been with generations of Italians throughout their lives, and they keep on being produced here in Italy, in our four factories, with Italian raw materials: Sperlari mostarda's fruit, Galatine's milk, Saila's mint, and licorice. Being part of the Register is, for us, a reason of pride and an award for the work we've been doing to valorize Italian tradition while developing the ability to be innovative: characteristics that strengthened Sperlari's position as an ambassador of Made in Italy in the world."
Today, Sperlari is a leader in the confectionary sector, with four active factories in the Belpaese, in Cremona, Gordona (Sondrio), San Pietro in Casale (Bologna), and Silvi Marina (Teramo), and it's led by CEO Bernadette Bevacqua. Besides Galatine and Saila licorice, Sperlari is known for its large variety of torrone and torroncini (bitesize torrone pieces), its mostarda, of course, the iconic Pasticca del Re Sole – a traditional licorice candy that comes in a white round tin everyone in Italy recognizes – the most famous sugar-free candies in the country, Dietorelle, and a plethora of gummy candies and gelées. The company also owns Paluani, which specializes in the production of panettoni, pandori, and Easter colombe.