This fall, the 107-year-old Our Lady of Mount Virgin Catholic Church will not be open for Mass or baptisms, weddings or confessions. In a two-page statement from the Seattle Archdiocese issued in July, parishioners learned that their pleas and protests had come to a dead end: The historic church built to cater to the spiritual needs of Seattle's Italian immigrant community was closing. The news – while expected – was still a blow.
It's a story that is playing out in many communities across the country: fewer people attending Mass, fewer priests available to conduct the sacraments, less money to maintain century-old buildings. Before the COVID-19 pandemic, about 360 worshippers attended Mass weekly at Our Lady of Mount Virgin, down from about 480 parishioners seven years ago.
COVID-19 decimated in-person gatherings, and churches were seriously affected. Fewer attendees mean fewer dollars, and parish income dropped by about one-third in the past five years. In the Seattle Archdiocese, attendance at Mass has fallen more than 15% from 1999 – 2018. Although the city population increased dramatically during the same period, baptisms in Seattle dropped by more than one-fifth and church marriages were halved. 
What is still vibrant, however, are the strong emotional bonds that tie Seattle's Italian American community to Mount Virgin parish. Generations of families worshipped and made lifelong friends there, married there and were buried there. The announcement from the archdiocese was met with a mix of emotions including sadness, anger, even suspicion.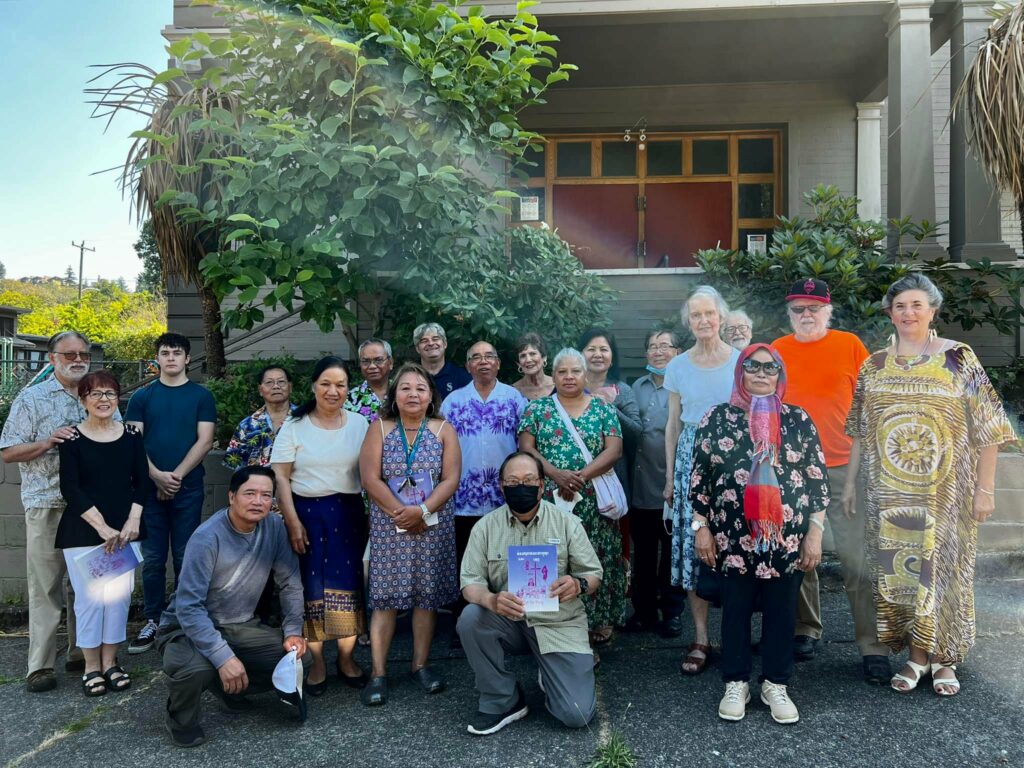 More than a century ago, Our Lady of Mount Virgin, located in the Mount Baker neighborhood, was the heart of Seattle's Italian community. The parish was established without geographic boundaries so it could attend to the spiritual needs of the Italian-speaking faithful wherever they lived in the city.
Mount Virgin was established in 1911 on the site of an older church called St. Boniface, which had served the German community. As new immigrants arrived from Italy, it became one of the first places they would visit for information on jobs or help with housing.
Within a few years, the parish priest, Father Ludovico Caramello, a charismatic and energetic Jesuit from Turin, Italy, decided a new church was needed. He raised funds both in America and from his many contacts in Italy, and in 1915, his dream of a new church was realized.
Built in a Renaissance Revival style on a steep hill overlooking lush gardens, Mount Virgin has tall arched stained-glass windows and a bell tower in the front. The parish was named after the famous Benedictine monastery of Montevergine in southern Italy.
A few years later, in 1918, a parochial school was built nearby and opened with an enrollment of 162 students. Led by the Dominican sisters of Tacoma, the school remained in operation for more than 60 years.
Although Our Lady of Mount Virgin has changed little over the decades, the neighborhood has undergone a significant transformation. In 1940 and again in the 1990s, parish families were displaced by the construction and expansion of the Mount Baker tunnel, the last leg of I-90, which lies adjacent to the church.
By the 1980s, many Italian Americans had left the old neighborhood and moved elsewhere in town or out to the suburbs. New immigrant groups replaced them and Masses began to be celebrated in multiple languages, including Vietnamese, Lao and Chinese.
From the Archdiocese point of view, due process was followed in the closing of Our Lady of Mount Virgin. In fact, the plan to review parishes in south Seattle and recommend those for possible closure was crafted about eight years ago. In more recent months, there have been stakeholder meetings and listening sessions where parishioners could come together and express their concerns. A letter-writing campaign was started as was a "Save Mt. Virgin" Facebook page.
But feelings of frustration and disappointment bubbled right below the surface. At one of the community meetings held this spring, the church hall was nearly full. Cries of "why are you doing this?" were repeatedly heard. One speaker voiced what many were feeling: "I was baptized here. My grandmother got married here. Removing this church would be like removing the roots of the Italian community."

In the official Decree of Suppression, church officials noted that the church was no longer serving its original purpose: "The parish was established as a personal parish for the Italian-speaking community, but no longer serves its founding goal of offering Mass in Italian." The document goes on to cite the four cultural communities that the church was currently serving: Vietnamese, Chinese, Laotian and Anglophone, most of who do not live in the neighborhood.
Even after Mount Virgin closed its doors, a few dozen parishioners gathered weekly outside the locked entrance to pray in a quiet protest. A lay committee consulted with canon law experts to see if there were any loopholes around the closure, and a formal appeal, which was initially forwarded to Archbishop Paul Etienne and rejected, is now making its way through the Vatican, a process expected to take at least three months.
It is unclear what might become of the church property; there has been some discussion that it might house Catholic social service programs. While the appeal is underway, the church and the land cannot be sold or demolished. If there are any assets derived from the parish, the Archdiocese said they will be used according to the wishes of the parish community.