The focus is on Tokyo, but Italy still has the Wembley final in the eyes. A magical night that filled our hearts with joy and new hope for the future, and our streets with too many people who, quite simply, couldn't say no to chanting and celebrate together without masks, in spite of the risks. Too strong was the need to celebrate our team — which wasn't considered a potential winner for the competition, too strong the dream to do again what Covid doesn't allow us to do: hugging one another.
The Olympics could bring to Italy more "cherries on the cake," after our triumphal European Championship, the first taking place in several countries, and that brought the cup back to il Belpaese after 53 years.
On one hand, the success of Roberto Mancini's team embodies a moment of redemption for a country eager to go back to normal after a year and a half of difficulties and restrictions caused by Covid-19; on the other, it is also a reason of pride for millions of Italians who, at home and around the world, exulted after the penalties against England, ideally embracing young Gigio Donnarumma who, at only 22, was elected best player of the tournament.
Our President Sergio Mattarella, who was seen celebrating at Wembley stadium, just like Pertini had done in 1982, received the Azzurri at the Quirinale, underlining the immense moral and emotional value of their successful ride to the final, a feat that brought together the entire nation, as it always happens when it comes to soccer and our national team. "Italian people's affection was with you during these seven games. You were surrounded by it. You repaid them representing Italy well and honoring sport." A victory that showed determination, commitment, but also team spirit and unity in adversity. "You showed there was harmony and balance in the team, and it was evident on the field. This emphasized the extraordinary value of sport." And – we cite again the President – "you didn't only seek victory, you won playing magnificently."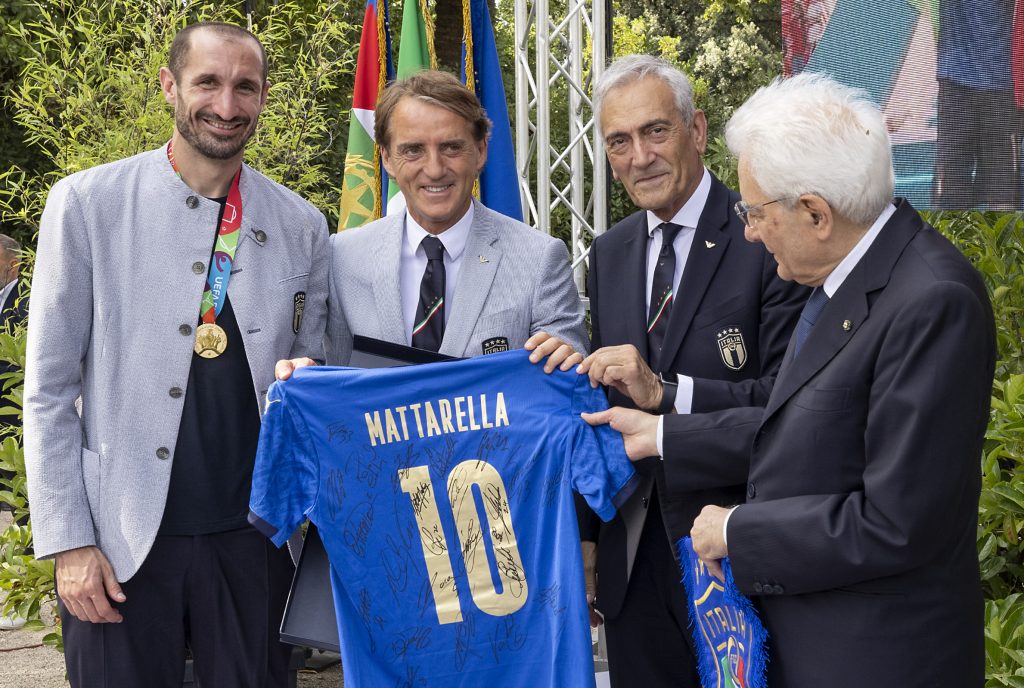 The image the team and the staff offered to the world represented something that goes beyond all expectations, a spirit we Italians don't always manage to use but that, given the right conditions, we can take advantage of better than anyone else.
History teaches that sports, especially those with high media impact and popularity such as soccer, always benefited the image of export-focused countries like Italy. It is the positive effect of international prestige. "You placed – our Prime Minister and economist Mario Draghi said – Italy at the heart of Europe." And the fact half of the continent, in this post-Brexit climate, supported the Azzurri, is quite significant. A confidence and image boost, an important chance to shine on international markets, which a large chunk of our economy relies on, and where a good slice of our GDP – it should grow of 5% in 2021 – is created. Economists estimate that important soccer wins can bring a 0.7% GDP, which means a potential boost of 12 billion euro for Italy: a lot, in a moment of recovery such as this.
Coldiretti – that, with its 1.5 million members, is the most important organization of agricultural entrepreneurs in Italy and Europe – supports these estimates, declaring that "the year after the Azzurri's last victory at the 2006 World Cup in Germany, national economy grew of 4.1% and unemployment decreased of 10%." So, there may actually be another reason to celebrate.
Internationally, even the New York Times noted this was more than a deserved sport victory. It evoked a "broader resurgence," symbol of a national renaissance after a dramatic time, and it described "the eruption of sheer joy" for "a win that seemed to symbolize renewal after adversity," and that "marked an extraordinary turnaround, not just for a recently beleaguered team, but also for a recently beleaguered country."
Gabriele Gravina, president of Federcalcio, said, when intervening at the Quirinale: "This national team is Italy: it interpreted perfectly its spirit of unity, and showed its huge cohesive potential, that of a wounded country eager to recover. Our nazionale is a Great Beauty, not only when it plays, but also for the values it shows. It's a starting point to make significant changes in the soccer world, but also in our country."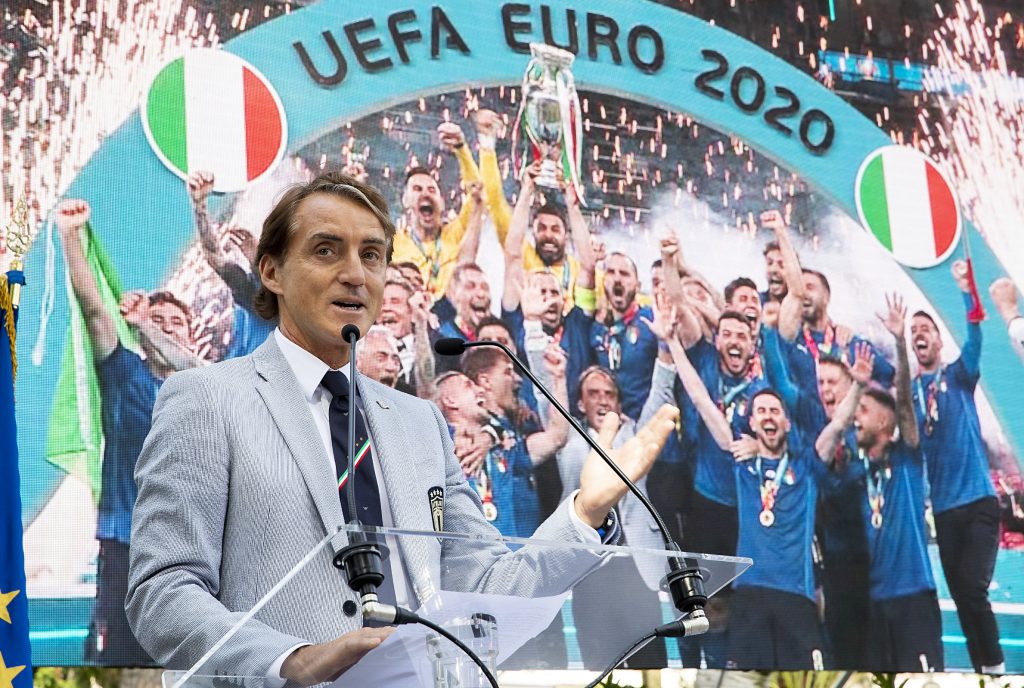 A team victory, mirror to a group that "never lost faith, even in difficult times, where we always supported one another, placing the good of the team in front of that of the single player," as captain Giorgio Chiellini explained: this is what made the difference. Team spirit, but also efforts, sacrifice and even tears (just like those shed by Leonardo Spinazzola, forced to leave the field with an injured Achille's tendon, but among the fastest to collect proudly his medal, in spite of the crutches) shaped a result that is interpretation of the soul of our nation, of today's recovery and of our faith for the future.
"It's been a huge celebration for the whole country, and I can't deny I am proud to have given such moments of happiness to Italy, writing one of the most beautiful pages in the history of our sport. We showed that, when you believe in what you do, you can make all dreams come true, even when you thought it was impossible," our CT Roberto Mancini at the Quirinale.
Next to him stood Matteo Berrettini, the first Italian to reach the final at Wimbledon, the most important tennis tournament in the world. Only the presence of a legend like Novak Djokovic, 20 Grand Slam wins in his amazing career, stopped the run of the 25-year-old from Rome, who will certainly give Italy plenty of satisfactions in the future. Unfortunately, an injury will keep him away from the Olympics, in a year which has been incredibly successful for him, and that will end in Turin with the ATP finals. Yet, facing the world's number one, and being the first Italian to reach the final of a Grand Slam 45 years after Panatta at the Roland Garros (1976), it's been a huge, unexpected and surprising result. And, in the end, how can't we consider Berrettini's comeback in the first set already a victory made of attitude and determination? And isn't our mere presence on the central court at Wimbledon, after a wait that lasted 144 years, already a success?
Only two weeks after this historical day, it all starts again in Tokyo.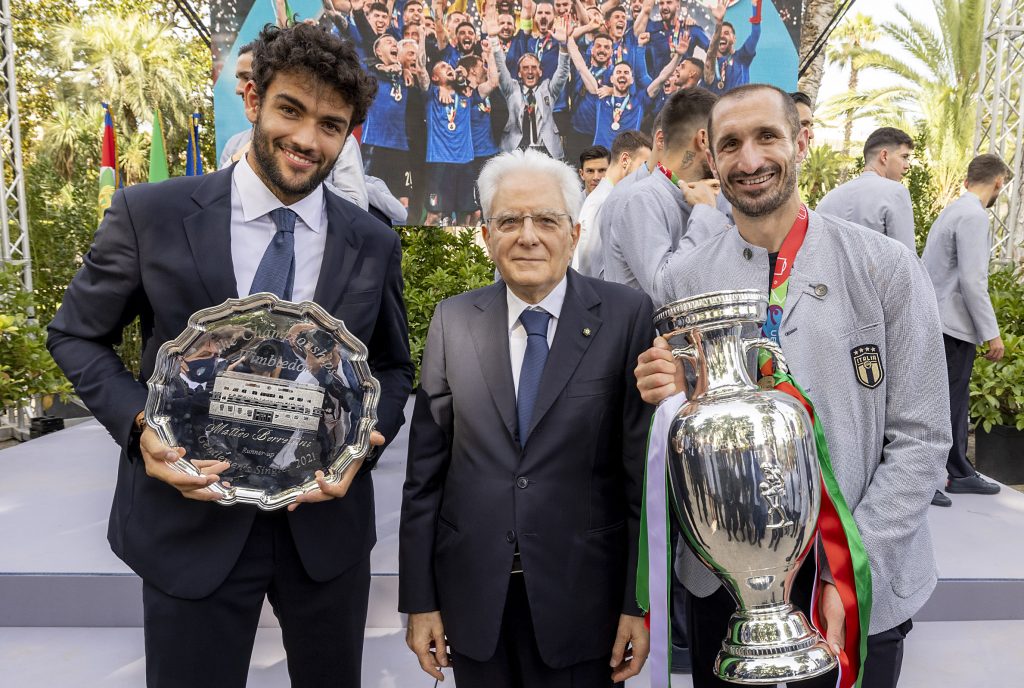 These will be Olympics to remember, whichever way we want to put it. For the first time, the games will take place in an odd year because of the pandemic, that forced their cancellation in 2020 and still creates worry in the Olympic Village today. It will be a record edition for Italy: 385 athletes, 198 men and 187 women, in 36 different disciplines. No soccer, though, a paradox in a year such as this, because the under 21 team didn't qualify, nor did our female national team, protagonist of a great World Cup two years ago in France.
After the debut of our softball team against the US and Australia, which took place before the opening ceremony, and the archery and rowing qualifiers, Italy's dream will begin with fencing – always source of medals – but especially with swimming. They're going to be Federica Pellegrini – la divina –'s fifth Olympics. In her amazing palmares, which include the current freestyle 200 meters world record and 400 meters European record, the Olympic games are perhaps the only blemish, in spite of her silver medal in 2004, when she was only 16. Four years later in Beijing, she outperformed everyone, and reached the apex of her carrier 12 months later, at the world championships in Rome. After that, she didn't win anything else at the Olympics, in spite of 7 golds, 6 silvers and 6 bronzes in world championships. At 33, Tokyo represents an incredible challenge for the longest-performing Italian swimmer in history.
With a her, a girl who, in 2004, wasn't even born: Benedetta Pilato, from Taranto, who already wowed the world two year ago, when she won the silver medal at the world championships in the 50 meters breaststroke, a success she repeated a few weeks ago, obtaining an incredible world record at the European championships in Budapest. The distance where Benedetta excels is not part of the games, but the Taranto athlete will certainly show her talent nevertheless.
With them, we will wait not only for medals, records and good results, but also for stories, because behind every competition there are years of sacrifices, hopes, determination, labor and the courage to follow your dreams. We are going to be glued to our TV screens again, on the edge of our seats and with our finger crossed, singing the national anthem, hand-on-the-heart. Ready to get excited for the tricolore, and to become one single cuore Azzurro.