It's nothing new, really: osterie and trattorie are the beating heart of our cuisine. Beside our home kitchens, of course. But that's the point because there shouldn't be much of a difference in the atmosphere, the scents and the flavors we love and experience at home, and those of the best osterie across our territory. The great Gualtiero Marchesi used to say that "Italy is a country of inns and innkeepers," of osti e trattorie, and he was right. More, perhaps, than many other famous cuisines, ours is based on simplicity, tradition and what nature can offer in season, which are the key elements of the food we should find in osterie. A short clarification about the difference between "osteria" and "trattoria," which is, in fact, mostly only linguistic, should be given here. While both of them come from the French, "osteria" has been in use since the 13th century, while "trattoria" came to us much later, in the mid-19th century, at the same time as another term we inherited from our Gaulish cousins, "ristorante." In a twist so typical of our culture, we embraced the foreign and neglected the local, so "trattoria" and "ristorante" didn't only become more common, but also came to signify higher-quality eateries. But that was one hundred years ago: today, osterie and trattorie are virtually synonyms and there is no difference in quality with the culinary offers of ristoranti. The difference is in the atmosphere and in the type of cuisine.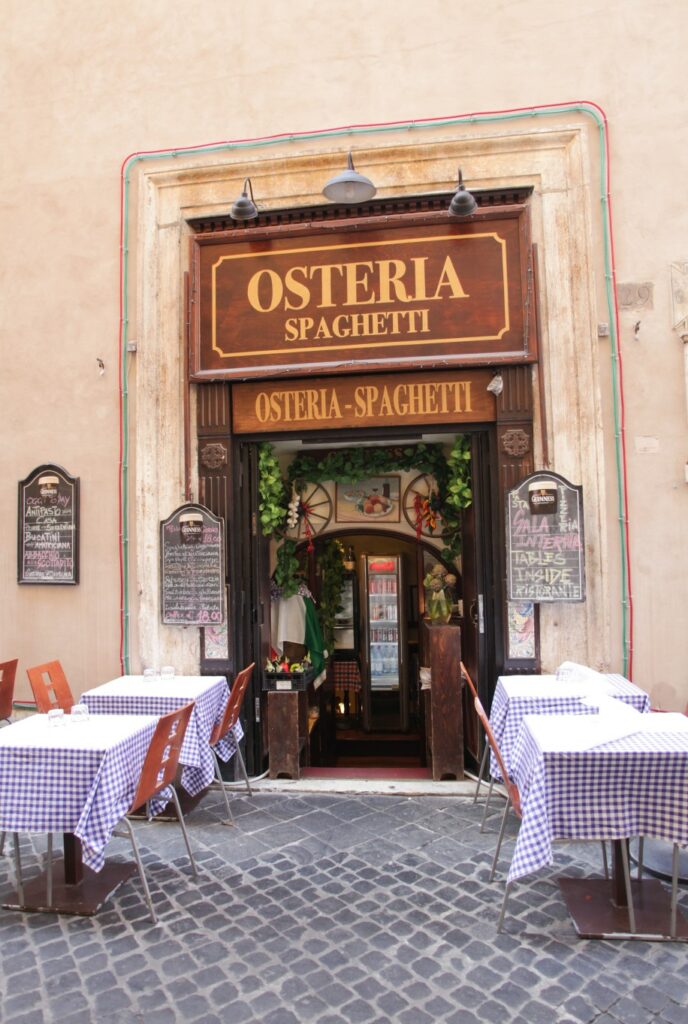 Let's step back in time and trace the history of our osterie, which became a thing in the 14th century when commerce and trade were at the heart of the peninsula's economy and merchants often ate on the road, in osterie. People sitting at their tables came from everywhere and often shared experiences and tales while having food and some good wine; that's how osterie, in time, became synonymous with socializing and also with a certain level of class-mingling, at least at the beginning. Osterie, in other words, became more than a place to eat, they became a place to find and meet friends, a characteristic they maintained intact through the centuries.
Even today, osterie are a place you go with friends for an easy Sunday lunch, somewhere where the way you are dressed isn't important and no one complains if your dog is with you.
But while defining an osteria some thirty or forty years ago was simple, today it's a different story. Carlo Petrini, founder of the Slow Food movement, said it well in an interview with La Cucina Italiana where he explains that an osteria "is a welcoming, familiar place, where food is simple and tasty. Today though, osterie are almost a mythological creature: we all know them and recognize them, but we can't define them." And he is right. I myself couldn't quite put the finger on what's the real difference between an osteria and a ristorante, besides the atmosphere and that je ne sais quoi I can't define. Thankfully Petrini, who definitely knows more than I do on the subject, comes to help and explains that modern osterie are of different kinds and that's why we find it hard, sometimes, to give a proper description of what they are. We have, he says, osterie moderne, offering both traditional and more modern dishes; osterie tradizionali, the most quintessential osteria of them all; agriturismi, which often cook what they grow and produce; and ristoranti di tradizione, restaurants specialized in local cuisine. Each declension of our osterie, from modern to agriturismo and traditional restaurants, has some characteristics in common, of course.
First of all, the menu, which must be focused on quality rather than quantity: better a short, but high-quality set of dishes than a long list of anonymous and generic offerings. Key is also the attention to local culinary tradition: osterie's food is that of the region or even the provincia where they are located, and their menu changes based on the season and what nature can offer. Bread must be local and, if not made in the kitchen, at least delivered daily from a local bakery; the same is true for desserts: simple, grandma-style, traditional and local are the keywords here, along with – I say this from experience – a penchant for decadently large portions! Desserts should be made in the kitchen or, when not possible, they should come from a local bakery or pasticceria.
Of course, we can't forget wine, because osterie aren't only about good food, but also about good wine: it should be always local, just like everything else on the menu. And just like the menu, the wine list of a good osteria doesn't need to be exceedingly extensive but quality is a must. Last, a good oste must also think about price, because people who choose an osteria aren't in for 300-dollars-a bottle wines. So quality, yes, but with an eye to people's pockets, too.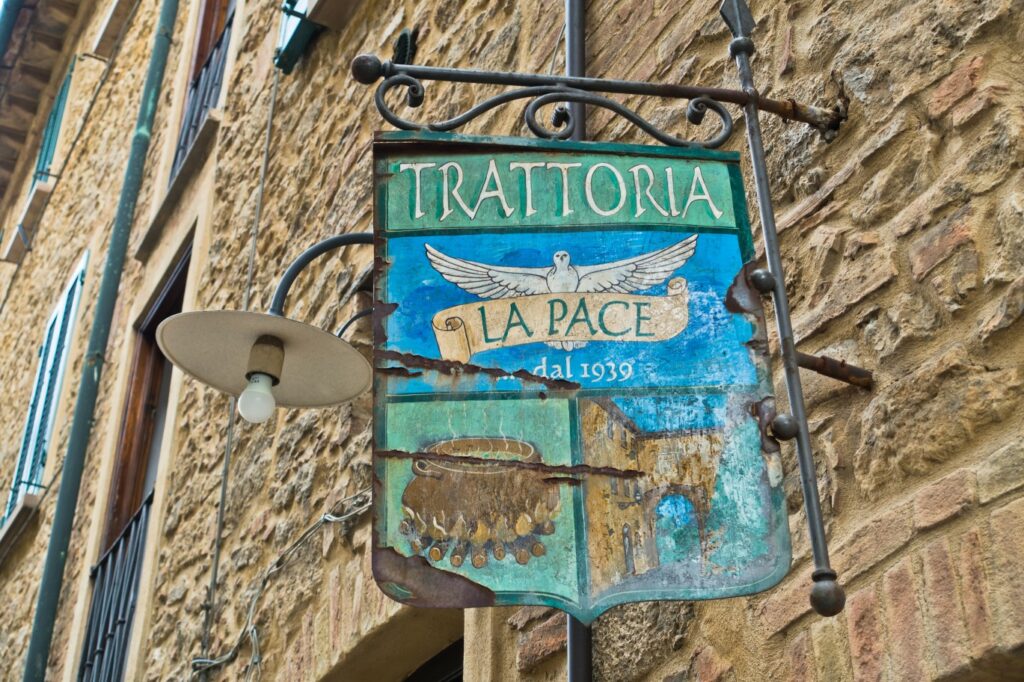 And that's why the last essential factor that makes an osteria good is how much you pay. Mind, it's not about eating for cheap, it's about paying the right price: if ingredients are local and in season they may be cheaper and if the osteria is family-run, service fees should be cheaper for the owner, too.
To sum it up: tradition, simplicity, seasonality, an accent on the territory, the warmth and coziness of home: that's the perfect osteria, wherever you are in Italy.