In the late '90s, during my high school days, one of my closest friends introduced me to her newfound obsession: Nutella pizza. It was a time when this unique dessert was a novelty, and my friend insisted that it was the most scrumptious creation ever. Curiosity piqued, I hopped into her car one evening, and together we embarked on a mouthwatering adventure. Arriving at the local pizzeria, we indulged in a slice of Nutella pizza that would forever leave an imprint on our taste buds. Since then, I've lost count of how many times I've relished this delightful treat, but each bite continues to captivate me because Nutella pizza perfectly combines two of Italy's most beloved comfort foods: freshly baked bread dough and chocolate.
Some might argue that Nutella pizza isn't much different from warm bread topped with creamy chocolate spread. And while they may share similarities, if you've experienced it, you know it's a whole new level of indulgence. Perhaps it's the slight crunchiness of the pizza dough, the way it gently melts the Nutella, or simply the idea of enjoying pizza as a dessert that makes it so good.
Back in the '90s, Nutella pizza was relatively new, but over the years, it has soared to become one of Italy's favorite desserts. In her book, Dolci: Italy's Sweets, Francine Segan, a renowned food historian and writer, notes that Nutella pizza holds a special place in the hearts of Italians. While conducting research for the volume, she interviewed a hundred random Italians, asking for their top ten favorite Italian desserts. After the expected mentions of classic delights like cantucci, panettone, and tiramisù many respondents –not without a hint of embarrassment, she says — confessed their love for pizza alla Nutella. Indeed, this plain baked pizza dough smeared with the popular chocolate-hazelnut spread had earned its place among the most cherished desserts.
Further evidence of the widespread adoration for Nutella pizza comes from the association Mani d'Oro, founded in 2015 to safeguard the heritage of Neapolitan pizza. Driven by an unwavering passion for this traditional and renowned delicacy, Attilio Albachiara, a master pizza maker, took the initiative to establish the Mani d'Oro association. At the heart of their mission lies the preservation and promotion of the art of Neapolitan pizza-making to safeguard its authentic essence from its humble origins to the present day. In response to the growing trend of improvised pizza-making techniques, the misuse of ingredients, and the prevalence of pre-packaged and fast-food chains, Mani d'Oro has taken a proactive approach: they actively organize training courses and engaging workshops, specifically tailored for pizza masters and owners of pizzerias. Through these initiatives, participants refine their dough-making techniques, honing their skills to perfection.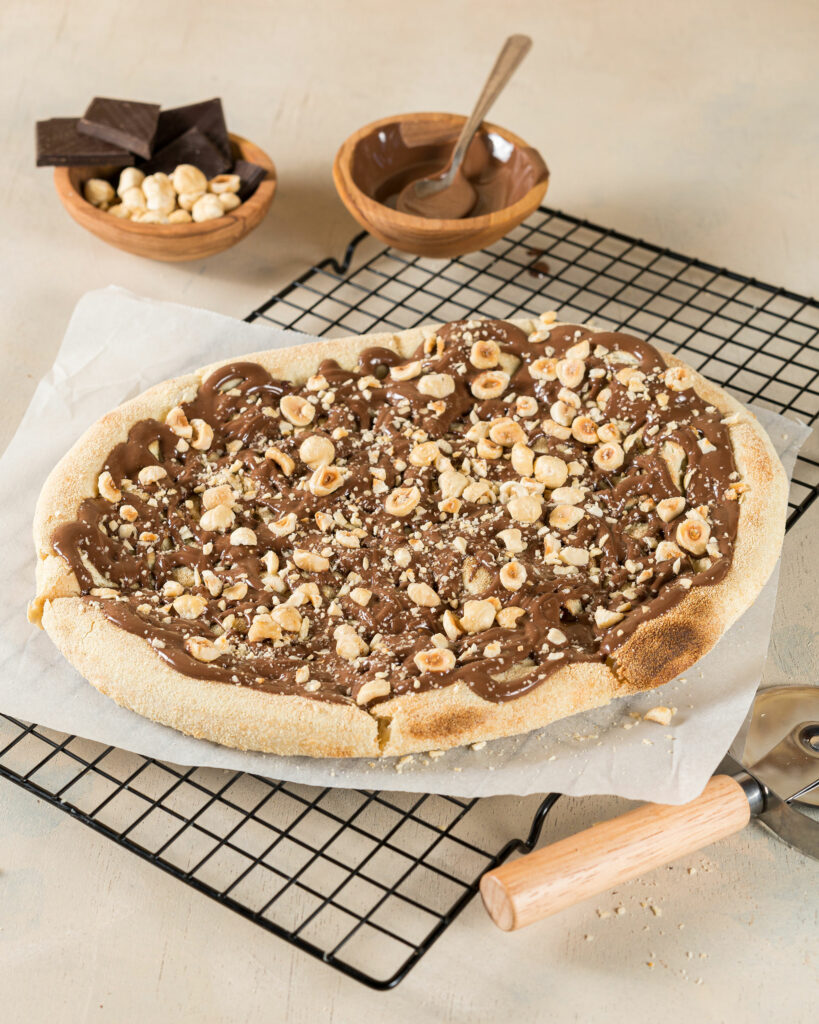 And if even the people at Mani d'Oro write gushingly about it, then Nutella pizza must have really made it into the "Olympus" of pizza creations. Many pizza makers have even ventured into making dedicated sweet doughs by combining flour, milk, and cocoa. These sugary bases are then rolled out and baked in wood-fired ovens before being adorned with Nutella and a variety of other delectable toppings, including Nutella biscuits and M&Ms, or even cubed babbà. And then cream, jams, seasonal fresh fruits, fancy cookies, and eye-catching decorations that could rival full-fledged cakes: the possibilities for Nutella pizza creations are endless. Personally, when I make it at home, I like to add some sliced banana or strawberries to it, and a dollop of whipped cream, of course. Because everything is better with whipped cream! 
This irresistible and delectable twist on traditional pizza finds favor not only among adults but also among the youngest aficionados. Although purists of pizza may raise an eyebrow, and health-conscious consumers may shy away from high-sugar content, the reality is that sweet pizzas have secured a place on menus in numerous pizzerias in Italy.
Nutella pizza continues to captivate taste buds and win over hearts, representing the harmonious fusion of comforting freshly baked bread dough and the irresistible allure of chocolate. What started as a novelty in the '90s has now become a beloved dessert across Italy.
So, the next time you find yourself craving a truly indulgent treat, seek out a Nutella pizza and experience the magic for yourself. Whether you enjoy it in its classic form or opt for creative variations, this delightful fusion of flavors will surely leave you longing for more: it's the perfect harmony of comfort and chocolate and it certainly gained an honorable place in the realm of Italian desserts!
Remember, though, that moderation is key. Enjoy the occasional Nutella pizza as a special treat, savoring each delectable bite. Let it transport you back to a time when the flavors of childhood and the joy of discovery merged, creating a memory that will linger long after the last slice has been devoured.