NIAF is calling for applications for its Voyage of Discovery program, now in its 21st edition. The program first launched in 2001 with a trip to both Northern and Southern Italy, before moving to a region-based tour. In fact, with more partnerships and sponsorships in place, NIAF has been able to hit most of the Italian regions, bringing young Italian-American students back to their roots.
Let's take a step back though, to the origins of this program and how it has impacted the lives of more than one thousand students. The idea came from Ambassador Peter F. Secchia, who served as United States Ambassador to Italy from 1989 to 1993. By learning the stories of college students who were traveling to Italy for the first time, he understood the importance of this first experience traveling to the Bel Paese and the impact it has on people's identities. In 1999, Ambassador Secchia started working with the National Italian American Foundation to create a program to send young Italian American students on their first trip to Italy so they could explore their heritage and experience the land of their ancestors. Thanks to the generous financial support of the Ambassador, the Ambassador Peter F. Secchia Gift of Discovery program sent 120 young Italian Americans to Italy for the first time.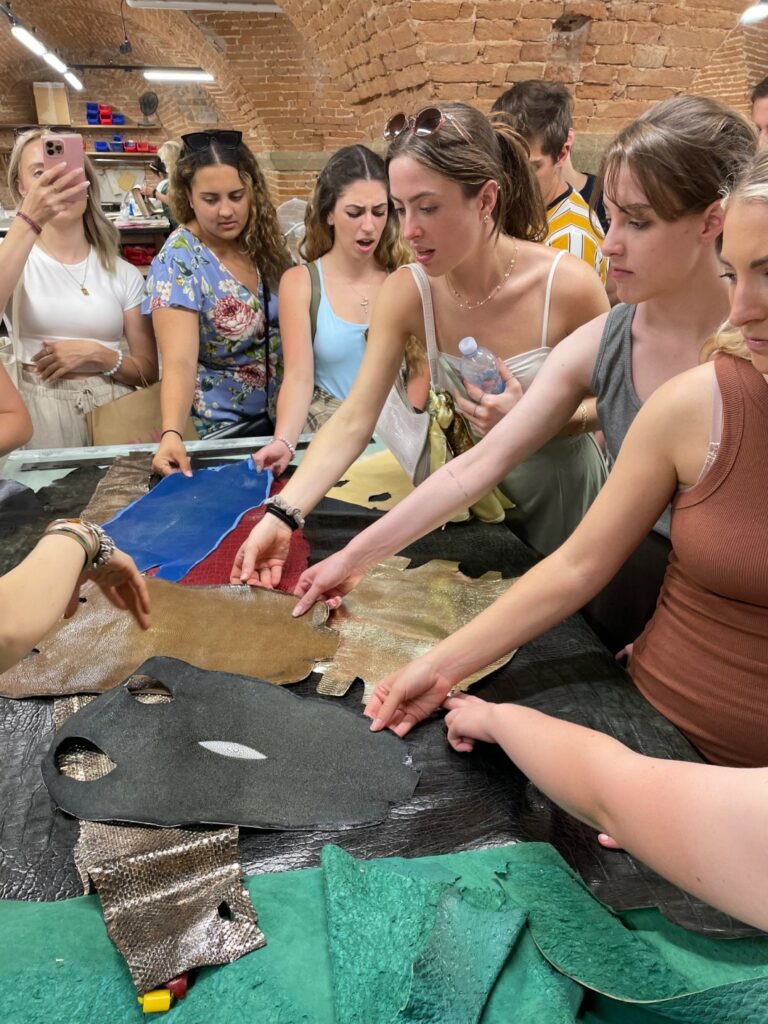 With four trips in the summer of 2001, Italian American students had a chance to bond with the country of their ancestors, cultivate a deeper appreciation for their roots, and create a desire to preserve and protect their heritage for generations to come. But there was much to it: NIAF and Ambassador Secchia also funded a trip for a group of forty Italian students to cities in the United States, like New York, Washington, D.C., Philadelphia, and Providence, Rhode Island. Italian students could learn about the profound impact that Italian Americans have made in the US since the arrival of the first Italian immigrants. In 2007, the program was renamed from "Gift of Discovery", a 10-day all-expenses-paid trip to Italy, into "Voyage of Discovery," which includes a two-week educational trip to NIAF's Region of Honor, which changes every year.
We talked to Gabriella Mileti, Director of Special Programs at NIAF, who ensures the program runs smoothly and every student enjoys it at its best.
Can you tell us how this program has been important throughout the years?
It's hard to put into words how important and life-changing this program has been for all participants. I am not exaggerating, it's what I hear from people during and after the program ends. This trip involves young Italian Americans who have never been to Italy and are somehow connected to Italy through their ancestors. They may have grandparents that are linked to their ancestors, however, they may have lost the connection and don't have any data to find out more. This program shows them Italy throughout the present, the past, and the future. And not only do they get the experience, but they share it with people like themselves. They have commonality to start with, but then they find different traditions, interests, and emotions when they get to Italy because their "way" of being Italian American is different. On the first day, we sort of "force" friendship on them, however, at the end of the trip, there is not a dry eye on the bus: they leave Italy with long-life memories and some with love that results in marriages.
Why is it important for people at this age?
These students, aged 18-23, are in their college time. It's the moment of life when you get to discover yourself. How this program started is emblematic of that. Ambassador Secchia came in contact with college-aged people, he found that a trip to Italy does change one's perspective and this is more true when you're forming yourself. Once you're 18, you're an adult and that surely makes things easier for us organizers, too.
Can you tell us how this program unfolds?
Every year, NIAF partners with one Italian region, which is also featured during our yearly Galas and on our Social Media channels. We always start with four days in Rome, and then we travel to the region. We select a main city as our base and take day trips to different little towns, factories, and museums. This itinerary usually includes the history of the region and the present contribution it is making to Italy. We enjoy local cuisine, visit local artisans, and get to know products you don't find in America. We also like to incorporate the modern contributions Italy is giving to the world, like visiting the HQs of major corporations, and we also offer a day of community service. In 2013, we started with this additional element because we want to give back to the local communities we visit. It includes cleaning public gardens, painting buildings, working with disabled children, and cleaning beaches. We partner with local non-profits to identify a project and we also spend time in nature. This way we can get a 360 degrees perspective of the place.
Can you share something more about the impact on local communities?
The response we get is very positive and welcoming, especially in little towns. They are welcoming and appreciative, and everyone becomes a friend in the end. Italians themselves are impressed that the group knows so much about local small towns and artists.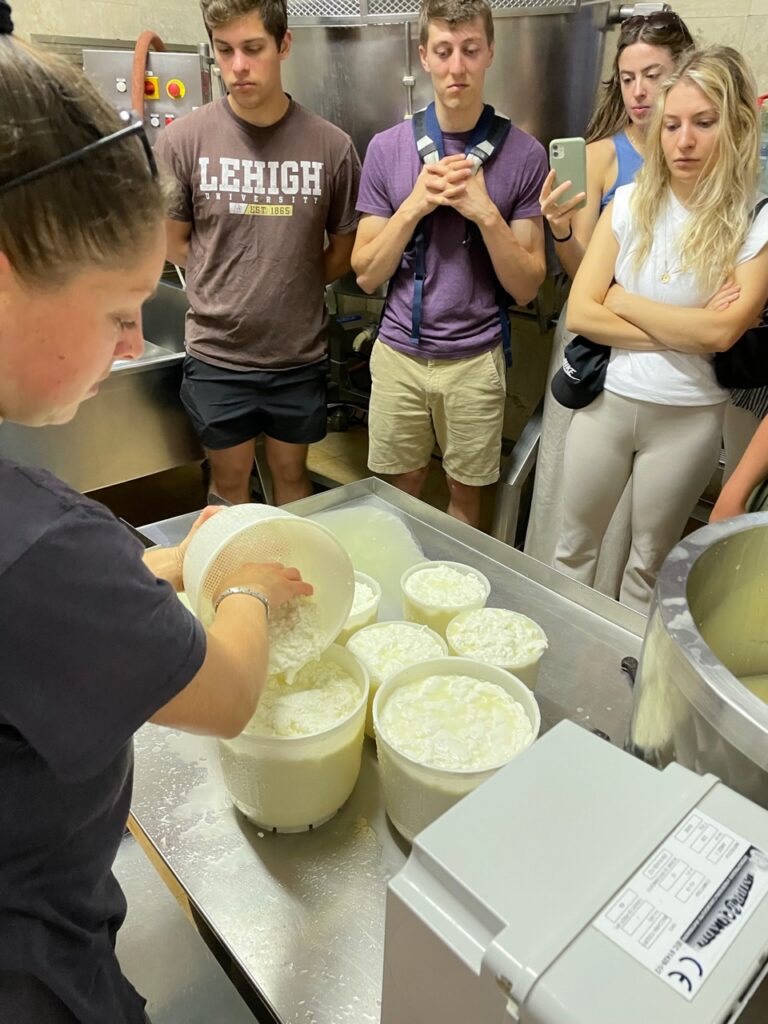 What's your best memory?
It's hard to pinpoint one memory, yet going into the Ferrero factory was amazing, I love everything Ferrero. We saw the production line for Kinder Bueno and we were allowed to take the chocolate out of the belt. Another one comes from Tuscany. We took the students to the Pecorino Toscano Caseificio, we got there early in the morning and brought the milk. We saw how they turn milk into pecorino, we tasted it fresh and aged, and we learned why it changes.
Why should students apply?
It's an experience that lasts a lifetime. You have nothing to lose!
Gina Von Esmarch was part of the program and she shared a few thoughts and memories of that experience: "When I was 17 years old, my grandparents handed me an application for an all-expenses paid trip to Italy. As a fourth-generation San Franciscan of Italian descent, it was an unbelievable opportunity, especially when you consider that my mother, aunts, and uncles had never been to Italy. I submitted the required essay and was accepted as one of the 20 students that spent one month touring around Italy. It was the first time I had been away from home on my own, I had ridden on a Vespa, and was introduced to Asti Spumante. As the trip progressed, my thirst to learn the Italian language grew; I even decided that my field of undergraduate study at the University of San Diego would be International Relations. During this trip, I also decided to spend my third year of university studies abroad in Florence and eventually decided to focus my Minor's on Italian Language and Art History. I made friends that I am still in contact with to this day and I met the young man who would eventually become my husband. We met on a sponsored trip for young adults of Italian descent while on a plane, headed to Italy, and – while we didn't date each other during this trip – we started dating shortly after our return. We have now been married 25 years."
For information on requirements, eligibility, and deadlines about the Voyage of Discovery, visit the NIAF website https://www.niaf.org/programs/voyage-of-discovery/