Dozza Imolese is a quaint village of about 6000, that quietly sits on the rolling pre-Apennine hills outside Bologna. One of FAI's most beautiful borghi, its name may fail to evoke any memory of important works of art or historical events; but Dozza managed to carve a little space for itself in the book of Italy's memorable places to see, thanks to its many colorful murals. Indeed, it is today considered one of the country's most important centers for "urban art," that is, the type of visual art created on city walls. Dozza's medieval alleys and streets host more that 200 mural art pieces, in a sort of open-air museum that adds colors and character to the village.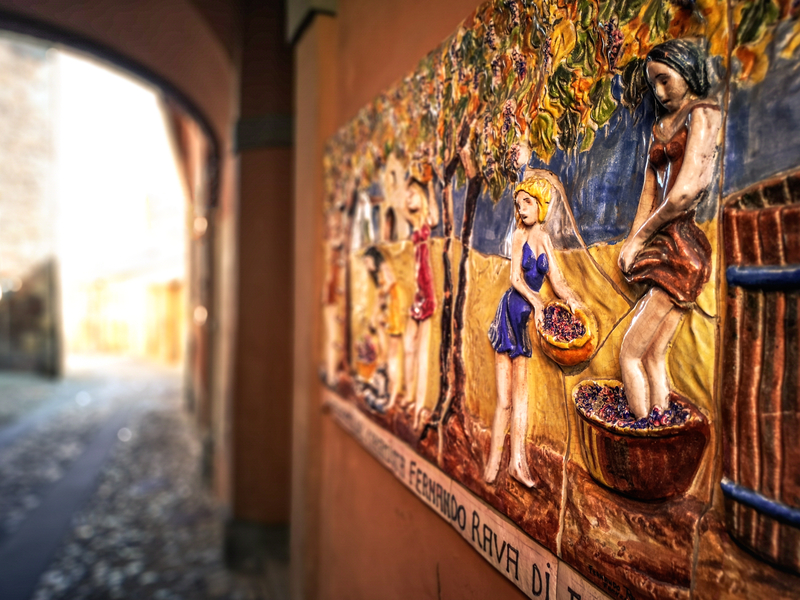 Dozza, as said, is only some 25 miles from Bologna, and enjoys a picturesque spot on the hills of Emilia-Romagna. It gets its name from water. Yes, water, because it seems that, once upon a time, Dozza was known as Ducia and then Dutia, which means "doccia" or "shower." A sign of the historical origin of the name is the town's own coat of arms, which shows a drinking griffin. Archaeological findings seem to demonstrate Dozza's earliest human settlement dates back to the Bronze Age; then, after years under Celtic, Roman and Barbaric domination, the village finally appeared on the map with its modern name around the year 1000. Wine production made Dozza wealthy and, under the protectorate of Caterina Sforza, the ruler of Imola, its castle was splendidly rebuilt, after suffering from many a military attack.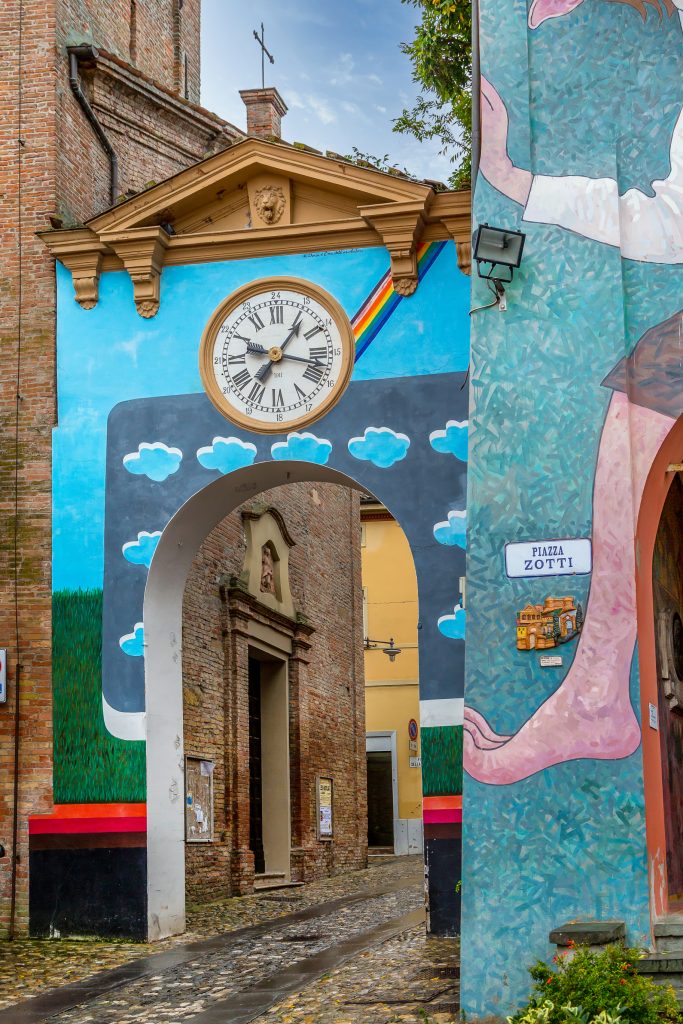 In spite of its natural beauties and interesting history, Dozza wouldn't have been much different from many other Italian villages, if it weren't for the idea of a group of artists and locals who, in 1960, created the Biennale del Muro Dipinto (the Biennial of the Painted Wall). Since then, artists from all over the world come to Dozza and add a piece of their art to this incredible outdoor museum that today counts more than 200 works, all on the walls of the village's homes, stores, windows and doors. Murals, architecture and everyday life become a beautiful, colorful continuum that strikes visitors and enriches the day of residents all year round. In its 61 years of existence, the Biennale del Muro Dipinto welcomed several important names, including Bruno Saetti, Riccardo Licata, Sebastian Matta, Norma Mascellani and Riccardo Schweizer.
To be fair, Dozza isn't the only Italian village that made of open air paintings its claim to fame: there are 93 around the country, all united in the Associazione dei Paesi Dipinti, founded in 1994 to bring together the most colorful villages and towns in Italy.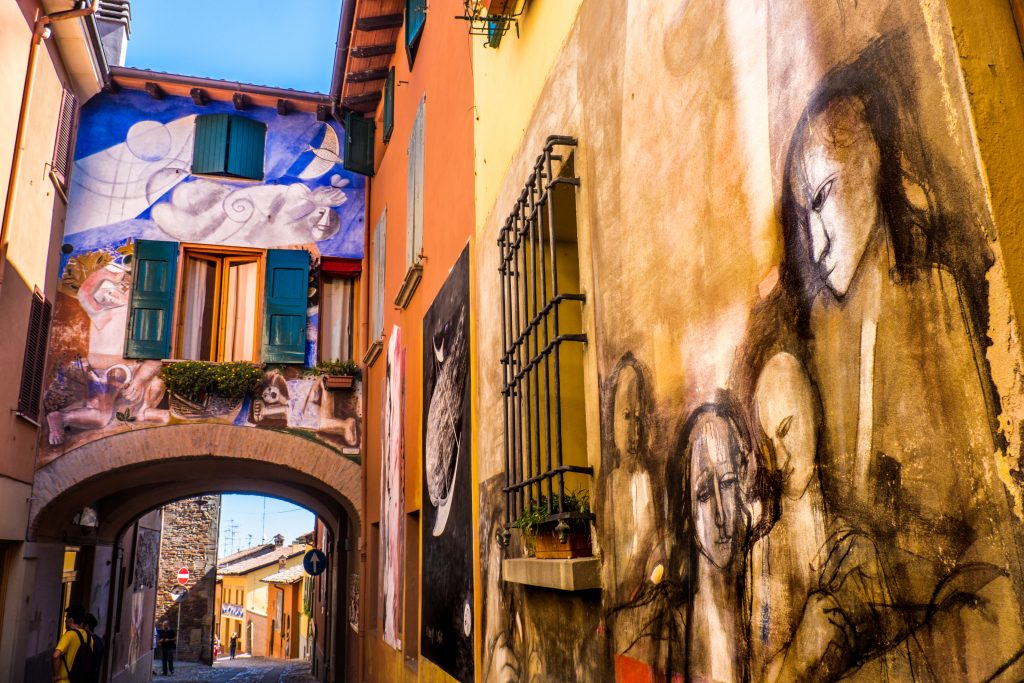 In Dozza, there is no limit to artists' creativity: from abstract paintings to landscapes, from still lifes to people and realistic images, every subject is welcome. Techniques are also many and varied, and include anything from frescoes to bas-reliefs. There is only one rule: artists must discuss their work with those who admire it, they must explain why they chose colors, lines and subjects, making of Dozza's open air art gallery a very lively and interactive experience. This is why the inception and development of each work of art is just as fascinating as the work itself: for this reason, original sketches of each of the murals are visible in Dozza's Rocca Sforzesca, the castle made important by Caterina Sforza all those centuries ago. As a matter of fact, the Rocca Sforzesca is also home to other museums, the Museo della Civiltà Contadina, dedicated to the history and economy of Emilia-Romagna, and the Enoteca Regionale dell'Emilia-Romagna, home to more than 200 local wines, spirits and balsamic vinegars.
Each biennial has a specific theme, always related to local heritage and territory, as exemplified, for instance, by the many murals dedicated to farm life and to socialism, which has always been particularly strong in this part of Italy. More recent editions have opened up to the world of fantasy and magic, adding up a pinch of "supernatural" to Dozza's streets. Since 2007, the Fondazione Dozza Città d'Arte, organizer of the biennial, has extended the event's artistic production to the nearby village of Toscanella, where numerous works of modern street art can be viewed.
Dozza is also home to another artistic event, Fantastika, a biennial dedicated to fantasy illustrations. It was born in 2014, with the aim of valorizing the work of "young adult"literature's illustrators. The event finds its roots in the seminal works of J.R.R. Tolkien and is known also for its popular mascot, Fyrstan the Dragon. While we still don't know whether the Biennale del Muro Dipinto will take place this year, Fantastika will welcome participants and visitors in Dozza on the 22nd and 23rd of May, with an edition dedicated to the "heart of the dragon" (Cuore di Drago). In the hope that May will be a freer time for all Italians, we may begin, timidly, but with hope, to plan a little visit to this small, beautiful corner of Emilia-Romagna.