The readers of popular online food and wine daily All Food Sicily (www.allfoodsicily.it) selected the most beautiful place on their island: Militello in Val di Catania. The publication, which focuses on the rich and multifaceted world of Sicilian eno-gastronomic tradition, proposed a survey to vote the island's most charming place, in a competition that presented other popular locations including Mistretta and Novara di Sicilia – both in the Messina province, which reached respectively second and third place. The medieval borough of Erice, which led the initial phase of the competition, ended in fourth place.
More than 500.000 people cast their vote, often invited by local authorities eager to see their hometown win. The All Food Sicily initiative sits in a well-established tradition of "popular" competitions, such as the Borghi più Belli d'Italia and the Luoghi del Cuore, promoted by FAI, Fondo per L' Ambiente Italiano, where citizens are asked to vote for their favorite village, borough or local attraction. It is, indeed, a powerful and welcome way not only to bring attention to lesser-known beauties of our country, but also an opportunity for smaller communities to gain visibility and, often, obtain funding to promote their history, traditions, art, and territory. The Borgo più Bello di Sicilia adds the importance of food and wine tradition to the list of things that count: a key addition when considering how central both are in our national culture.
This is not the first time that Militello's artistic significance is recognized, as the town is one of the baroque pearls in the Val di Noto that, in 2002, obtained UNESCO World Heritage status. Militello is also one of the Borghi più Belli d'Italia.
In a chat with All Food Sicily, Militello's mayor Giovanni Burtone explained why, in his opinion, Militello won the first place: "This victory is the result of a common effort, especially of our residents and citizens (…). Militellesi from abroad, from Germany, Switzerland, Australia, and the US got involved, as well as all those who live in other parts of Italy, but left their heart here, in our town." Among them, Burtone mentions an iconic Militellese, known by every Italian, TV personality Pippo Baudo, who actively supported the campaign, as well other famous paesani, Leo Gullotta and Gino Astorina. Indeed, it seems that, even if this isn't the first time Militello's beauty is recognized officially, being elected Borgo più Bello di Sicilia is especially important to locals: "This prize, perhaps because it comes from a process of sharing and of direct participation, has been particularly welcomed by our community," Mr. Burtone concluded.
But what made Militello a winner?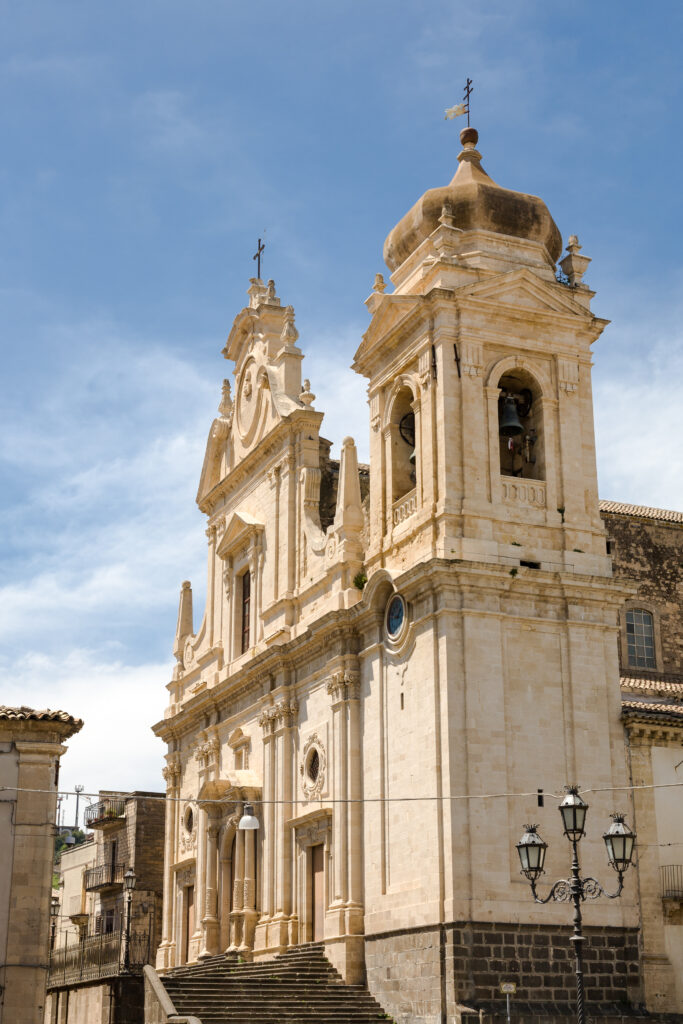 This village of almost 8.000 is known for the beauty of its baroque architecture, especially its churches and palaces, the importance of which, we've said, has been recognized on more occasions. We don't really know when Militello was founded: one theory, proposed by local historian Pietro Carrera, says the first to settle in the area were a group of Roman soldiers who, during the siege to conquer Syracuse in 212 BC, tried to escape a plague epidemic by finding refuge on the surrounding hills. That's when they founded Militum Tellus, or "the land of soldiers." Another version, on the other hand, says that the name Militello comes from the color of local stone, similar to honey, from which we'd get Mellis Tellus, or "the land of honey." 
While archaeological findings demonstrate the existence of settlements already in prehistoric times, Militello appears in documents only around the year 1000 AD, when the town became a marquisate under the Cammarana family.
The town reached the apex of its beauty and development during the 16th and 17th centuries, under the rule of Prince Don Francesco Branciforte, who supported the architectural development of Militello greatly. Among the buildings and works of art from that period we can still admire, we should list the Madonna della Catena Church, the Benedectine monastery, and the Ninfa Zizza fountain. Unfortunately, a tragic earthquake destroyed many valuable and beautiful works of art in 1693, but just like a phoenix that rises from its ashes, Militello was born again in the 18th century, when baroque design and flair recreated its outline. It is, indeed, to baroque jewels such as San Nicolò and San Salvatore Church (1721) and the Madonna della Stella Church (1722), among others, that Militello owns its place in the UNESCO World Heritage.
And, when it comes to Militello's victory, how couldn't we mention its cuisine?
Locals will suggest you try busiati with ragù di maiale, pasta con i broccoli, fish couscous and the iconic Sicilian caponata. As a dessert, you may like couscous dolce, a sweet version of the traditional northern African delicacy, made with butter, sugar, milk, and fruit.