Known as the godmother of Italian cooking, Marcella Hazan is revered in the cooking community. With six cookbooks and years of teaching cooking classes, she distilled the very essence of Italian cooking, making it available and accessible to the average American cook at a time when Italian cooking was still considered exotic.
Her approach was revolutionary, each recipe clear and thorough, yet concise. She advocated for high-quality ingredients, picked in season and simply prepared. She became so well known that Bloomingdale's 59th Street store in New York City installed and named a kitchen boutique for her —Marcella Hazan's Italian Kitchen—stocking it with her homemade pasta Bolognese and Tuscan olive oil. Born in Cesenatico, Italy, in 1924, she died on September 29, 2013.
This September, nine years following her death, Essentials of Classic Italian Cooking was published, bringing together her two most-beloved cookbooks in a single 30th-anniversary volume. Her husband and collaborator, Victor Hazan, at the age of 94, took on a national book tour to introduce Marcella to a new generation of cooks. Recently he was in Seattle at the Book Larder, a community cookbook store in the Fremont neighborhood, where he shared stories about his wife, her cooking and their 60-year relationship.
What can readers find in the 30th-anniversary cookbook?
The new book is based on Marcella's groundbreaking book of 1973, The Classic Italian Cookbook, and its companion volume, More Classic Italian Cooking, which came out in 1978. We also included a baker's dozen of new recipes. The book includes the popular technical section for people who are new to Italian cooking or unfamiliar with Italian ingredients or techniques.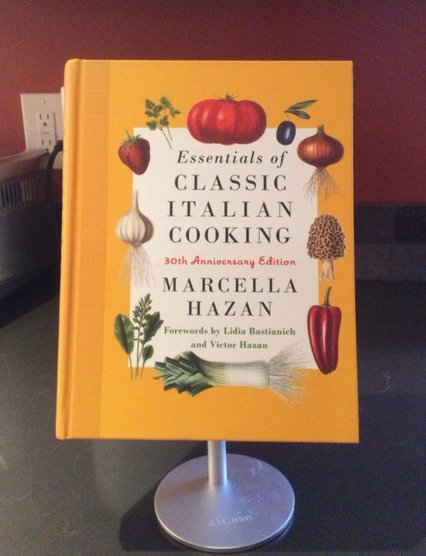 What makes Marcella's approach to food so different?
Marcella had acute observation. She had two doctoral degrees, in biology and botany. She paid attention to details. She had an extraordinary memory, and a recall for taste. She recast those memories into a notebook that eventually became her first cookbook. Her recipes were written long before she even considered they might go into a cookbook. She began to keep track of recipes around 1955 when she was cooking for me and other friends.
She never bought anything in a package or just scooped up a handful of something. If we were at the market to buy green beans, she would choose them one by one. She would ask people: how did you make this? What did you use? Her recipes are rooted in Italian traditions but she recast them as her own.
Marcella was known for her cooking classes. How did that come about?
Marcella loved Chinese food and was taking cooking classes in the late 1960s in New York City. One day her teacher announced she was taking a sabbatical. The students, including Marcella, were very disappointed. As the students discussed what they should do next, one of them asked Marcella what kind of food she cooked. Marcella said "normal" food, meaning Italian, but to everyone else it seemed exotic. Her students asked if she would teach them Italian cooking, and that is how she began.
How did the two of you meet?
Both Marcella and I were born in northern Italy. As a boy, my family spent summers in Rimini on the coast. Marcella's family also vacationed on the water but in another small town. In 1939, we moved to New York where I was tremendously homesick. I missed my grandmother, I missed my classmates, I missed living in a walkable city, but most of all, I missed good food. We were from Bologna, you see. The food in Italy is fresh, made that day and absolutely sublime.
You can imagine the food in New York in the 1940s. I could hardly recognize it as food. As a teenager, I said to myself: as soon as I can, I am going to return to Italy. And I did. After World War II, I went back to the Italian seaside and almost the very next day, I met Marcella. She was a beautiful woman and I fell instantly in love. For the next 60 years, we were inseparable.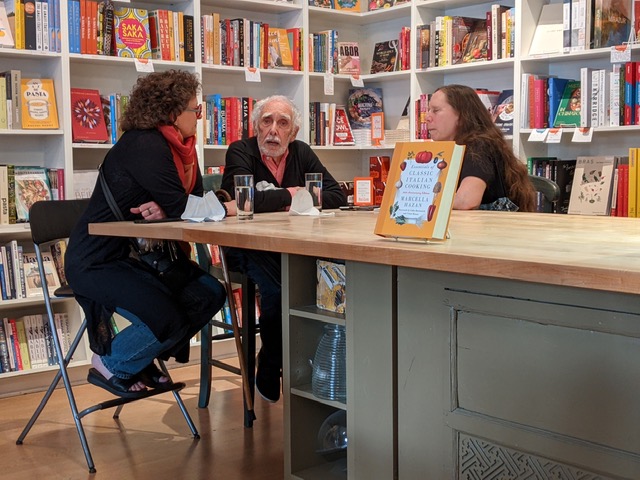 Did she cook northern or southern Italian?
Her first book has recipes from her home territory in northern Italy. After we married, we started to travel. We both loved to explore, and Italy is filled with recipes. She loved Neapolitan cooking, for example. She adopted many of Italy's southern dishes but in ways that reflected her taste. She knew what she was doing.
What is your favorite dish that Marcella would make for you?
My favorite dish is one of the most simple, lasagna verde alla Bolognese, but Marcella's version added porcini mushrooms. She always made it for my birthday. No one can create that dish quite like Marcella, because she put so much passion into it. The New York Times honored her recipe by calling it the gold standard of Bolognese sauce.