My great uncle was a painter. Class 1918, the youngest of three, he had blond hair and the looks – I am told – of an old Hollywood actor. Left-handed and extraordinarily talented, he had always been an artist at heart: the earliest drawing of his we have at home dates back to 1931, when he was a teenager, but with the hand and the visual cognition of someone twice his age. 
As you would expect from an artist in the '30s, great uncle Dino was a bit of a hot head, but in a charming, fully bohemian manner: he liked women and had a special way with them, disliked school and was prone to get himself into trouble. It was my grandfather, middle child and accustomed to military life, who'd usually fixed the mess for him: nevertheless, he always loved his younger sibling, whom he protected and supported until the war took him away from his family forever.
We love great uncle Dino in my family, because he remained the same throughout his life: unapologetically free, in love with beauty. We have a series of cool stories about him, too, that say a lot about his character, like when he would sell his school books to buy colors and brushes to paint, something my great grandparents weren't, as you can imagine, too happy about. Not that he went to school much, really, as he apparently had brought the art of skipping class to new heights, preferring to spend his mornings kneeling in front of one of the town's trendiest cafés, painting Madonne on the ground with colored chalk. A hat next to his work, perhaps the box where he kept his chalks, were ready to receive passersby's offers to his talent.
Yes, great uncle Dino had also been a madonnaro.
Madonnari are Italy's most quintessential street artists, as they embody so much of our culture: their art is ancient and steeped in history, their subject – traditionally religious – is a symbol of that Christian Catholic heritage that influenced so much our country's art and thinking throughout the centuries. Their work is colorful, breathtaking and, sometimes, unexpected, as it tends to appear anywhere there is enough space for them to kneel and create; thanks to their chalk and artistry, gray pavements turn into colorful images filled with meaning, delicate, lively and ephemeral, just like beauty itself.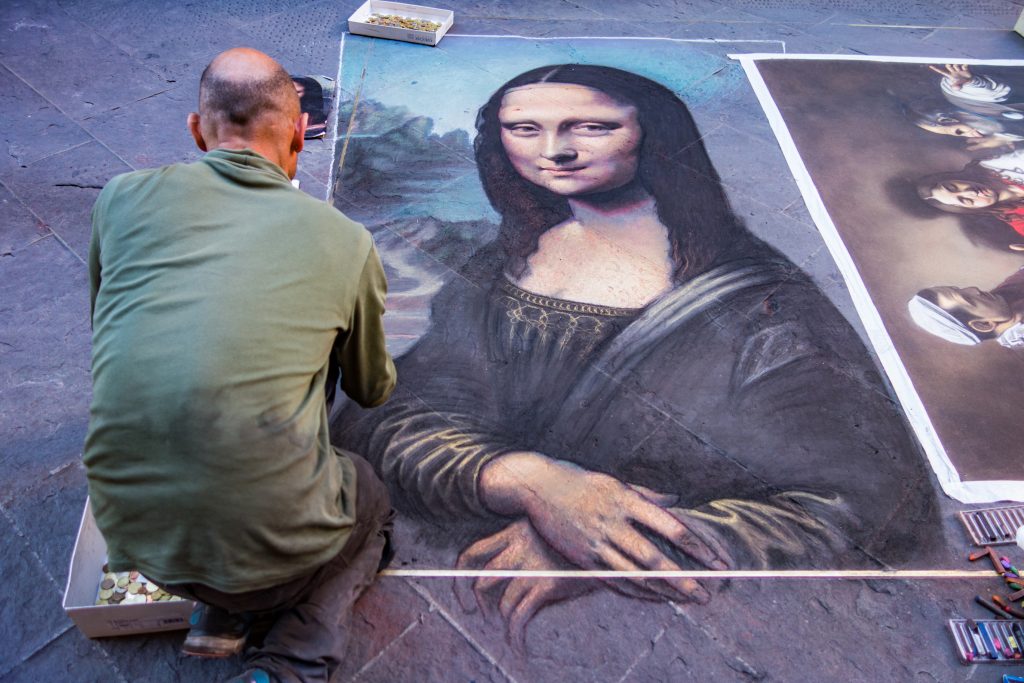 Sources say that the history of madonnari starts in the 16th century, during the Renaissance, when specialized artists would travel from town to town and help develop buildings' façades and interiors by drawing potential images and decorations on the ground, where there was enough space to present their ideas accurately. Very likely, the first madonnari worked in central Italy.
When their work finished, they often remained in town for a while, earning their living by reproducing on pavements and squares famous paintings, especially those kept in local churches. As their name testifies, the Virgin Mary was a favorite subject.
These first madonnari were itinerant artists, who would move from town to town, following the seasonal rhythm of traditional religious festivals, when their art would be appreciated by more people and the likelihood of receiving a coin or two for their effort was higher. They were likened, by many, to Byzantine iconographers who, since the late Middle Ages, had been reproducing famous holy images, using simple colors and local materials.
Most madonnari of the past remained anonymous and nothing is left of their work, which is intrinsically as fleeting as youth. Yet, there are some important names who started as madonnari, just like El Greco, immense artist of  the Spanish Renaissance, known for his dramatic and expressionistic style.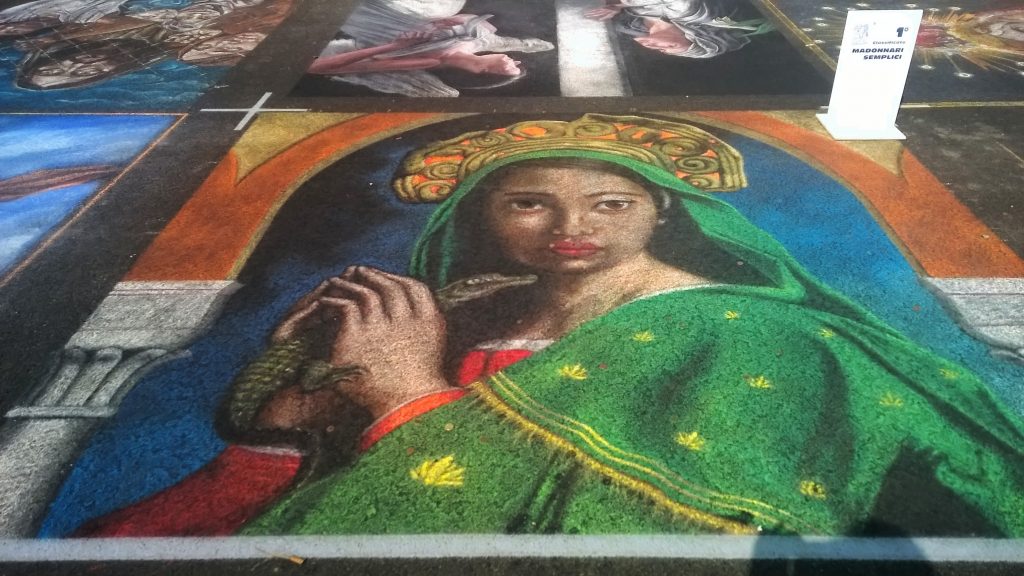 The role of madonnari, though, wasn't only esthetic, it was didactic. Those among you familiar with Christian iconography know that the beautiful paintings adorning our churches did not only have decorative or contemplative functions, they were there to teach people about Christ and His precepts: in times when reading and writing were rich people activities, catechesis also passed through images. And it is in this very context that madonnari's work should be interpreted: their Madonne with child, their saints, were not only beautiful, ephemeral symbols of art, but also colorful lessons in spirituality.
In the world of today, where art has become a commodity for the wealthy and talent isn't always praised as much as it should, the figure of the madonnaro is replete with romantic charm: madonnari, in many a way, are the closest thing we have to the way artists have been and what they represented throughout history: talent, geniality, freedom, and a bit of healthy anti-establishment attitude. Because the street is their atelier and they tend to happily disregard the self-obsessed world of established art, madonnari are often considered artisti poveri, yet they embody continuity with the past, and the sense itself of being an artist: living and breathing art and only art, consciously and happily staying far from the commercial bandwagon.
Some say madonnari are very similar, in their essence, to cantastorie, storytellers, and I tend to agree: both are closely connected to a very ancient, traditional form of art, which today is, perhaps, no longer considered fashionable. They tell stories through their work and they have a profoundly didactic role, often imbued with spirituality. Their aura is timeless, just like their work, which transcends visual and literary trends, and remains like that, unchangeable yet always-changing. Words dissolve in the air, just like chalk dissolves in time and water, ephemeral nature to types of art that, in truth, are etched in people's mind more deeply that any painting, because they touch the spirit, and that's where they remain.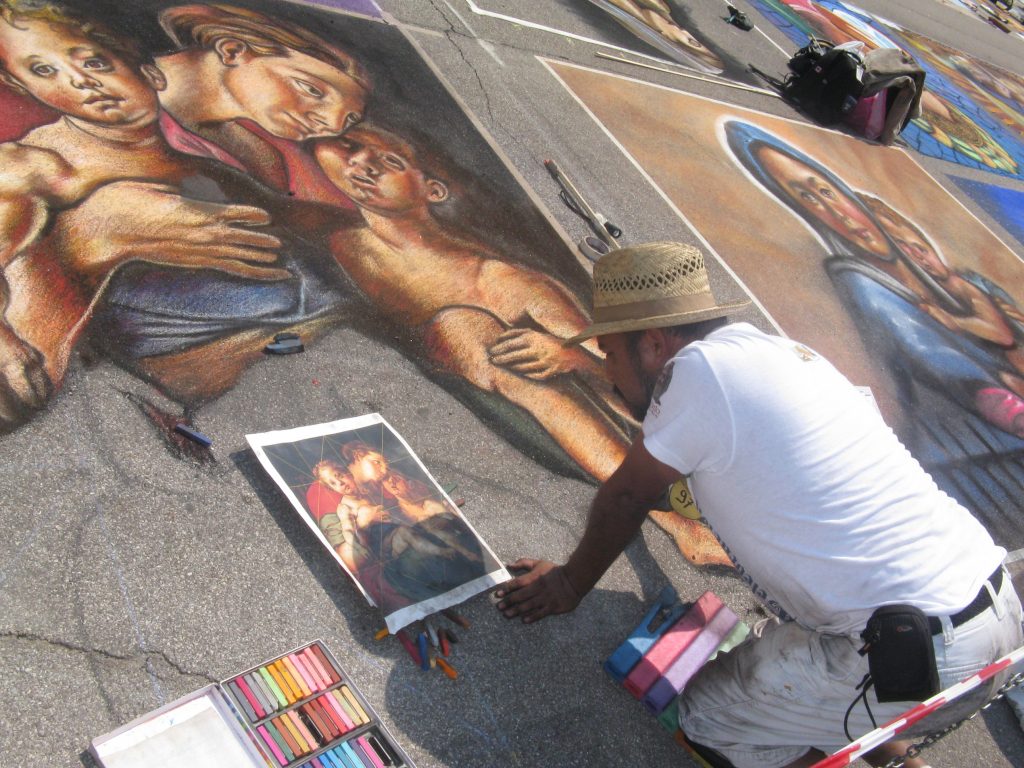 Indeed, the aim of madonnari is to offer art in its immediacy and to everyone: in this, of course, their work is popolare, because there is no ticket to get, nor fee to enjoy it. Because if it's true that art can cure the soul, then we should all have access to it, at all times, without limits or charge.
Today, the art of madonnari remains lively in Italy, where there is even a school, the Scuola Napoletana dei Madonnari, created with the aim of keeping alive and passing on to future generations the tradition of ex tempore painting, of artistic creation "on the go," on streets and pavements in every town and village. The school was founded in 2006 by Gennaro Troia, who has been working hard to bring the art of madonnari also into art academies and schools, to create awareness and attract new talents.
Not all artists, however, may be ready to accept the momentary nature of their work, to see their effort washed off by dust, the passing of time and rain. Others, however, recognize the real magic of art lies in the emotions and changes it causes in one's soul: this isn't fleeting nor erasable, it remains.
As of today, about 60 artists are involved in the Scuola Napoletana dei Madonnari's projects, operating both in Italy and abroad: their aim is also to raise awareness of the inherent artistic value of their work, which is often considered "illegal," just like that of graffiti artists. Exception made for Naples, where a city council regulation from 2014 includes madonnari among the category of street artists, which means they can work without fear of being fined.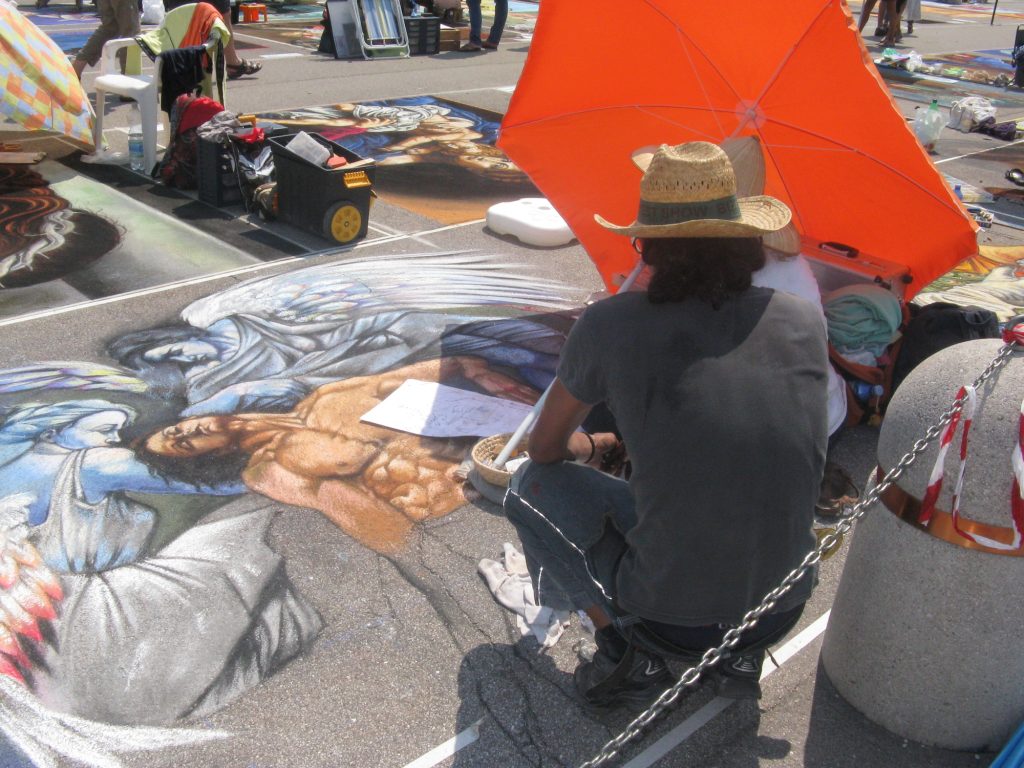 Modern arte madonnara is no longer solely associated with religion and spirituality, it includes a variety of themes and techniques. Gennaro Troia, founder of the Scuola Napoletana dei Madonnari is, for instance, known internationally for 3D art painting, a style using tromp l'oeil, a technique known and used already in the Renaissance, to create the optical illusion of depth, distance and shape.
Madonnari even have their own yearly festival, the Fiera delle Grazie in Curtatone, Mantova. The first edition of this international street painters' competition took place in 1972 and it was, just as it is today, integrant part of the celebrations for the Assumption of Mary, on the 15th of August. On the occasion, artists from all over the world flock over to participate and present their work. Indeed, the art of madonnari doesn't belong to the Belpaese only: while original madonnari, as we said, established themselves in Renaissance Italy, the modern idea of street painting is probably more associated with Great Britain, where street artists have been popular and common since the end of the 19th century. In those years, about 500 artists in London lived off street painting, and some years later, in 1906, the first street painting festival toke place in the city.
In more recent times, madonnari got connected with other forms of artistic expression, including fashion. In 2016, Dolce & Gabbana had several madonnari working in front of their boutiques around Italy and the world to launch their collection and to give visibility to what they consider an important artistic representation of our country. 
If you are interested, you can enjoy madonnari and street painting on your side of the pond, too, with festivals held each year in Santa Barbara, California, Lake Worth, Florida and Monterrey, Mexico.