The story of Luxottica is the epitome of the American Dream but it happened in Italy. It is the largest eyewear-producing company in the world and, more likely than not, your own glasses are a Luxottica product, if you think it owns iconic brands like Persol, Ray-Ban, Vogue, and produces for Prada, Miu Miu, Chanel, Burberry, Armani, Dolce & Gabbana, Tiffany, Versace, and Valentino. And if you get your glasses in Target or Sears, well, those are made by Luxottica, too.
Luxottica was born from the dream of one man, Leonardo Del Vecchio – Milanese, class 1935. His beginnings weren't easy: his father, who was a vegetable street vendor, died before Leonardo was born leaving the family in poverty, so much so he had to spend seven years of his childhood in an orphanage. As a teen, Del Vecchio became an apprentice in a workshop producing metal components: that's when he discovered a passion for design and engraving, reason for which he soon began following evening courses at the prestigious Brera Academy of Fine Arts, in Milan.
In 1958, Del Vecchio had his first solo exhibit, where he presented his own eyewear components. Only three years later, in 1961, thanks to the financial help of two wealthy clients, he transferred his workshop and store – which counted 14 employees – to a small Alpine village in Veneto, Agordo. The choice wasn't made by chance, because Veneto was already known as an important hub for the development and commerce of Italian craftsmanship, especially jewelry.
Del Vecchio never studied economy, but he soon understood the importance of producing everything in-house or, to say it like a businessperson would, using vertical integration: it was an epiphany, which also marked the moment when the name itself of the company, Luxottica, was created. No name could be better for a company producing eyewear, as lux means "light" in Latin, and ottica means "optics" in Italian.
The 1960s were a time of great expansion, where more and more productive skills were added to the company's portfolio, including the processing of metals and plastic. By producing everything in-house, Luxottica managed to offer the market high-quality products at incredibly competitive prices.
Leonardo continued to build his vision of a fully independent company, that could take care of its products from beginning to end, with the acquisition of Italian distribution company Scarrone in 1974. By the early 80s, Luxottica was well-established in Italy and began moving considerable steps towards international expansion by opening its first international office in Germany, in 1981. In 1988, it signed the first of many prestigious licensing agreements with Armani. By the mid-1990s, one-third of Luxottica's yearly sales came from sunglasses, so it made total sense to acquire Persol, a famous Italian sunglasses producer and, crucially, to invest in a different form of advertisement, specifically oriented towards the world of fashion and trends.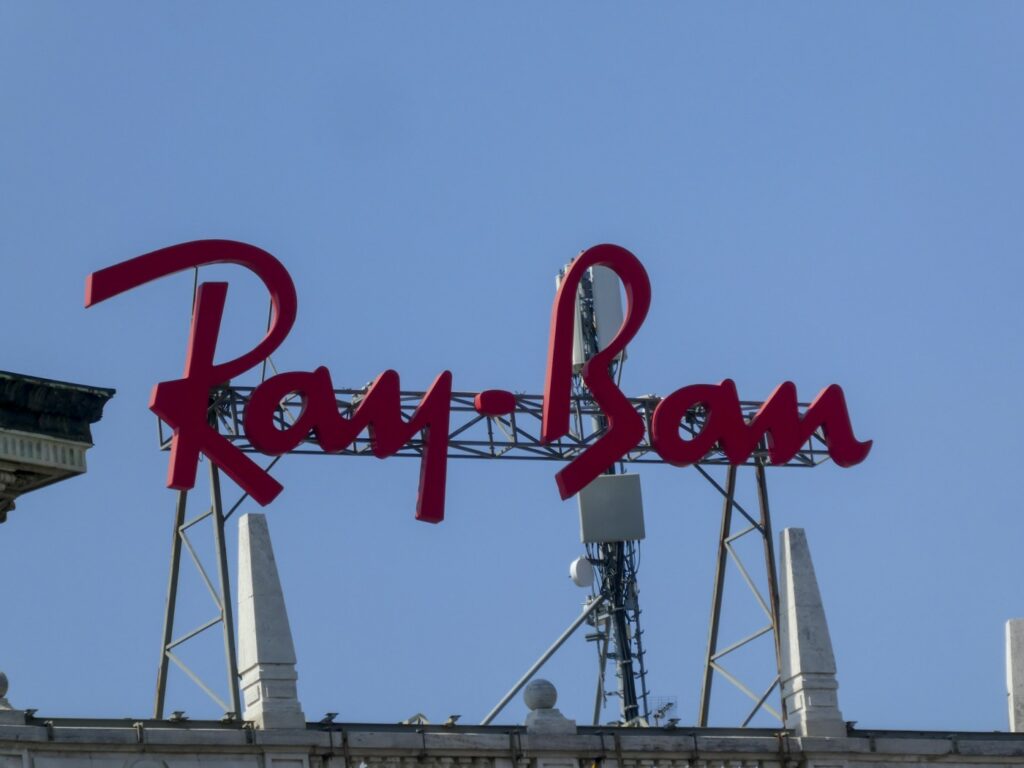 Between the end of the 1990s and the early 2000s, Luxottica continued its growth, by signing production agreements with Bulgari (1996), Ferragamo and Ungaro (1998), Chanel (1999), Prada and Versace (2003). In 2000, Luxottica entered the Milan stockmarket and in 2011, Leonardo Del Vecchio, that poor child from Milan, who had to spend most of his childhood in an orphanage, was listed by Forbes as the second richest man in Italy, after another self-made Italian, Michele Ferrero.
If you thought that Del Vecchio and Luxottica would be content with their immense success, you'd be mistaken, because the 2010s saw the company develop and expand further: in 2014, Luxottica began collaborating with Intel, to develop wearable optical technologies, setting a foot into a near future made of fashionable, wearable high-tech products.
In 2017, it joined forces with French high-quality lens producer Essilor, creating EssilorLuxottica. Today, Luxottica counts around 9,000 stores worldwide and employs more than 80,000 people. In 2019, its revenue was around 11,000 billion dollars: not bad for what started as a small workshop with just over ten employees.
Leonardo Del Vecchio died in June 2022, at the age of 87.