After working as a Celebrity Fashion and Lifestyle Matchmaker for Armani, Versace, and Dolce & Gabbana between London and Milan, Lucio Di Rosa felt the need to create something out of his uniqueness. Sharon Stone, his client and also a great friend, told him one day, "Why don't you do in Los Angeles the same thing you've always done in Milan?"
When in Milan, Di Rosa would open the doors of his home, inviting clients to his place for dinner after the fashion shows were over. "I love to cook and they wanted to relax," Di Rosa tells me. "I realized that even in the United States I had to focus on the concept of Italian hospitality, within an environment that didn't feel like an office, but a real home."

From this idea came the LDR2022 showroom, which opened in West Hollywood and was furnished exclusively with Italian brands, from Fornasetti to Flos and Dr. Vranjes. A place Di Rosa does not like to call a showroom, precisely because of the way it was conceived: "The feeling is that of being welcomed into a home where you sit in the living room and are offered coffee." Here Di Rosa chooses the dresses Hollywood actresses wear for red carpets, events, and galas, as he has done in the past for Jessica Alba, Salma Hayek, Uma Thurman, Hillary Swank, and many others. 

Almost all celebrities rely on professionals like you for their image. What is your creative process when you choose a dress and accessories for a public event?
It's not simple. When we talk about the Oscars' red carpet, actresses usually request that their dress reference the character they portrayed in the nominated film. If I then know they have a particular preference, I specifically cater to that.

What do you take into consideration, besides a celebrity's physique to find the right dress?
The main factor I consider is their personality. Then, I take into account each celebrity's comfort zone, as everyone has areas they're at ease with showing and others they prefer to keep concealed. For instance, Helen Mirren is quite receptive to any of my ideas, while some actresses tend to be more reserved.
A limitation that has been imposed on you?
There are moments when I find myself having to decline requests from fashion houses, especially when they're eager to have Angelina Jolie on the runway. I'm aware that it's not an option, given her personal choices. Understanding and respecting these boundaries has been crucial in preserving my relationships with many of them over the years.
Sharon Stone is a good friend of yours. How did your friendship begin?
My close relationship with Sharon Stone began during the 10th-anniversary commemoration of Gianni Versace's passing in Los Angeles in 2007. A particular incident from that day remains etched in my memory. During a dress fitting, a seamstress was painstakingly trying to adjust a gold chain meant to accentuate Sharon's neckline but was struggling. Without hesitation, Sharon took the needle from her and swiftly fixed the dress herself. Our eyes met, and there was an unspoken understanding. That moment marked the beginning of our friendship, characterized by heartfelt conversations and calls at all hours.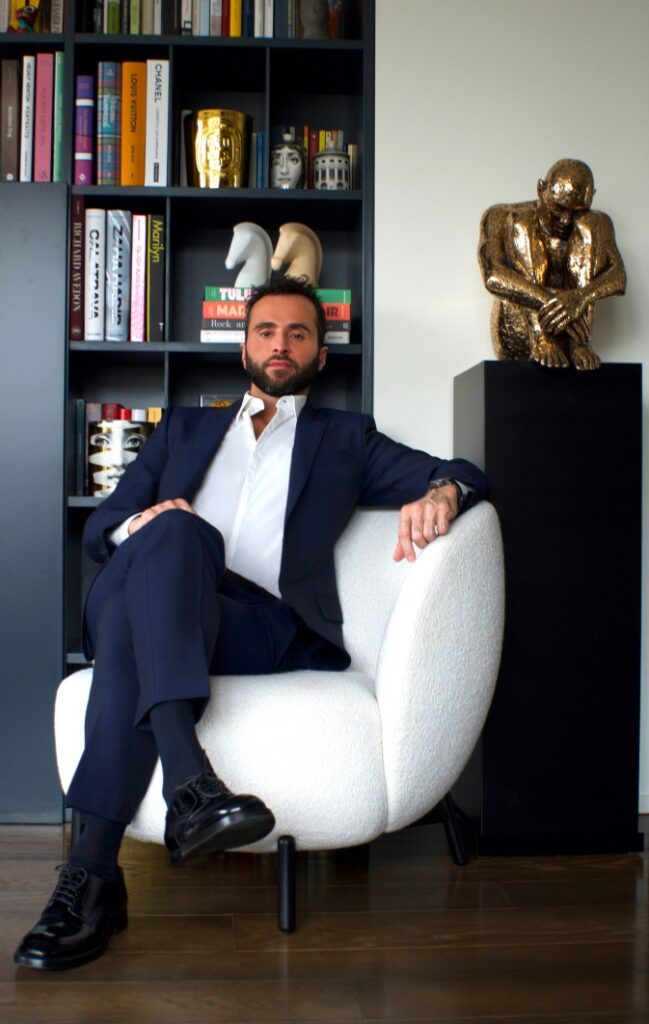 Will she come to see the showroom?
Absolutely. She's passionate about painting and is eager to see the space, intending to craft a piece specifically for me. She's previously gifted me a painting for my home in Milan.
Choosing the perfect dress for a woman, assisting her during fittings, observing her physique, and grasping her personality… Celebrities reveal themselves to you in so many ways. One of the most memorable intimate moments I've shared with an actress?
 It was when Angelina Jolie confided in me that Brad Pitt had proposed to her. The news hadn't broken yet! I recall her closing the door, signaling she had something important to share. I initially feared something might have been amiss, but instead, she whispered to me, "Brad proposed!"
What outfit made you the proudest?
There have been several standout moments. One that particularly resonates is the ensemble for Lady Gaga at the 2016 Golden Globes, crafted in a mere 24 hours. The inspiration stemmed from a black and white photograph of Grace Kelly, which Gaga herself had shared with me. We designed a black velvet gown, incorporating elements from past collections, such as the corset and the snug, padded hips.
What was the most difficult one to make?
A beige dress worn by Drew Barrymore for the Golden Globes in 2010 posed a unique challenge. The dress featured two elements I fondly referred to as "porcupines" – they were made of glass straws, mimicking the effect of a porcupine's quills, one on the shoulder and the other on the hip. A mere two days before departure, one of Versace's tailors accidentally knocked over a "porcupine", shattering it into countless pieces. We were pressed for time to recreate it, and the replacement turned out even larger. So much so, that Drew found it challenging to rest her elbow.
Is it difficult to find a dress that combines the personality of the actress with the style of the brand?
It depends, for example, Angelina likes vintage. In these cases, to please the talent I go to the fashion show archives to find something that can be a modern reinterpretation of the fashion house's identity combined with the celebrity's personality. 
Is it challenging to find a dress that melds an actress's personality with a brand's style?
It varies. For instance, Angelina has a penchant for vintage. In such cases, to cater to the talent's preferences, I delve into fashion archives to unearth something that offers a contemporary interpretation of the fashion house's identity while resonating with the celebrity's persona.
So, it's not always necessary to opt for pieces from the latest collections?
Not at all. For example, the white dress with a striking red fold at the collar that Angelina Jolie wore to the Golden Globes in 2012 was originally a Gianni Versace creation, initially designed in black with a white fold. It was reimagined in various modern iterations, and she chose the version with the red fold. It was a time when she was fond of sporting bold red lipstick.
Which celebrity have you yet to dress, but would love to?
Julianne Moore is at the top of my list. I deeply admire her as an actress, and she possesses such stunning features – her porcelain skin and icy eyes are captivating. For her, I'd opt for velvets in shades of purple, emerald green, or deep forest green.
Your passion for fashion was ignited by your love for the Versace brand. Why Versace in particular?
My affinity for Versace began around the age of 12. I lived in Forte dei Marmi, right above a Versace boutique, so the brand was always in my line of sight. I was enamored by the vibrant colors, the unique prints, and the Miami-inspired ambiance. This piqued my interest in the brand, especially during the early '90s when it was experiencing its golden era under Gianni's leadership.
What's the most significant milestone you've achieved for the Versace brand?
Beyond dressing Angelina Jolie for her wedding, I'd highlight the honor of dressing Michelle Obama for her final State dinner. She wore a metal mesh dress in a specially developed color for her: rose gold. This was a departure from Versace's traditional metal mesh colors of black, silver, and gold. Crafting these metal mesh dresses is an intricate process, as each tiny ring must be linked individually. Michelle Obama's final choice came down to our dress and another contender. When she opted for ours, Donatella was in sheer disbelief! Having a Versace dress grace the White House was truly a remarkable moment.
Speaking of Donatella Versace, with whom you've collaborated for 14 years, what's the most valuable lesson she's imparted to you?
One enduring lesson from Donatella that I hold dear is: never take a no as an answer.