The world discovered the existence of trenette, the traditional Ligurian noodle, thanks to Pixar's Luca and his voracious appetite for them. But for every person familiar with the Italian Riviera and its cuisine, they are far from being a surprise: served with homemade pesto, potatoes and string beans, they are as good as pasta gets and, if you ask me, even better than fancier – and perhaps better known – trofie. Trenette have always been a staple in my Piedmontese family, because the cook of the house, my maternal grandmother, had relatives in Genoa and knew a thing or two about the food of Liguria. Her torta pasqualina was unashamedly genoese and so was her thick, creamy minestrone, which she liked to enrich with a bit of pesto. Trenette, in my house, were common, even when pesto wasn't available: she would make them with plain tomato sauce and, of course, potatoes, rigorously boiled with the pasta.
Before talking about trenette, though, we should say a thing or two about the pasta tradition of Liguria. Common knowledge tells us the home of Italian pasta is the South, somewhere between Naples and Sicily, but truth is that Genoa has a thing or two to say about pasta history, too. Indeed, the production of pasta in Liguria in attested in legal documents, today preserved in the Archivio di Stato di Genova, since the mid 13th century (1244), when dried pasta was locally made and sold; and it was in Genoa that the first association of pasta makers, the Corporazione dei Pastai, was created, way before similar institutions were born in Naples and Palermo. In 1740, the first pasta fine factory opened in Genoa and, about half a century later, in 1794, the first Italian pastificio using modern methods of production opened in the region. Liguria's supremacy in the dried pasta field continued well into the 19th century.
The immense variety of traditional pasta shapes typical of this part of Italy bears witness to its relevance in the Ligurian kitchen and economy: battolli, bavette, corzetti, gasse, stracci, testaroli, losanghe, filled pansotti, troffie and, of course, our trenette.
Now, let's finally talk about them. First of all, how do they look like? They are long, flat and narrow, they almost look like rectangular spaghetti; they are rough to the touch, which means they hold sauces fantastically. To a non trained eye, they may look a bit like linguine, but if you look at them side by side, you'd notice the difference, with trenette being much thicker.
While being a traditional pasta of Liguria, they are easy to find in supermarkets across the country, although only in the northern region they hail from you can find them fresh, at local pasta stores, shaped like little nests the way you find fettuccine. In Liguria, you'll also get a variety of trenette called avvantaggiate,  made with whole wheat flour: they are called so because once they were cheaper, thus,  "with an advantage." Trenette are made only with flour, water and a drop of Ligurian extra virgin olive oil, and they are cooked in abundant salted water, just like all other pasta shapes: be sure to make them al dente!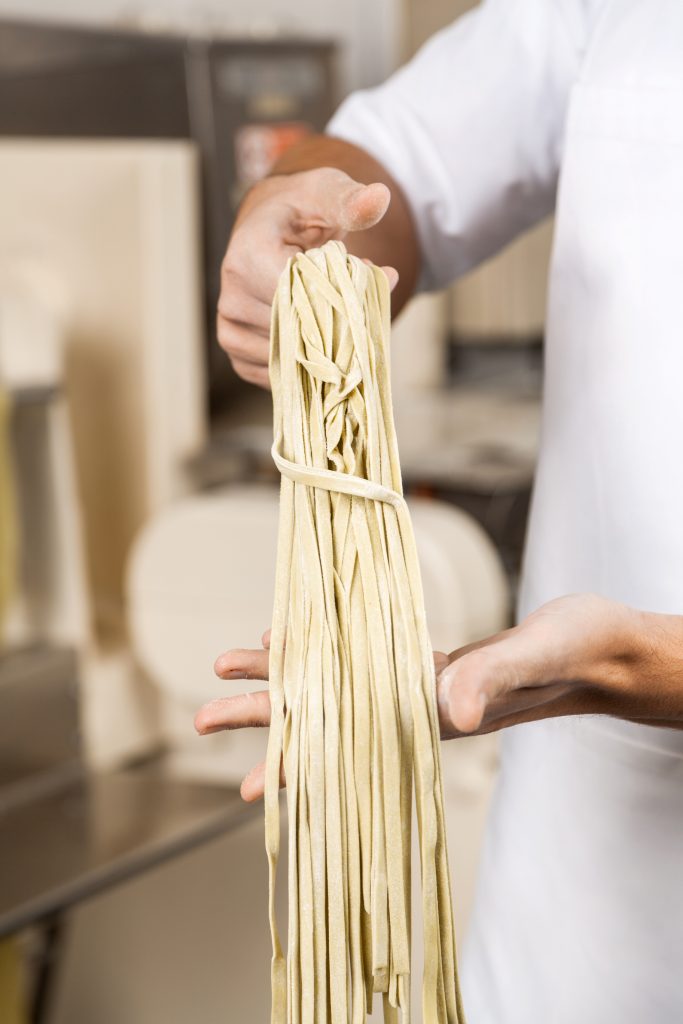 While their shape and texture make them perfect for all types of sauce, they are of course mostly paired with pesto, potatoes and string beans. Interestingly, but not surprisingly, this delicious concoction came out of necessity and seasonality. In a time when refrigerators didn't exist and nothing of what Mother Nature gave could go to waste, it was normal to add fresh vegetables to all dishes, just like it was normal to preserve herbs making long-lasting sauces like pesto. Similarly, they are also popular served with potatoes and beans.
And what about their name?
Well, there are a few theories about it. Some believe the word trenette comes from the old Arab word for pasta, itriyya, which then became tria and, finally, trenetta. Indeed, the Arab itriyya were thin long noodles, probably not much different from trenette themselves. A second theory is more recent and has its roots in Genoa. In the early 19th century, teacher Giuseppe Oliveri, a non-native of Genoa, had many difficulties understanding the strange lingo his students would speak with one another: genoese wasn't a simple idiom to get! And so, he created a Genoese-Italian dictionary, which was eventually published in 1851: in it, he suggested the pasta name came from the genoese word trenna, which means "string." Trenette, according to this theory, are nothing more than "little strings."
If you happen to go to Liguria, you'll find trenette in every restaurant, more often then not served traditionally, with pesto, potatoes and string beans. But look also for fancier versions, also typical on the Riviera, where they are dressed in sumptuous seafood or swordfish sauces. If you manage to get your hands on a pack or two to bring home, then you can try my grandma's humble concoction: simple tomato sauce, nice potatoes and heaven is served.