For Northwest residents who are fans of glass art and followers of the incredible artistry of Lino Tagliapietra, good news!
On March 4, the Museum of Glass announced it will create a new permanent gallery dedicated to the art and legacy of glass artist Lino Tagliapietra. The space will include the Lino Archives, which have been carefully assembled by Tagliapietra's studio and date back to the mid-1990s. They showcase his evolution as an artist and demonstrate his use of intricate Italian techniques.
The creation of the legacy gallery will enable Tagliapietra's work to be accessible to the public year-round. The announcement, made by the artist and his family at the event in March, marked Tagliapietra's final appearance in the US. At the event, guests were treated to a demonstration of Tagliapietra's dazzling artistry and technique on the hotshop floor – a delight for all those in attendance. The 88-year-old artist plans to retire and spend time with his family in Italy.
Tagliapietra is renowned for his skillful mastery of the material and his ability to imagine the possibilities of glass as an artistic medium. His unique style, characterized by intricate designs, uncommon attention to detail and bold use of color, combines traditional Venetian glassblowing techniques with modern elements.
His art has pushed techniques into new territory with its complex movement, ebb and flow. A story on Tagliapietra in The New York Times once put it this way: "There are magicians who saw people in half or make them disappear in miracles of illusion. And there is Lino Tagliapietra, a magician whose miracles are real."
As a glass artist for more than 70 years, Tagliapietra has had tremendous impact on the glass art movement and on glass artists. He has trained and mentored hundreds of young glassblowers, passing on his knowledge and techniques to future generations. In this respect, Tagliapietra has been an outlier: many Murano glassblowers would never give away their craft secrets. But Tagliapietra is known for his generosity, sharing his love of the art and the craft of glassmaking – an art that Venetians have been practicing for 1,000 years. He is not the first glass artist to leave Murano but he is the first to teach in such an open and accessible style.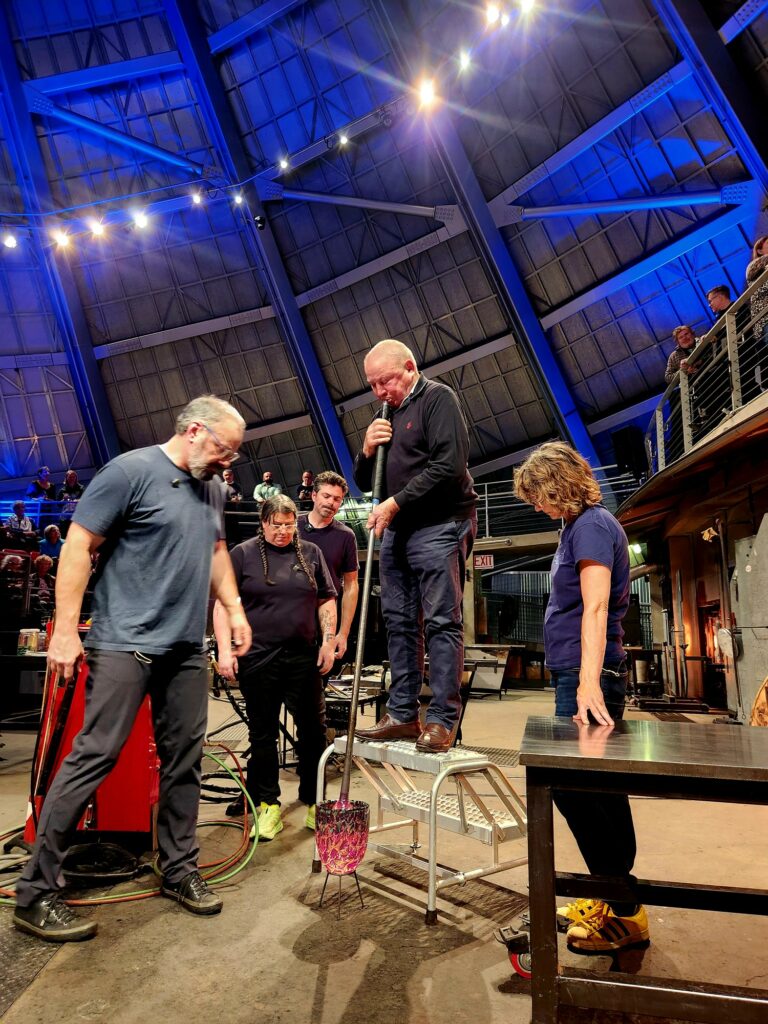 During the March event, Tagliapietra reflected on his long career and his ongoing affiliation with the Museum of Glass. "I would have never expected this much love and attention," he said. "It is true that this highlights the end of my journey. However, all the recognition, honors, awards and friends that surrounded this event made my end of the journey very special and much less bitter."
Tagliapietra was born in 1934 in Murano, Italy, and became an apprentice glassblower at the age of 11. Even at a young age, he exhibited an amazing dexterity for glass and was given the title of maestro when he was just 21.
In 1979, Tagliapietra visited Seattle for the first time and introduced students at the nearby Pilchuck Glass School to the traditions of Venetian glassblowing. This cross-cultural collaboration helped shape the identity of American glassblowing and cement the Northwest's pivotal role in that medium. It also offered him an opportunity to expand his horizons internationally.
For nearly two decades, Tagliapietra was a frequent visitor to the Museum of Glass, completing 19 residencies and appearances in the Museum's hot shop to standing-room-only audiences. His first solo exhibition at the Museum of Glass was in 2008, called "Lino Tagliapietra: in Retrospect, a Modern Renaissance in Italian Glass." The exhibition traveled to the Smithsonian Institution's Renwick Gallery, Chrysler Museum of Art, Palm Springs Art Museum and Flint Institute of Art.
A second solo exhibit was staged in 2012 when the Museum of Glass presented "Maestro: Recent Works by Lino Tagliapietra." His last exhibit opened in 2014: "Celebrating Lino Tagliapietra."
"The Lino Tagliapietra legacy gallery at the Museum of Glass is a key part of our strategic plan moving forward, representing our goal to celebrate glass artists," said Museum of Glass Executive Director Debbie Lenk. "We are honored that maestro Lino Tagliapietra has chosen the Museum of Glass in Tacoma as the place to tell his legacy story and that he will generously provide art from his archive to support this endeavor." Initial schematic drawings for the new gallery have been completed; no opening date has been set.
Tacoma's Museum of Glass, which opened in 2002, is dedicated to glass and glassmaking and offers the West Coast's largest and most active museum glass studio. The museum has established a reputation for hosting engaging artist residencies, organizing national traveling exhibitions and creating unique programs for visitors in addition to building a permanent collection to chronicle the development of modern and contemporary glass.