Thanks to a COMITES SF-organized event, Italians and Italian-Americans in San Francisco will be able to commemorate the end of World War II and Italy's liberation from the Nazis on Tuesday, April 25.
Il Giorno della Liberazione was the peak of the partigiani movement, born in 1943, gathering all Italian anti-Fascist activists from different backgrounds – including workers, farmers, students – fighting against both the Fascist regime and the Nazi occupation. That day in the spring of 1945, the National Liberation Committee of Upper Italy (CLNAI), a political organization representing the Italian resistance, announced a popular uprising and general strike against the Nazi occupation and Fascist regime. The capture and death of Benito Mussolini became the symbol of the end of dark times, as many in Northern Italy were set free: Bologna first, then Milan, followed by Turin and Venice. The following year, on April 22, the Italian government established that April 25 would become a national holiday.
Paola Tonelli and Sonia Alioto, the COMITES representatives leading the Comunità e Tradizioni Italiane and Impresa e Turismo groups, shared more about the memories the day brings: "This is a very important event for Italy. It marks the end of the war, starting in Turin and Milan and continuing in the rest of the country. It was a turbulent moment in our history, characterized by the conflict between fascists and partisans but also by moments of great humanity." The event in San Francisco will involve some North Beach restaurants with special menus for the night. "These restaurant owners want to show their support to the Italian community and COMITES; we welcome everyone to come and commemorate this day with us," they continued. You can find more information on the COMITES website at https://www.sfcomites.org/.
The Club Fugazi is the venue hosting a discussion about the 1945 events, with testimonials ready to bring their own stories on stage. Among them, Franca Bannerman, then a 14-year-old girl, who witnessed the collapse of Fascism and the country's liberation. Franca, who lives in San Francisco, was born on June 9th, 1929, in Marino, a small town close to Rome. Her father was an Italian from Egypt, and her mom was from Siena. They moved to Italy before Mussolini came into power, and her dad had founded his own bank. When the regime started, he moved all the small banks into a bigger one. In the end, as an Italian patriot willing to fight against Fascism, he had no choice but to return to Egypt. They had four children: Orietta, Renata, Michele, and Franca. At the age of 18, Renata married the vice Consul of Cyprus, a man she met when the family would spend their holidays on the island. Three months into the marriage, though, the husband came out to be gay, and Renata and the family decided she'd go back to Cairo. Renata, the sisters, and their father traveled around Europe to invalidate the marriage. Finally, the annulment was obtained in Paris, and Renata could start a new life.
The sisters were living in a convent in France when the war broke out; this way they avoided being taken into a concentration camp. While in Egypt with his wife, Franca's father was able to get the sisters exchanged with a French family, and they ended up in Turin, where many of the Liberation events took place.
Today, Franca is 95, and the memory of those days is still vivid and emotional. She decided to write them down so everyone would know how that day unfolded.
April 24th, 1945, was a beautiful spring day after a long, cold winter without heating and practically no food. I went to school in the morning. I came home for lunch, and in the afternoon I got ready to do my homework with my friend Marie Louisa, who lived a fifteen-minute walk from my house at the corner of a square, a few yards away from a church.
I was enjoying my walk, and when I was near the church, I noticed Arturo on its steps, half hiding near the door. Arturo was my upstairs neighbor on the eighth floor of our apartment building. He was fourteen years old, a few months younger than me, which made me treat him as if I were his older sister. I shouted at him, "Arturo, what on earth are you doing up there?" He showed me a rifle.
He cried out loud, "I'm defending Italy from those bandits of partisans!" I asked him, "What do you mean? The partisans are up in the mountains! Who gave you the gun?" He put the heavy gun on his shoulder and answered proudly: "Le camicie nere!" (the Fascists). I shouted back, "You better go home now, before your mother finds out what you are up to. This time you won't be able to sit for a century!"
And with that, I went on to Marie Luisa. We were both immersed in our homework when the phone rang. It was my older sister, Orietta, who, with a panicked voice, urged me to go home at once. I started walking home, and just a few yards from Marie Luisa's house, I heard a couple of gunshots. I took shelter behind a wall. When I no longer heard gunshots, I came out and proceeded toward the church.
At first, I saw a bundle on the floor by the church steps. Then I realized it was Arturo. I ran to him and, at the same time, the priest came to me. Arturo did not answer when I called his name.
The priest ordered me to run home, which I did. I must have arrived there in five minutes.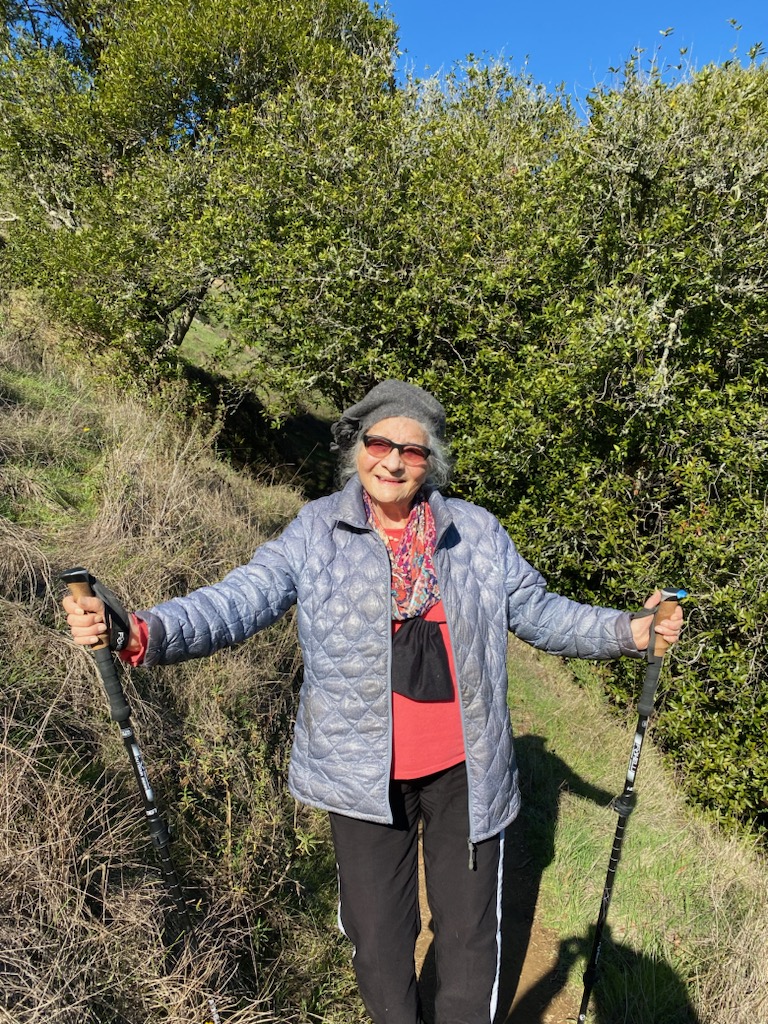 As I came out of the elevator, Orietta was waiting for me. I fell into her arms. She could not stop asking me, "What happened, what happened?" After a drink of water, I eventually told her what had happened. She ran up the stairs, to Mrs. Valentini, the mother of Arturo, to tell her about her son. Three weeks later, we went to his funeral. But that is another story.
We, three sisters, locked the door of the apartment and tried to listen to the news on the radio, but all we could hear were fascist marching songs. From time to time, we could hear gunshots and shouting.
The next day, the radio stopped playing music and announced the war was over. The Germans had surrendered to the Allies. At first, we could not believe it, but when we heard the shouts of joy coming from most of the apartments, we too started shouting, jumping with joy, and embracing each other. Just then, on April 25th, 1945, the phone rang. It was my older brother, Michele, who told us not to leave the apartment because there was a lot of fighting in the streets, fascists against partisans. Partisans against Fascists, neighbors against neighbors.
We could see what went on in our Corso Lecce from our seventh-floor balcony. There were old and young women with their heads black because they were covered with tar. They were kicked, dragged, and screamed for help. The partisans were doing that to them because they believed those women were fascists or German sympathizers. People were fighting from houses and balconies. Ours was the only skyscraper in the neighborhood at the time. It had eight floors… We were so high up on the seventh floor that we thought no bullets could reach us, but we could observe. This fighting and vendetta went on for five days. Until the Americans came.
I remember Colonel Fiore from New York did govern Torino until 1946. A sad atmosphere was all over the city and countryside. Jewish people were starting to come back from concentration camps. We could not believe what they told us and what they went through.
If you look at the pictures in the news that day, April 25, 1945, you will see complete strangers kissing and embracing joyfully in the streets of New York. On April 25, 1945, in the North of Italy – in Torino, certainly — there was no peace.