One morning in July, a girl is dragged away from her homeland, reduced to slavery, and sold by human traffickers. From the wild plateaus of the Caucasus to the Black Sea, from Constantinople to Venice, from Florence to Vinci. When she arrives in Italy, everything has been taken from her – her body, her dreams, her future, her land, and her ancient culture. But in Tuscany, her second life begins.
Five centuries later, the accomplished Italian Renaissance scholar Carlo Vecce is at the State Archive in Florence. As he reviews yet another document, he comes across the act of liberation of a slave, Caterina, by her mistress, Monna Ginevra, who had rented her out as a wet nurse two years earlier to a Florentine knight. The act is signed by a young notary. Piero's hand must have been trembling on that special day: that unusually error-filled act betrays his profound emotion. Because the freed slave is "his" Caterina, the girl who gave him her love and the six-month-old baby he holds in his arms. We are in an old house behind Santa Maria del Fiore, at the beginning of November 1452. The document is handwritten by the notary Piero da Vinci, the father of who was to become the brightest mind of the Renaissance, Leonardo.
So far, it sounds like the plot of a novel. Indeed, it is between these two narratives that we find Il Sorriso di Caterina, the exciting story revealing the origins of the author of masterpieces such as the Mona Lisa and The Last Supper, the Salvator Mundi and The Virgin of the Rocks. The novel was conceived after Professor Vecce discovered important unpublished documents, in the context of a complex and layered scientific debate.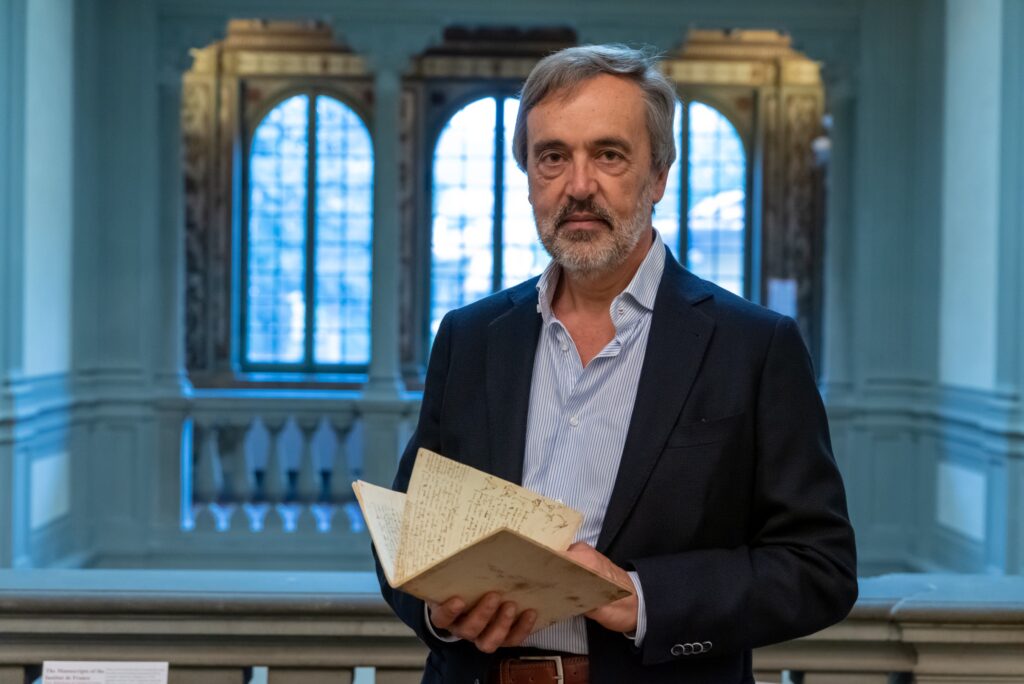 Vecce is a well-known researcher, specializing in the life and works of Leonardo, who has also been a visiting lecturer at UCLA, and now teaches Italian literature at the University of Naples L'Orientale. He has just published for Giunti a historical reconstruction based on ancient manuscripts that finally fills in the gaps in the biography of the talented scientist, painter, and inventor who revolutionized the history of thought and the figurative arts.
According to Piero da Vinci, Caterina is the daughter of Jacob and is of Circassian origins. The Circassians were one of the Caucasus' oldest indigenous populations. Little was known about her, except that she was married to an obscure farmer from Vinci shortly after the birth of Leonardo.
How did she come to Florence?
Donato, an old Florentine adventurer who lived Venice, where he had slaves from the East and the Black Sea in his service, buys her and brings her to Italy. Before he dies in 1466, he leaves his money to the Florentine convent of San Bartolomeo a Monteoliveto, for the construction of the family chapel. Piero da Vinci is his notary. Perhaps it is no coincidence Leonardo would complete his first work — a masterpiece, The Annunciation — for that church.
But history seems to enjoy playing hide-and-seek. During renovation works for the new headquarters of the Università Cattolica in Milan, the Chapel of the Immaculate Conception — the one famous for The Virgin of the Rocks — revealed some of its secrets: the wall against which the altar was placed, the floor in which the crypt opened, and the fragments of the starry sky painted on the vault by the Zavattari are all reappearing. It's an extraordinary discovery: in the crypt, ancient burials have been found. Perhaps, there is also the body of Caterina, who died in Milan, in her son's arms, in 1494.
L'Italo-Americano asked philologist and scholar Carlo Vecce what finding Leonardo's mother means and what hides behind Caterina's smile.
Professor, how did your research develop?
In the beginning, it was almost by chance: but does chance really exist? I have been studying Leonardo for more than thirty years. I have published some of his manuscripts (the Libro di Pittura, the British Library's Arundel Code. Since 2017, I have been working on a project for the Accademia dei Lincei, the reconstruction of Leonardo's library. While I was double-checking all the documents, I came across an autograph paper by ser Piero da Vinci, Leonardo's father: the act of liberation of a Circassian slave named Caterina, which took place six months after Leonardo's birth, in 1452. I couldn't believe and it seemed absurd to me: could the mother of Leonardo, the universal genius, be a foreign slave from a people considered uncivilized back then, could be she coming from the end of the world and of history? At first, I tried to prove to myself that that slave was not Leonardo's mother: I was afraid of the consequences. So I started over the research. First, on all the names in that document and then, just as if I were following a thread in a labyrinth, on all the new names that emerged. In the end, I had to give up: it was her. That slave was Leonardo's mother.
How long did it last and why did you decide to reveal history in a novel?
Research in archives and libraries, both in Italy and abroad, was interrupted by the pandemic at the beginning of 2020. I had already found almost everything, but there were still some missing pieces. I tried to write something in academic form, but I couldn't. As a story, it was too big, too beautiful and terrible. Because in the end, it's the story of an act of violence, it's about slavery. In the fall of 2020, in three or four months, I wrote this book, working day and night, as if in a dream. It felt like I had to set myself free from what I held inside like a secret by writing it down. Caterina had to be "freed" again. And I felt, with anguish, how current this story is, unfortunately: the story of thousands, millions of human beings who, today, are enslaved, exploited, and victims of violence. Only the literary form of fiction, based on historical truth, could communicate this message immediately and powerfully. Now that Caterina is free again, I feel free too. And, to reassure my academic colleagues, I have finished and delivered a new book, the Life of Leonardo. Caterina's Son, which will be released in a few months, with all the documents, notes, and bibliography.
The scientific and historical value of this discovery is fundamental, but what does knowing about Leonardo's family origins mean?
As Freud explained, family origins can be the key to understanding everything enigmatic and mysterious in Leonardo's work, and all its typical elements. I think for instance, of his spirit of freedom in scientific and intellectual research, which made him go ahead always, overcoming barriers and challenging authority: what could have been his mother's, a slave, most cherished desire if not freedom? And then, the love for nature and animals, creative imagination, drawing… Leonardo felt free and universal because he knew his mother's story, even though he could not tell anyone about it. He knew he did not belong to just one family, one community, one culture, or civilization. His horizon opens up to infinity, to humanity as a whole.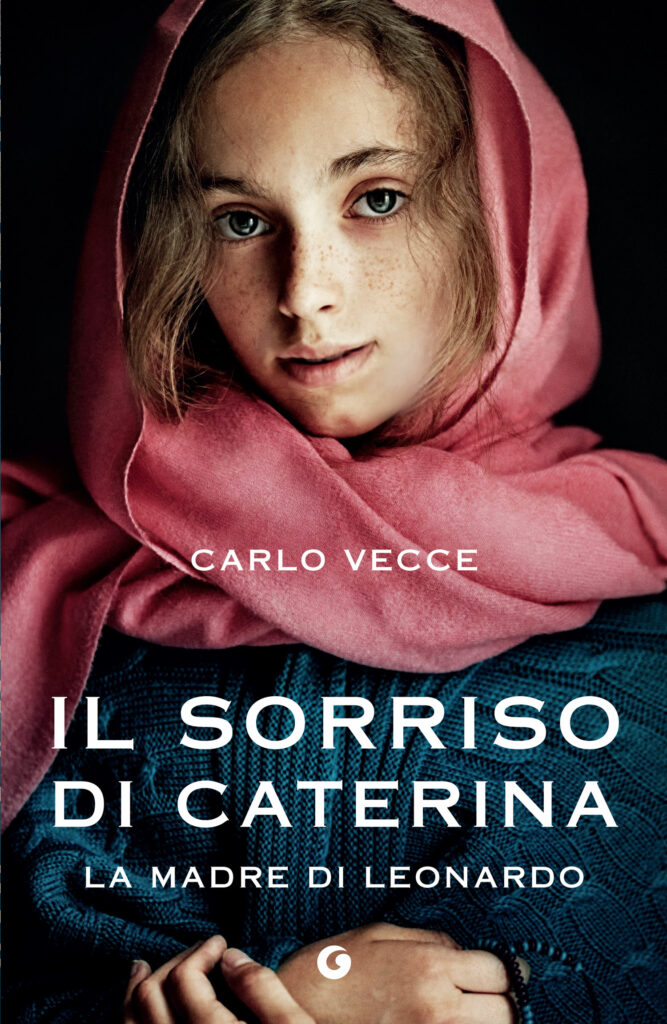 Myth often relies on mystery, and not knowing what lies behind her enigmatic smile made Mona Lisa the most popular work of art in the world. Paradoxically, can removing the dust of history and revealing Leonardo's secrets increase his charm?
In my opinion, yes, because the myth continues to exist. We also need myth, dreams, and imagination. History and documents do not tell us everything. They reveal only a part, a small part. Beyond the surface of things, the mystery of life and existence opens up, and this also applies to great figures of the past. We need to believe in something, in a message of hope and, why not, even in a smile: whether it's Caterina's or Mona Lisa's, it doesn't matter. It is a smile that comforts us in life, that tells us "let's move forward, despite all the bad things in the world." As Dostoevsky said, it is beauty that will save the world.
Although historically incorrect as a definition (since Italy did not exist as we know it during the Renaissance), Leonardo is a symbol of Italian culture abroad. From this point of view, what does such a discovery mean? Will it put the association between Leonardo and Italy into question? Will he become less "ours," will we lose a symbol?
I believe quite the opposite. Caterina was not "Italian" at the beginning of her life, but she certainly became one — and a great one — by living in our country and settling in the beautiful community of Vinci. In Florence and Vinci she regained her freedom and dignity as a woman and a human being. The story of Caterina and her son teaches us that the true greatness of Italy and its culture has been, for millennia, being a bridge over the Mediterranean, a point of encounter and intersection for peoples and cultures — merchants, artists, poets, but also workers, migrants, and paupers. And this, perhaps, has no equal anywhere else in the world. This isn't "nationalism," this is true "Italianness," and we can be truly proud of that. It's a beautiful message for the present as well. Can I joke a bit? One of the characteristics of us Italians is our immense love for our mothers: in this regard, Leonardo is a super-Italian.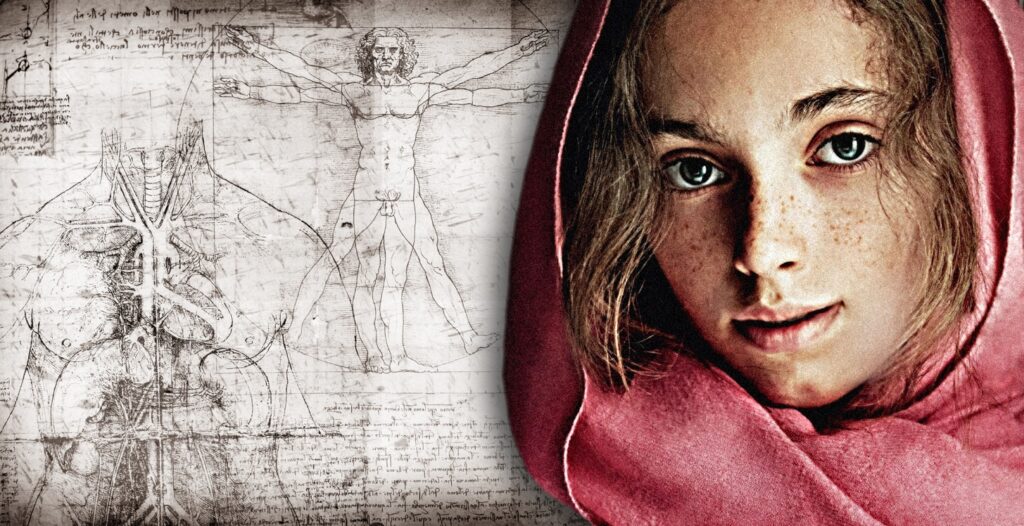 Does the fact he was the child of two cultures and two ethnicities make Leonardo much closer to today's global world (although the ancient world was more multicultural than we think)? Will this perhaps make him less distant but more similar to us, more understandable and relevant?
Absolutely yes, and in the end, that's the story of so many of us. It's the true story of humanity. Even mine. I was born in Naples, but my mother is from Trieste, the daughter of a Slovenian woman and a half-German father. The book is dedicated to her. My father's mother was a Venetian Jew, and a large part of our family migrated to the United States more than a hundred years ago, and today lives in Long Island, New York.
Italian Americans are children of two worlds. Like Leonardo, they have "mixed" DNA, language, and culture. Does the "genius" disappear when there is contamination?
We cannot say how "genius" is born, it's one of life's mysteries. But we can be certain that where there is movement there is life, and where things like ideas and imaginations mix with one another, something new can always come about. Anyone may see or discover or create something that didn't exist… like lighting a fire, building a wheel, or flying in the sky.
You have dedicated much of your studies to Leonardo's fascinating and multifaceted personality. Why, in your opinion, does he still generate so much interest and what can he teach the world today?
The world's fascination with Leonardo has ancient origins, and usually, people's interest focuses only on certain "mythical" elements, such as the famous smile of the Mona Lisa, or on more mysterious, enigmatic themes, like in The Da Vinci Code. However, I believe that Leonardo, more than mysteries and enigmas, can and must teach us more important things: the spirit of research, free from any prejudice and aimed only at the truth; love for nature, for life, for the beauty of creation. And now, even his life can teach us something. And it's not just him doing it. It's also Caterina, whom I like to remember not only and not so much as Leonardo's mother, but in her autonomy as a woman and as a person. Because, even if she weren't Leonardo's mother, she was still a heroine, a girl, and a woman who suffered a lot but fought and won: a symbol of freedom and hope for the world today. My book, and I'd like to stress it, is not a book about Leonardo: it is the story of Caterina.