The sculpture Giraffa Artificiale is finally on display at the Natural History Museum in Milan after being restored thanks to a project initiated by the Getty Conservation Institute in collaboration with Museo del Novecento, Museum of Culture of Milano (MUDEC) and Centro Conservazione e Restauro La Venaria Reale. The work, which is a 9-foot-tall sculptural giraffe made of transparent pink plastic, is owned by the Museum of Novecento and was created by the Italian artist Gino Marotta in 1973.
The project was coordinated by Anna Laganà, senior research specialist in the conservation of plastics at the Getty Conservation Institute (GCI). Anna Laganà, from Rome, Italy, is a modern and contemporary art conservator and researcher who joined the GCI Science Department in 2016, within the Modern and Contemporary Art initiative. Her work focuses on developing treatments and preservation strategies for plastic artefacts in museum collections and designing workshops on their conservation.
Why was it important to have this work restored?
Giraffa Artificiale, by Gino Marotta, is a wonderful example of how artists in those years embraced technologies and used industrial products such as plastics for their creations. The way in which Marotta, since the 60s, has worked with plastics as an artistic medium has been experimental and innovative. He was a pioneer in handmade complex, monumental sculptures, and installations made with the transparent plastic polymethyl methacrylate (PMMA), also known as acrylic. He used this material to explore the relationship between natural and artificial, creating a "Synthetic Eden" made of colorful transparent plants, animals, and environments, in which viewers are invited to enter and immerse themselves. Giraffa Artificiale is the largest sculptural animal he made by masterfully shaping and assembling 67 pieces of acrylic.
The work "Giraffa Artificiale" can be considered a case study. Why so?
This sculpture has been kept for more than 20 years in storage due to its poor condition; the work was covered in dust and scratches, several parts of it were broken, and various fragments were missing. Unfortunately, many artworks made of transparent plastics, such as Giraffa Artificiale are left in storage or deaccessioned from collections once they are damaged, due to the lack of conservation treatments for repairing them, and particularly, to the difficulty of restoring their transparency. Over the last few years, the Getty Conservation Institute has carried out extensive research to identify materials and develop methods to successfully repair objects made with transparent plastics, particularly PMMA. Thanks to the similarities with glass restoration, our research investigated several techniques used for its conservation that could be utilized with plastic, too. We recently completed this research and identified Giraffa Artificiale as a case study to illustrate the challenges of preserving transparent plastics.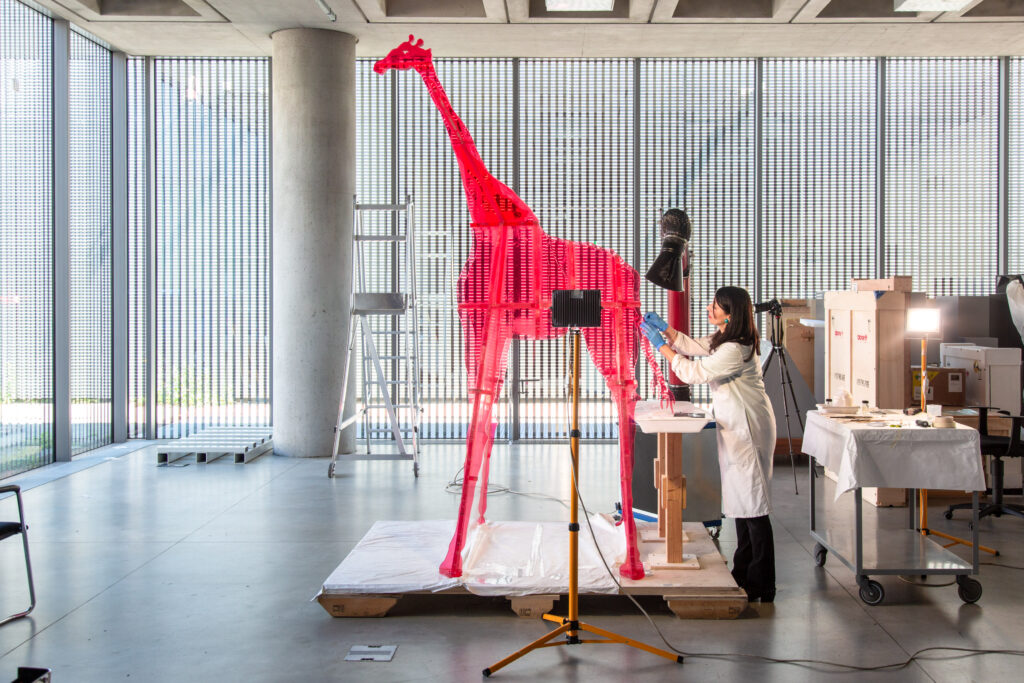 What was the main goal of the project?
The main goal was to bring Getty's research into practice via the treatment of this monumental sculpture while finally providing conservators with strategies to safeguard these artworks and ensure they can be exhibited again. The project included several dissemination activities such as open lab days for museum visitors and a workshop on the conservation of plastics showcasing the treatment we used for the case study. This workshop, offered to 22 Italian conservators, was organized in collaboration with the Italian project Storie di Plastica and took place at the MUDEC conservation laboratory.
What is your background and how did you discover your passion for plastic conservation?
I graduated as a conservator at the Istituto Centrale per il Restauro (ICR) in Rome, one of the most notable training institutes in the conservation field, with a thesis on plastics. That's when my passion for plastic conservation started. After that, and before joining the GCI, I had the opportunity to manage my own company as well as work within larger institutions in varied roles, including Coordinator of the Contemporary Art Conservation Laboratory at the Centro Conservazione Restauro La Venaria Reale in Turin, as a conservator/researcher at the Cultural Heritage Agency of the Netherlands, conducting research on plastics conservation, and as a lecturer at Master's Program in Conservation of Modern and Contemporary Art at the University of Amsterdam. During my period in Amsterdam, I worked closely with Thea van Oosten, one of the first scientists researching plastics in the conservation field. She has been a mentor for me and working with her contributed to increasing my passion for both research and plastics.
What's the biggest challenge in the conservation of modern and contemporary art?
The challenges in this field are many, but conserving plastics is definitely one of the biggest. Plastics have been extensively used to make an infinite variety of objects, which form a significant part of our cultural heritage now. Unfortunately, these materials were not designed to last forever. Over the last thirty years, many types of plastic have proved to be unstable and quickly showed signs of degradation. In some cases, the degradation is so dramatic that works of art made with them can no longer be displayed. This is why research in this field is needed.
What are other projects you have worked on in the US?
I had the opportunity to work with several US institutions over the years. I collaborated with the Guggenheim in New York carrying out research and treatments for a group of important painted plastic works in preparation for their 2016 exhibition Moholy-Nagy: Future Present. I held a workshop on the conservation of plastics at the Conservation Center, Institute of Fine Arts of New York University. Last year I was invited to Syracuse University as an annual lecturer for the 2022 Brodsky Series for the Advancement of Library Conservation. On that occasion, I also gave advice on the conservation of their plastics collection. Currently, I am collaborating with the Wende Museum in LA for a GCI project focusing on plastics in design. They have all been great collaborations.
Which other plastic work of art would you like to work on next?
I would like to investigate treatments to conserve the early plastic cellulose nitrate, one of the most unstable plastics, also known as celluloid. Many iconic objects made with this material have literally disintegrated. So, I would like this to be my next challenge.