Casale Monferrato is a quaint town of just over 30,000 in the Alessandria province of Piedmont. It is known as the main settlement in the Monferrato area of the region which is part, along with Langhe and Roero, of the UNESCO World Heritage. Casale is known for wine and good food, for its elegant old-Piemonte streets, and for that pleasantly sleepy, timeless atmosphere towns and villages seem to all have in this corner of Italy. Casale, though, is also known for something else: its traditional cookies, krumiri.
Every Italian is familiar with the old, 1980s commercials for the brand-name version of these crunchy yet buttery V-shaped delicacies, where an irascible bespectacled cookie factory owner would shout at its rather meek head baker for using only the best ingredients to make krumiri, risking to bring his business on the verge of collapse – the assumption here being that quality ingredients are costly and the company would lose profit. In fact, thanks to that very brand, krumiri are a common sight in our grocery stores, from North to South, but we shouldn't forget their origin is fully traditional and they are made, especially in Monferrato, artisanally, too. For more than a century, they have been a beloved accompaniment for coffee and tea, cioccolata calda, and even wine wine.
Their goodness, my friends, is legendary, and their history – along with that of their name – is very interesting indeed.
It all started, according to sources, in 1878, when Italy had been a unified country for only 17 years. It's dark outside and – I like to imagine – late Fall, when vinello, the young wine from the last harvest just reached people's tables. Domenico Rossi, owner of Caffé della Concordia, a café bakery known in town as "il Bottegone," the big store, sits at a table in his own café with a bunch of friends: wine flows aplenty, and laughter comes natural. It is in this lighthearted, perhaps a tad crass, atmosphere that krumiri were invented. Legends say that, perhaps incited by the fumes of alcohol, perhaps by the munchies that come often when we drink a glass too many, Rossi challenged his friends to create a new cookie to be dunked in everything, from coffee to wine, and be always good: this is how, apparently, krumiri were born.
Now, as a Piedmontese, I can guarantee the scenario could easily mirror factual reality because we are not only known for having a penchant for a good red but also for our fixation with "paste secche," that type of very rich, very buttery or chocolatey cookies you can only buy in a bakery. That a new variety of the latter was invented after a night spent with the former doesn't surprise me one bit.
To have official sign of krumiri's existence, however, we have to wait until 1884 when they receive an award at the Esposizione Generale Italiana in Turin. Six years later, the mayor of Casale Monferrato officially recognizes them as the invention of Domenico Rossi and mentions their ingredients: eggs, butter, sugar, and vanilla.
Nothing new, but the secret is in the proportions and, of course, in their iconic shape. If you are not familiar with them, let me introduce you to a quintessential krumiro: three inches or so in length, dark, golden color, ridged surface, shaped like a wide-set V letter or, according to who knows best, like the iconic handlebar mustache of Vittorio Emanuele II, first King of Italy. And it makes a lot of sense because the royal had died the same year Rossi and his friends came out with krumiri in an alcoholic daze: tell me you cannot picture a bunch of merrily intoxicated men trying to shape a cookie like the mustache of a just-deceased king…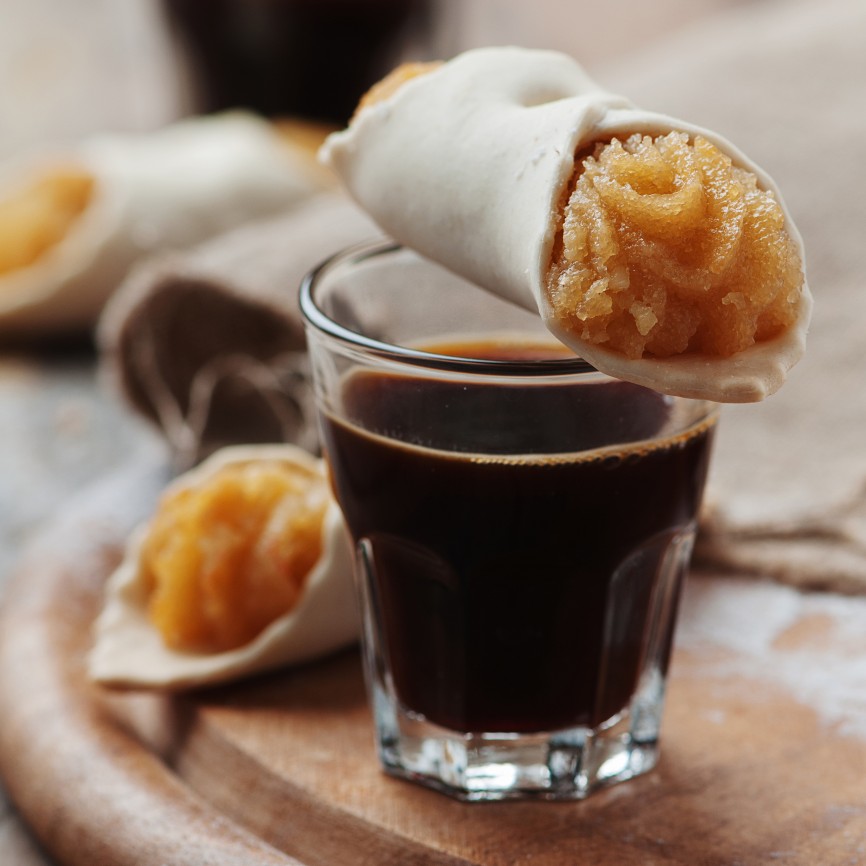 Now, the story behind their name is just as fascinating and curious. In Italian, crumiro is an old-fashioned term, which can be translated into English as "strikebreaker." It was popular in the early 1900s, during the first struggles for workers' rights in the unified country. Crumiro, spelled with a "c," probably came from Khumirs, a tribe of Tunisian warriors, known in those years as the probable excuse used by the French to invade and colonize Tunisia. But the connection between crumiri with "c" – the non-striking workers – and krumiri with a "k" – the cookies – remains unknown, unless we accept that, as it often happens in such cases, the word was chosen just because it sounded nice. The common "c" was substituted with a much more exotic "k" and voilà, an iconic cookie was born, in shape, name, and taste.
Krumiri today are sold across Italy and you can find them in all supermarkets, even covered in chocolate or with chocolate chips inside. If you are in Monferrato, make sure you buy them from a bakery, to try the real, original thing: personally, I think plain Krumiri are the best and you can't beat them with a mug of thick, delicious Italian hot chocolate. Give it a go, and let me know what you think!