It's difficult to say no to a piece of candy. Or two, if you have a sweet tooth. And while today's globalized world means that a lot of the sweet treats we eat in Italy are the same you have in the US – although I praise America's much larger variety of candy bars, especially those involving peanut butter (I am looking at you, Butterfinger and giant Reese's cups) – there are still some things we cherish as our own, and our own only.
Or perhaps they just don't quite make the cut in other countries, I don't know.
But, I was saying, to us Italian some candies are special because they speak of childhood, of grandparents and happiness. And the nice thing is that many of them are still all on the market, which means you can take a trip down memory lane any time you want. Now, that's what I call priceless.
Le pastiglie Leone
The first of our vintage candies are vintage also in their look, which made them famous – and collectible – all over the world. A staple on every Italian cafè's counter, usually just next to the till, so you can grab a little box or tin of them while you pay for your caffè, Pastiglie Leone have been around since 1857: that's a whole four years before the unification of Italy! Indeed, legends say that one of the fathers of our country, Count Camillo Benso of Cavour, loved them and used to eat one before his speeches, to make his voice clearer. In 1934, the Leone family, from Turin, sold the company to the Monero family, at the time spearheaded by la leonessa, Gisella Balla Monero, one of the first female entrepreneurs of our country. The Moneros eventually sold to another Italian company in 2018, but the style, taste, and popularity of Pastiglie Leone are still the same: these little sugar candies, that come in a beautiful array of pastel colors and in virtually every flavor you can think of – from mint to strawberry, from lemon to cinnamon, all the way to aniseed and violet – remain a staple in the pocket of kids and adults alike, and their tins, which change regularly and often come in series, are highly collectible!
Le caramelle Rossana
When it comes to chocolate and candy, you can't really get away from Turin and Perugia. Indeed, our second vintage candy has been produced by Perugina since 1926. Caramelle Rossana are ubiquitously known for their elongated shape and red, luxurious wrapping – hence the name Rossa Perugina, with which they are also known. Apparently, their name was inspired by that of Cyrano de Bergerac's love interest, Roxanne, in Edmond Rostand's play, and they were created under the supervision of Luisa Spagnoli herself, at the time head of Perugina. Caramelle Rossana are often associated with grandparents because you can bet what you want they always, always have a packet of them in the house. They are decadently rich, with their sweet, hard shell and creamy nutty filling made with hazelnuts and almonds: a flavor I wasn't too keen on when I was a child, but that I came to really appreciate as an adult.
Le caramelle Elah
Ah, le Caramelle Elah! Everyone loves them. And how could you not, they are toffees! Creamy and delicious, they come in many flavors, from the classic Cubik in their red and yellow wrapping – your regular toffee – to fruit ones, all the way to the iconic mint-and-cream (in their white and black wrapping) and licorice (brown, yellow, and gold wrapping). Personally, I love them all equally. Elah (pronounced eh-lak) was founded in 1909 by Genoese Francesco Molié and remained in the family until the 1970s when it was sold to Dufour. Today, both brands are part of the Novi Group, from Piemonte, well-known Italian chocolate producers (their chocolate is, indeed, delish, especially their gianduia bar with full hazelnuts).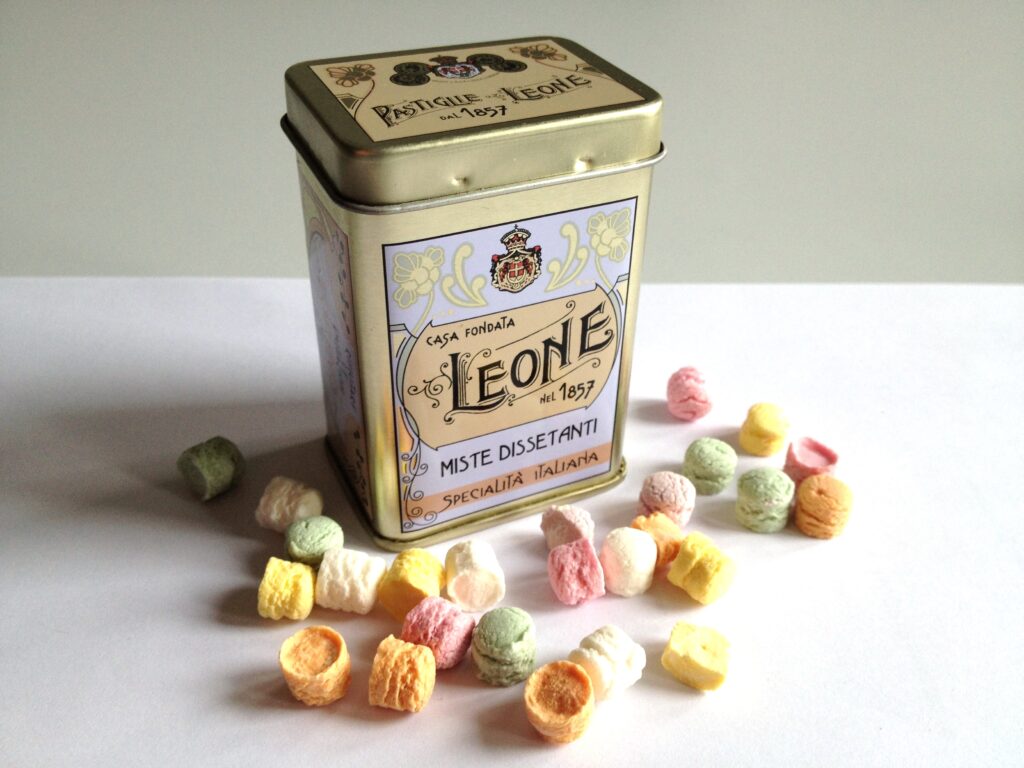 Le Galatine
We couldn't write an article about vintage Italian candy without mentioning them, the quirkiest, most delicious – but also most divisive – candies of the Belpaese's candy universe, le Galatine. What are they? That's simple, they are milk candies. But they are different from the rest because they are neither hard nor chewy, they are, well… chalk-like. Now, this is in fact the main criticism Galatine detractors make, that they taste and look like chalk, but nothing is further from the truth, trust me. They are sweet and creamy and they last forever if you don't crunch on them. They are luscious and milky, with a very mild hint of honey as an aftertaste. And if you go for the crunch instead, you won't be disappointed: they crack easily and their flavor gets even creamier and sweeter. Galatine were created by Polenghi (a large Italian dairy company) in 1956, but have been made by Sperlari, one of Italy's main candy producers, since 1996. Indeed, the passage from one company to the other probably brought the only change Galatine have ever had, that of their shape, which went from square to round. When it comes to their taste and the variety of flavors -surprisingly simple: milk, milk and chocolate, milk and honey, milk and strawberry – they have hardly changed, though: because (and I admit I may be biased, I love them!), why would you change such a good candy?