Italy is known for its art, architecture, cuisine, and natural beauty, but often we forget how some of its most iconic landmarks are streets that for centuries offered locals and visitors a way around our cities, or represented a destination in itself. Here are some curiosities on five of Italy's most famous streets…even if some of them are not quite streets at all!
Via della Spiga, Milan
Via della Spiga is part of Milan's fashion district and it is known for being one of the city's most famous streets. It was created at the end of the 18th century, and its name comes from the Italian word spiga, wheat ear, because the area had been known originally for its cereal fields. In the 19th century, Via della Spiga became one of the most elegant and sought-after residential sites in Milan, while in the 20th it established its name as the go-to destination for high-end shopping, a characteristic it still maintains today. Indeed, Via della Spiga is visited every year by thousands of people looking for designer outfits or ready to enjoy some time in one of the street's many fashionable restaurants and bars. Here, if you are lucky, you may even meet famous designers and top models, if you are in Milan during Fashion Week! Last but not least, we should remember that some scenes of the iconic movie The Devil Wears Prada were filmed on location here, in beautiful Via della Spiga.
Ponte Vecchio, Firenze
This is not literally a street, but when it comes to being iconic, you can't beat Ponte Vecchio, in Florence. Ponte Vecchio is one of the most symbolic landmarks in Florence. It was built in 1345 on the city's main river, the Arno, to connect what is today known as the city's historical center with the Oltrarno borough. Much like other streets in this article, Ponte Vecchio is famous for its many traditional ateliers, workshops, and stores that line it: head here if you're looking for handcrafted pieces and jewelry. Ponte Vecchio was the only Florentine bridge not to be destroyed by the Germans when they abandoned the city during World War Two: it seems that the German commander in charge, Von dem Bach-Zelewski, was an art lover and couldn't bring himself to destroy the ancient medieval bridge. Ponte Vecchio is not only famous for its history and stores, but also for the breathtaking views of Florence and the Arno river it offers.
Via Condotti, Roma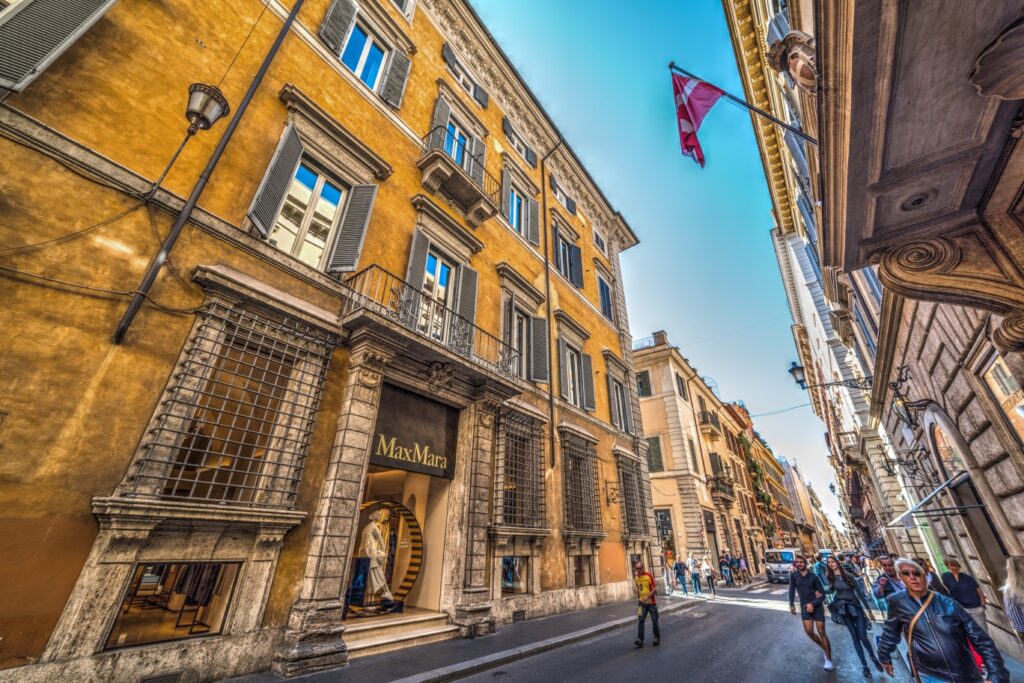 If you've been to Rome, you definitely took a stroll along Via Condotti, one of the city's most luxurious and renowned streets. Via Condotti runs through the very heart of Rome and connects Piazza di Spagna with Piazza del Popolo. Its name derives from the condotto dell'Acqua Vergine, an ancient Roman aqueduct that used to bring water to the capital and, indeed, the story of Via Condotti can be traced back all the way to ancient Rome. Back then, it was part of the Via Flaminia, one of the main communication arteries of the Empire. In the Middle Ages, the street was often walked by the many pilgrims who would come to Rome to visit its churches and basilicas. It is in the Renaissance, however, that Via Condotti became a synonym for wealth and luxury because many noble families had their residences built along the street. In later centuries, its fame as a high-end location was reinforced by the growing presence of jewelers and fashionable, expensive stores. Today, Via Condotti is home to the boutiques of Bulgari, Gucci, Prada, Cartier, just to name a few, but also to important art museums such as the Carlo Bilotti Museum of modern and contemporary art. Of course, cinema lovers remember Via Condotti for its appearances in movies such as Roman Holiday and La Dolce Vita.
Spaccanapoli, Napoli
Spaccanapoli's name comes from the central position of the street, which truly seems to divide Naples into two halves. The street follows the old path of the Via Decumana, which was Naples's most important street in Roman times. Indeed, Spaccanapoli has always been there: if it could talk, it would tell us about the times the Greek-Roman town of Neapolis was founded, about the Gothic invasions, about the times it was governed by the Byzantines and by the Normans; it would remind us of the courageous Carbonari who fought for the city's independence during the Risorgimento, and also of the tragedy of allied bombings during World War Two. A history book, all there, in a street. Spaccanapoli is, today, best known for its architectural beauties, including the San Domenico Maggiore Church, the Santa Chiara Monastery, the Cappella di San Severo, Palazzo Pignatelli, and Naples' Cathedral. The street is also famous for another reason: it's here that the traditional heart of Naples beats. With its markets – Porta Solana, Sant'Antonio Abate, Pignasecca – Spaccanapoli is a place where it's easy to bask in a truly Neapolitan atmosphere. And it's perhaps in this unique mixture of historical, artistic, and folkloristic that Spaccanapoli finds its deepest essence.
Ballarò, Palermo
Just like Ponte Vecchio in Florence, Ballarò is not strictly a street, but it is a place where hundreds of people walk through every day, to do their shopping or enjoy a slice of vita palermitana. The Ballarò market is the oldest of Palermo's historical markets. It is located in the Albergheria borough of the city and it was founded sometime in the 12th century when Palermo was the capital of the Norman kingdom in Italy. Ballarò, of course, is the place locals get their fresh food and ingredients: from meats and fish to cheeses, vegetables, and all the exotic spices that characterize Sicilian cuisine. You can also find stalls selling antiques, clothes, and flowers. But calling Ballarò simply "a market" would reduce greatly its cultural and social importance, because here you can still see and enjoy the truly cosmopolitan and multicultural nature of Palermo, a city that has been the meeting point between East and West for millennia. You may wonder where this famous place gets its name from… some say it may come from that of a small village near Tours, Ballerault, the place of origin of the first traders who settled in this area of Palermo. Last but not least, Ballarò also appears in literature: for instance, it is described by Giuseppe Tomasi di Lampedusa in his The Leopard.