It is considered the photo of the century. He has not (yet) won the Pulitzer but has shown Einstein's General Relativity. With two super-computers, one at Boston's MIT, and a network of radio telescopes from 12 to 30 meters in diameter on the various continents, it immortalized a piece of science fiction: the horizon of events, the distortion of space-time, the shadow of a black hole. 
A Nobel Prize project.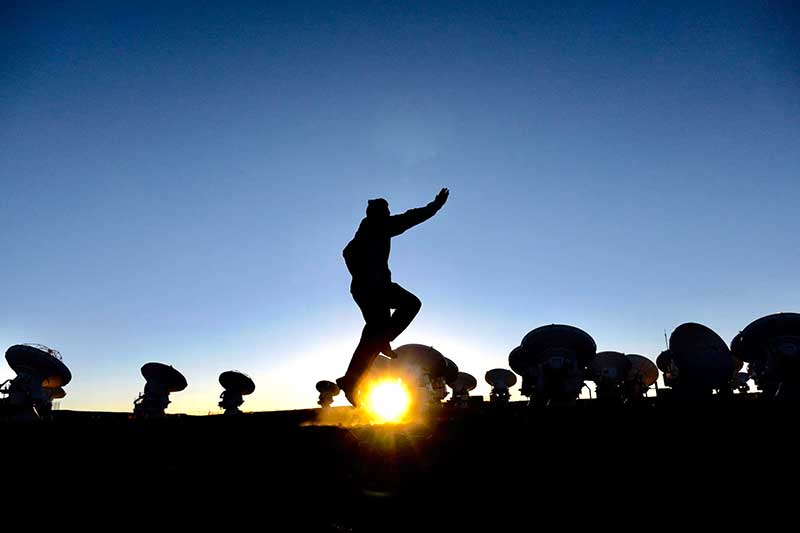 L'Italo-Americano interviewed the Sardinian astrophysicist in charge of the BlackHoleCam project. Ciriaco Goddi, 43, degree and PhD in Physics at the University of Cagliari, three years at Harvard, Germany, and in Holland since 2012. All the way to EHT: Event Horizon Telescope, the international project that measures the enormous mass of the black hole at the center of a galaxy 55 million light years away from Earth. Italy participates with several scientists, the National Institute of Astrophysics (Inaf) and the National Institute of Nuclear Physics (Infn). 
What types of  emotions, personal and scientific, do you feel when looking at this part of the universe? 
During the past weeks, I have understood that a photo of a black hole can give emotions to everyone, even those who are not experts in science or astrophysics. 
As researchers, we spent decades waiting for this, so ours is a different, more personal type of joy, as we see our dream come true. But even I, who have worked for years on this project, feel a unique emotion when I look at that image, knowing it is a ring of matter and light shaped by space-time deformation, a consequence of the very strong gravity associated with the massive object at its center: a black hole. Not a simulation or an animation — we have seen thousand of those — but the very shadow of a black hole, a place from which not even light can escape, just as Einstein had predicted. 
What can you see beyond that black circle wrapped in incandescent light? 
Looking at the image, one can imagine what happens to the plasma orbiting around the black hole, rotating at speeds close to that of light, accelerating and gradually descending the spiral staircase that leads it beyond the event horizon, where it disappears for ever, swallowed by the black hole itself.  
It's almost like one can feel (and not just see) the luminous eddy of matter that coils around until it disappears into the deep black of that hole. 
Someone defined the event horizon the "gates of eternity." It is a beautiful thought, it gives the chills. And the awareness that, from now on, the event horizon is no longer just an immaterial mathematical concept — the mathematical solution of a theory — but has become a physical object, observable and measurable by scientific method, is a huge achievement for us astrophysicists, and an exciting idea in general. 
Even if we don't know what happens in there, the mere fact of being able to see it with our own eyes makes science fiction dreams less surreal.  
Your contribution is a "great step of humanity." What does it feel like to have helped create a new page in the history of astrophysics? 
When we started, we were aware of the difficulties. We were pushing the limits of current technology, but at the same time we were sure we would succeed. It was a long journey, an emotional one, at times. 
This result comes more than 100 years after the publication of Einstein's Theory of General Relativity and Schwarzschild's mathematical solution that predicts the singularity and existence of black holes (at least mathematically). After the pioneering studies of the 1970s, which used the first simulations to predict black holes' appearance (if they could have been observed), in 2000 we had the  intuition that observing the super-massive black hole at the center of the Milky Way could have been possible thanks to the technology available.  
Thoughts went in particular to the very-long baseline interferometry technique (VLBI) used by EHT, which was followed by a successful technological development (started about 20 years ago) aimed at applying this technique to high radio frequencies (used by EHT). Projects began being developed in the United States and Europe around 4-5 years ago, and they were dedicated exclusively to this goal. They developed first independently and then jointly, with the first global observation campaign taking place in 2017. There was a  scrupulous work on the elaboration of the data collected in the last 2 years, which finally allowed us to see what seemed invisible: the black hole. Now we know what it looks like. It took a long time, but we've finally succeeded. It's incredible. 
An enormous effort. 
I can say that the image of the black hole at the center of the M87 Galaxy is, simultaneously, a great success of scientific research and an exciting representation of something we could only imagine until now. The success of research lies in a new proof of Einstein's Theory of Relativity, but above all it is a further confirmation of the impact international collaboration and large infrastructures can have on the future of human knowledge. 
What was the role of Italian scientists in this project?  
Luciano Rezzolla (University of Frankfurt), one of the 3 PIs of BHC, and I, have been involved since 2014. Another researcher, Mariafelicia de Laurentis, full professor at the University of Naples and affiliated with Infn, joined the Frankfurt group as an expert on gravitation theories in 2016. In 2018, we introduced to BlackHoleCam two researchers from the Italian ALMA Regional Center node (INAF – IRA in Bologna), Elisabetta Liuzzo and Kazi Rygl, who became members of the EHT Consortium through their affiliation with BHC.  
Then we should also include Violette Impellizzeri, who works in Chile for Atacama Large Millimeter Array (ALMA), the largest terrestrial radio telescope, who contributed decisively to the collection of data necessary to obtain the image of the supermassive black hole at the center of M87. As an astronomer and as responsible for the calibration of ALMA as a VLBI station, I carried out all the observing campaigns in the Atacama desert in Chile. With Violette, we spent many nights watching M87 with ALMA. Although not a full member, Violette is a co-signer of the article published in the Astrophysical Journal, which reported the image. 
From now on we can talk about a new era of research. What does this exactly mean? 
The certainty of being part of an epochal change, a passage between "before" and "after" is extremely exciting. We can really say that, from today, physics are no longer the same. What until yesterday was only an immaterial mathematical concept, a mathematical solution to a theory, has now become a physical object, observable and measurable by scientific method. A  sort of laboratory where we can  carry out experiments about gravity,  to which we didn't have access before. This is what black holes are now.  
Our hope was, if we had ever succeeded in creating the first image of a black hole, that this photo could end up in textbooks. I hope this will really happen. History books will be divided between the times before and after this image was taken.  
The photo proved human theories — human imagination — right… 
This experiment —its  result — could be the beginning of a new era. For the first time we see the event horizon and we can study general relativity on a scale and regime unimaginable before. And the most surprising aspect is that everything we see is perfectly in agreement with the prediction provided by the Theory of Relativity. Einstein also passed this test with tremendous success! Incredible and excellent, Einstein, who initially did not believe in the concept of black holes and had to struggle a bit with the idea of ​​the event horizon. Today, after a hundred years, we showed it is a reality of the universe. This would have been absolutely incredible to him. Another great scholar of black holes, Stephen Hawking, died too early to see this result, but he would have had the same emotional reaction we had in finally seeing the ultimate limit of space and time. This is really the golden decade to study black holes.  
What's inside a black hole? 
We don't know, since we can't access it. 
Perhaps there is matter that cannot be compacted, or perhaps matter has already been entirely concentrated into one sole entity, just as it happened for the Big Bang (exciting no?),and has been "converted" into a curvature of space-time … who knows! 
Speculating is free, since nobody can come back and tell us what's in it ! 
What about Einstein: was his theory correct or did your observations brought some corrections to it? 
The short answer is: yes, Einstein was right, at least for now. 
Overall, the observed image is consistent with the expectations for the shadow of a rotating black hole with a spin different from zero —also known as Kerr black hole — as foreseen by the Theory of Relativity. However, I can say that the observations made are not consistent with many of the alternatives to Kerr black holes proposed by previous models.  
It's still science fiction today, but could it be  possible to open, sooner or later, a door in time? And is the fantasy-scientific idea of using black holes as "hyperspace slings" in any way theoretically possible? 
For the moment, space travel is only possible within the Solar System. But it is also true that some mathematical solutions to Einstein's equations (and to other theories of gravity) seem to suggest the possibility of traveling between any two points in space and time. This is a direct consequence of the space-time curve around an intense gravitational field, as predicted by Einstein's relativity.  
The most representative case is that of the so-called Wormhole, which could be described as a tunnel, a "shortcut" in space-time. In addition to the three spatial dimensions, Einstein's equations include time as the fourth dimension: it follows that the presence of a black hole also curves time, and  thus allows time travel. These, however, are hypothetical considerations. I mean, here we go into science fiction. In fact, the Wormhole is the preferred way for a writer or a science fiction director to explain space travel. Think of the 2014 Hollywood movie Interstellar, with Matthew McConaughey playing a NASA astronaut who has the task of exploring 3 planets in another galaxy with the hope that one can host humanity. And how does it get there? Through a Wormhole that allows you to cut  through the 26.000 years you'd need to get there … in short, McConaughey would have died a long time before arriving! 
What is your next research project? 
I will certainly continue to work on this project: we are only at the beginning. We have yet to fully study another black hole, the one at the center of the Milky Way, Sagittarius A*; the magnetic fields originated by polarized light from M87 and Sgr A *; to compare images from different eras.  One of the next steps of the EHT project will be to move from a static image to a movie. 
Starting from 2020, we would like to add new telescopes to the network, particularly in Arizona, France, Argentina and maybe Africa. Since the Earth has already been used to its full capacity, we would like to go into space and use the VLBI technique with satellites, which would allow us to go beyond the earth's dimensions as the diameter of our virtual telescope. Going into space would allow to observe shorter wavelengths or longer frequencies and have even higher resolutions.  
In short, in the next decade we will still be very busy with BlackHoleCam, with the aim of improving our measurements and testing even more precisely the general theory of Einstein's relativity.