Italy is famous for its saints: don't they say we are a people of saints, sailors and poets? When you think of it, medieval pilgrims were the first tourists, you could almost say they inaugurated the long, successful era of Italian tourism themselves!
There are specific itineraries all along the peninsula that ancient and modern pilgrims follow: the most famous is, perhaps, the Via Francigena, which connects Canterbury (UK), to Rome, but there are many ·others: along one of them, dedicated to Saint Thomas, you'll find a very special fountain, created to offer refreshment and a moment of rest to trekkers and pilgrims. "What's strange with that" – you may ask – " there is nothing special about a fountain along a trekking route!" And you would be right if it wasn't for the fact it isn't water that pours out of it, but wine.
The Cammino di San Tommaso connects our capital, Rome, to the Abruzzo town of Ortona, where the relics of Saint Thomas Apostle – kept in the cathedral – are worshiped. To say it in more "biblical" terms, it joins the graves of Saint Peter and Saint Thomas. The itinerary, which is divided into 16 sections and can be completed in 16 days, has been promoted and endorsed by a not-for-profit organization, led by Dina Cespa and Luigi Narcisi. It is thanks to them that the fontana del vino di Ortona came into being. They were inspired by a similar one, that of the Botegas Irache that pilgrims can find in Estella, Navarra, along the Camino de Santiago de Compostela. Cespa and Narcisi's idea was immediately embraced by local winemaker Nicola D'Auria, owner of one of the most prestigious wineries in Abruzzo, Cantina Dora Sarchese, while architect Rocco Valentini took care of the fountain project. The result is a fountain encased within a barrel large enough to contain a person, with a curious sentence engraved on its walls: "Bevi vino, che non sai donde sei venuto, sii lieto perché sai dove andrai," which we can translate as "Drink wine, because you don't know where you came from, but be happy because you know where you're going."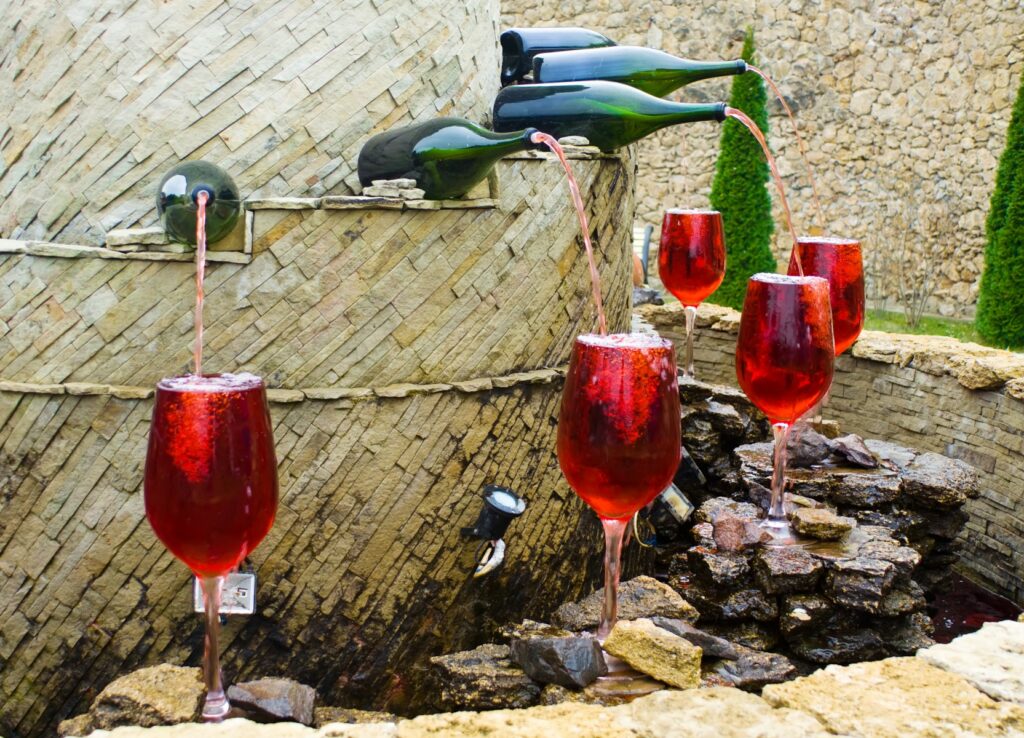 The fontana del vino in Ortona was inaugurated on the 9th of October 2016, on the day when, traditionally, the harvest of Montepulciano Storico Nitae grapes ends. This isn't your regular Montepulciano grapes, but a specially selected variety of ancient origins, which the people at the Dora Sarchese winery have been growing on a small, dedicated vineyard.
Since then, all pilgrims and travelers who happen to stay or pass through Caldari – a small hamlet part of the Ortona commune – can enjoy a nice glass of red from the fountain, all year round. This is an important characteristic, which makes it unique. You see, there are, in fact, other wine fountains in Italy (even though the one in Ortona was the first to open): one in Marino (Rome), one in Carosino (Taranto) and one in San Floriano di Collio (Gorizia), but they are only open on special occasions, usually when local religious feasts take place. The fontana del vino in Ortona, on the other hand, is open 12 months a year, 7 days a week, with the same opening hours as the winery.
If you'd like to have more information about the fountain, you can check out the Dora Sarchese winery website, at https://www.dorasarchese.it/. If you are interested in the Cammino di San Tommaso,  check out the association's website at http://camminodisantommaso.org.