Pizzoccheri are a traditional dish from Valtellina, a mountainous region between northern Lombardia and Switzerland. The dish has ancient origins, with some believing that the Romans already knew them, as we will see.
The recipe is quite simple: a dough made with fresh buckwheat flour, the pizzoccheri themselves, which is then cut into wide strips and dressed with cheese, butter, potatoes, and savoy cabbage. Their rustic texture makes them perfect to hold on to and exalt all the flavors. One peculiarity of this delicious type of pasta is that it's not made with cereals at all, as buckwheat is a flowering plant in the knotweed family Polygonaceae, with grain-like seeds. It was likely introduced in Europe in the 14th century by the Turks, even though some believe that it was already utilized in much earlier times to prepare bread and other food. Indeed, some think that buckwheat pasta was already enjoyed by the Romans, who may have learned about buckwheat and its use from the Celts. The Celts were the most ancient inhabitants of the Alpine valleys of Northern Italy, including Valtellina, and they were eventually conquered by the Romans who embraced the use of buckwheat and created the original, ante-litteram pizzoccheri.
However, we don't have certain proof of this theory and the vast majority of experts stick with the idea that the dish was born later, probably in the Middle Ages, in Valtellina, the result of people's necessity to make a filling, nutritious dish with local products.
Regardless of their origin, pizzoccheri have become a culinary symbol of Valtellina and are known and appreciated all over Italy: indeed, you can find both fresh and dried varieties of them virtually in every supermarket of the Belpaese!
While the original recipe remains, perhaps, the one we love the most, there are some local variations worth a try: for instance, in the small village of Teglio, always in Valtellina, pizzoccheri are dressed with a tomato and garlic sauce, while in Bormio, a town you likely know if you enjoy skiing, they are eaten with ragù. While they do not count among their ingredients neither potatoes nor savoy cabbage, both of these versions remain "traditional," something we certainly cannot say about new, more modern culinary declensions of pizzoccheri, born from the desire of showing their versatility and meet the requests of an increasingly demanding public. Pizzoccheri made with vegetarian and vegan ingredients have been all the rage for a few winters now: think, of course, vegan butter and cheeses, but also tofu, coconut oil, and a plethora of veggies like cherry tomatoes, zucchini, and mushrooms.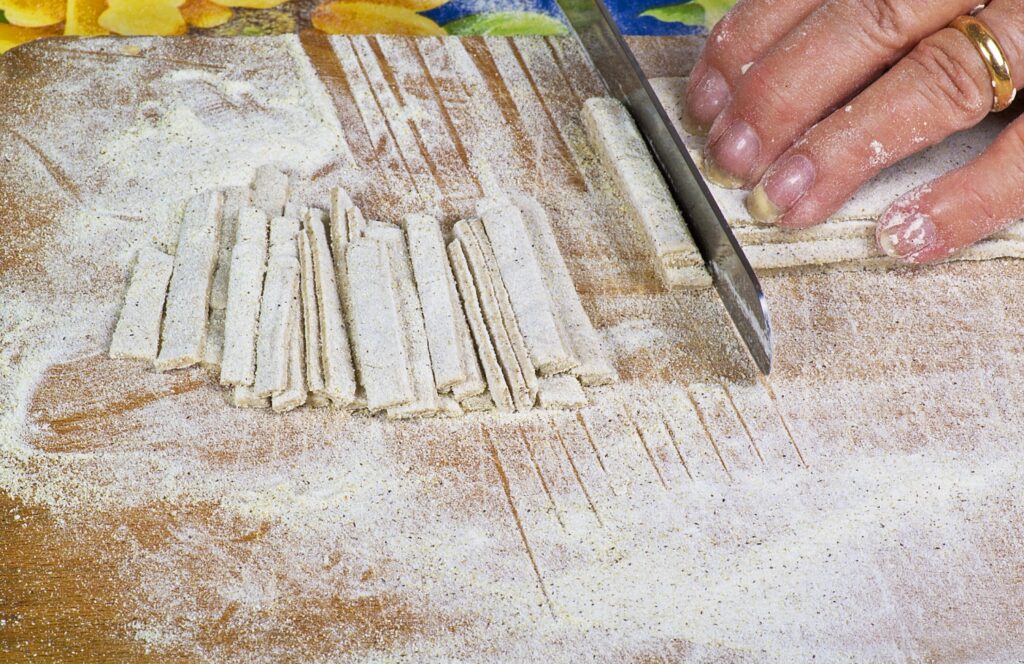 Pizzoccheri are not too difficult to make at home, should you fancy trying: you just need to mix buckwheat flour with water and salt, until you get a smooth dough. Then, you roll it thinly and cut it into strips about an inch and a half wide and two inches long. To dress them the traditional way, go for rich Alpine cheeses like Valtellina's own Bitto, made with local sheep milk mixed with Alpine brown cows' milk. Bitto is very special because it's only made locally in the valley and must age for a minimum of 70 days in stone rooms. Besides cheese, add a good portion of butter to give the dish creaminess, and then the cooked potatoes and savoy cabbage to enrich its texture. The secret is to keep some of the pasta's cooking water to create a light, yet creamy sauce with it. Pizzoccheri in Valtellina are so popular that many a fair is dedicated to them throughout the year. The Sagra dei Pizzoccheri in Teglio, the village which, incidentally, maintains to have invented pizzoccheri, takes place the last week of July every year; in mid-August, you could try the Festa della Polenta e dei Pizzoccheri in Grosio, where you'll find also other traditional delicacies like bresaola, sciatt and plenty of local cheeses. Chiavenna, the most important town in Valtellina, is home to the Sagra dei Pizzoccheri, which takes place at the end of August every year. Last but not least, we should mention Traona and its Festa di San Giovanni, when pizzoccheri are cooked in the town square and served to everyone.