Christmas traditions in Italy are varied and each region has a bunch of its own. In Naples, one of the most popular involves eel, or capitone as it's commonly known in the city of Parthenope. On Christmas Eve, capitone is compulsory on every Neapolitan table, usually deep fried and served with a glass of good wine. But the question is: why?
To answer, let's take a step back and explain what capitone is. In Italian, there are two different nouns we translate with eel in English: capitone and anguilla. Both are, in fact, the same fish, but while anguilla refers to the male, which is smaller, capitone refers to the much longer and larger female. Anguilla comes from the Latin word for "snake," while capitone from the Latin word for "head." It's a strange and mysterious fish, one that thrives in both sea water and freshwater and can live up to 50 years; if it has to, it can survive on land for up to 48 hours.
Now that we know what capitone is, let's see why Naples developed a Christmas obsession with it. Apparently, this tradition brings together Italy's Judeo-Christian tradition with pagan cults and practices of pre-Christian times. We all know that, in the Bible, the snake embodies temptation, sin and the Devil: it was a snake that seduced Eve in the Garden of Eden and that, centuries later, tried to do the same with another woman, the Virgin Mary who, this time, didn't succumb to its enticements and crushed its head under her foot, killing it. It was a powerful and symbolic gesture, one that foreshadowed the final victory of Good over Evil, and that repeats itself allegorically every year, on Christmas Eve, with the tradition of the capitone. In the past, women were in charge of killing and cooking this fish, embodiment of the serpent of Evil, to recreate the seduction of Eve and Mary's opposition and final victory over the Devil. Then, the fish was consumed on the night of the 24th of December, while awaiting the birth of Jesus Christ, the ultimate moment of Good winning over Evil. The connection between snakes, capitoni and the Bible runs even deeper, though. If we read the Book of Exodus — or we still remember a thing or two of what we learned at Sunday School or Catechismo — we find out that Moses turns his rod, known as Aaron's rod, into a snake and then back into a rod to prove to the Pharaoh the word of God was right.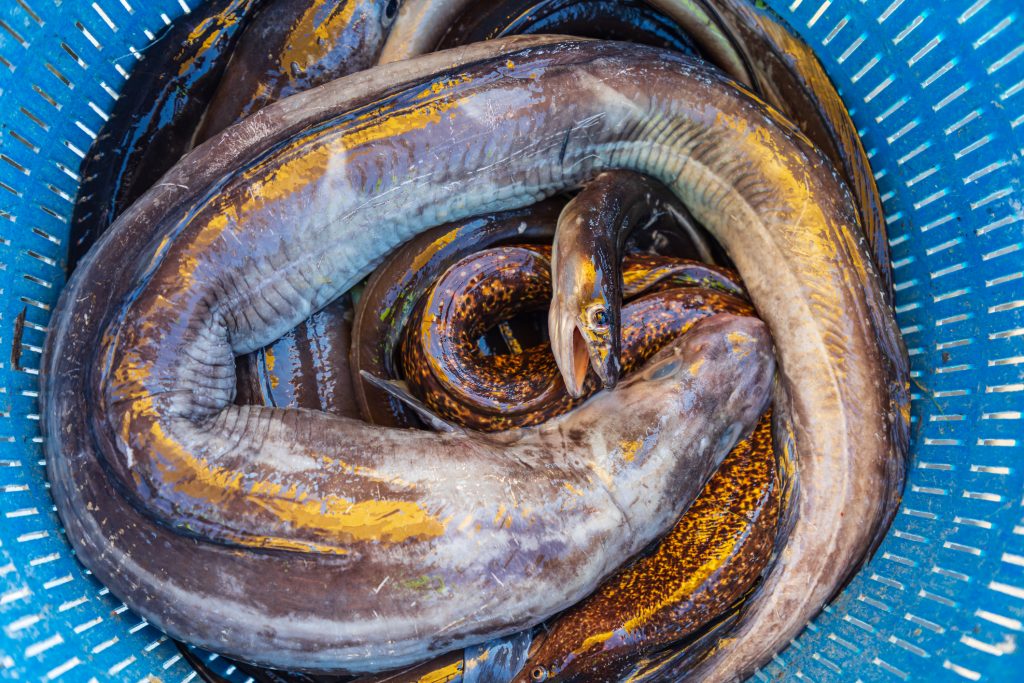 However, there are also more prosaic reasons behind the tradition of having capitone on Christmas Eve. Eel is a very fatty, rich fish, thus very nutritious, but has always been cheap to buy; this means that, in the past, even the poorest could afford it, making it a traditional dish on many a table in Naples, even during the harshest times.
The presence of capitone in Neapolitan tradition is so deeply rooted that it also appears in its cinema and theatre, as it happens in Così Parlò Bellavista, a movie by Luciano De Crescenzo and in Natale in Casa Cupiello, a play written by Eduardo De Filippo. In both, a capitone manages to escape the kitchen on Christmas Eve, creating havoc among family members.
But perhaps the strongest proof of the connection between Naples and its capitone comes from the fact the fish even has a place in La Smorfia, the book Neapolitans use to interpret their dreams and turn them into numbers to play at the lotto: in it, capitone is associated with the number 32.
Last but not least, how do we cook it? Simple: we fry it! Just cut the fish in sections a couple of inches long, roll it in flour and deep fry it abundant oil.